August 9, 2011
by Leah Della Croce
The Fabulous Mr. E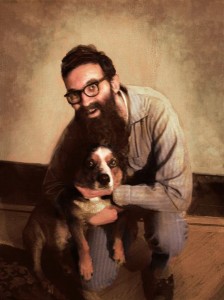 As a young man, Mark Oliver Everett, better known as "E", often soothed his teenage angst with his medicine of choice, rock music. Everett recounts poring over records by John Lennon, Randy Newman, Bob Dylan, and many of the great singer/songwriters of the day. However, little could he have dreamt that one day he, himself, would take his place among this list of revered musicians.
At first glance, E looks far more like someone's eccentric uncle than a respected rocker with a cult following. Strong jawed, bespectacled, and often seen sporting an immensely thick beard, he actually once was accosted in a London park for resembling a known terrorist. He is self-deprecating, sarcastic, and possesses an arresting wit; these are just a few ingredients to his musical success. All of these elements, when blended with his lyrical genius and undeniable musical chops, combine to create imaginative, deeply personal, and, (in many cases,) downright catchy music. So how did E get his start in the music business, and more importantly, how did he maintain a career that has spanned over twenty years? In this instance, he has simply his own ingenuity (and sheer talent) to thank.
He couldn't have had a more ordinary start in life. Born in April, 1963 in Virginia to quantum physicist Hugh Everett III and his wife, Nancy, E's early life was highly respectable and clean cut, hardly the stuff of rock legends. He got his start in music in early childhood, after his parents bought him a drum set at a local yard sale. He quickly found an affinity for music, particularly drumming, and often turned to music to help him make sense of life. E could hardly have imagined how this use of music as catharsis would shape, and indeed save, his own life.
~
Leah Della Croce is a freelance journalist who has written for Examiner.com and the Alvernia University Magazine.