August 9, 2011
by Leah Della Croce
Daisies of the Galaxy, Souljacker, & Shootenanny
Following the release of such a heavy and emotional album as Electroshock Blues, E very wisely went in the opposite direction on Eels' next album, 2000's Daisies of the Galaxy. This album was very aptly named; it is light, breezy, and altogether lovely.
The title track is a soft, encouraging ode to the discouraged. "Take heart, my little friend, and push back your seat/Soon we'll be far away, far from the street," E promises. This gentle urge to brush oneself off and persevere is repeated throughout the album. In the upbeat "Packing Blankets," mistakes can be undone, and heartaches forgotten. "Packing blankets and dirty sheets/A room full of dust and a broom to sweep/Up all the troubles you and I have seen." The hearty "Grace Kelly Blues," with its mini-stories of a lonely truck driver, a troubled movie star, and a disgruntled mall employee conveys the ultimate message behind the album: "But me, I'm feeling pretty good as of now/I'm not so sure when I got here, or how/Sun melting the fake smile away/I think you know, I'll be OK/"
Which isn't to say that Daisies is all sunshine. Although its title may be a tad crude, "It's A Motherf***er" (also amusingly censored as "It's A Monster Trucker") is a plaintive, heartbreaking piano tune about a lost loved one, and the difficulty of going about a normal life without this beloved person.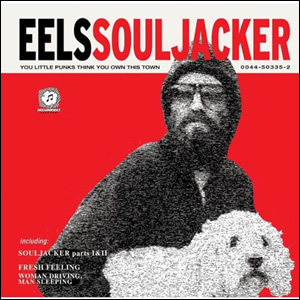 Clearly, E was eager to keep the momentum going. In what seemed like no time, he was back in the studio, preparing for another album. 2002 brought the release of Souljacker, and also the debut of E's enormously bushy beard. Both the album and the song "Souljacker" were actually inspired by a serial killer who claimed to steal his victim's souls. The song "Souljacker, Part II" is about entirely the opposite, and is a beautiful metaphor for resisting conformity or abuse; "Souljacker can't get my soul/Ate my carcass in the black manhole/He can shoot me up with bullet holes/But the souljacker can't get my soul."
In E's case, it would seem that the "souljacker" would be the grief of his personal losses; however, as the song connotes, he clearly intends to resist the theft of his soul.
"Souljacker Part I", "Bus Stop Boxer" and "Dog Faced Boy" are all abrasive, hard rocking tunes in which E howls and growls more than he actually sings. Oddly enough, this wolfish vocal quality suits E, whose bark is far worse than his bite; although in real life he appears rather menacing, he is clearly, as his softer, more personal music demonstrates, a highly sensitive and self-aware individual.
Souljacker also retains some of the airy loveliness of Daisies. "Fresh Feeling" is, in all likeliness, one of the most incredible songs E has ever written. "Words can't be that strong/My heart is reeling/This is that fresh feeling," E sings elatedly of an invigorating love affair. The instrumental element is just as beautiful as the lyrics; the song is saturated with strings, and sounds like a miniature concert symphony of love.
2003 proved to be a very busy year for E and the Eels. In addition to scoring the film "Levity", E also released an album, I Am the Messiah under the alias "MC Honky". (It has never been officially confirmed that E is MC Honky, but his vocals are clearly heard on the album, which is positively brimful of E's signature instrumental and lyrical styles. There can be little doubt that in this instance, he is the messiah.)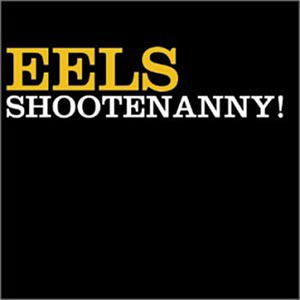 In addition to all of this, the Eels had another studio album out. E had gone back to the studio late 2002, in hopes of recording a new album; by spring 2003, Shootenanny had burst onto the scene. Shootenanny bears a strong kinship to its predecessors, Souljacker and Daisies. "Numbered Days", "Fashion Awards," and "All In A Day's Work" are highly reminiscent of "Daisies of the Galaxy" in that they are mostly gentle, upbeat, and uncomplicated musically. "The Good Old Days" and "Somebody Loves You" echo the joyful love song element present in "Souljacker". Downbeat tunes like "Dirty Girl" and "Agony" are a mixture of "Electroshock Blues" and "Souljacker": while "Agony" is punctuated yet again by E's growling and howling, the lyrics have an element of grief and uncertainty, which had been introduced in "Electroshock Blues." Although Shootenanny was a mixture of albums that had come before, E was about to pull out all the stops and come out with something completely different altogether: something colossal, unexpected, and glorious.
~
Leah Della Croce is a freelance journalist who has written for Examiner.com and the Alvernia University Magazine.