Victor Wainwright
and the Train
Piano aficionado Victor Wainwright, Jr. has made his mark as a boogie-woogie style performer and songwriter with a style that fuses rock, blues and just a touch of jazz. One of the two current groups that Wainwright currently tours with nationally and internationally is called The Train, Formed in 2017, the groups released their debut album Victor Wainwright and the Train in March 2018.
Wainwright was born in Savannah, GA, as the son and grandson of blues musicians. While in college in Florida in 2004, Victor composed and recorded his debut album, Piana from Savannah, released in 2005. He soon formed Victor Wainwright & the WildRoots and began touring relentlessly, with that group releasing their first album, Beale Street to the Bayou in September 2009. Over the subsequent decade, Wainright went on to record two more studio albums with the WildRoots, Lit Up! in 2011 and Boom Town in 2015. Over the same time span, Wainwright formed a second group, Southern Hospitality and released the 2013 album Easy Livin' with that group.buy cialis uk
Victor Wainwright and the Train was recorded with producer Dave Gross at the Ardent Studios in Memphis. with Wainwright composing all 12 of the album's original songs.
Victor Wainwright and the Train
Released: March 9, 2018
Produced by: Dave Gross & Victor Wainwright
Track Listing
Primary Musicians
Healing
Wiltshire Grave
Train
Dull Your Shine
Money
Thank You Lucille
Boogie Depression
Everything I Need
Righteous
I'll Start Tomorrow
Sunshine
That's Love to Me
Victor Wainwright
Lead Vocals, Piano, Keyboards
Pat Harrington
Guitars, Vocals
Terrence Grayson
Bass, Vocals
Billy Dean
Drums, Percussion, Vocals
The album opens with "Healing", a Gospel-themed, fast-paced, Motown like track with a rich arrangement that includes trade-offs between Wainwright's B3 organ and the lead guitar of Pat Harrington. "Wiltshire Grave" is built off an infectious groove started on the guitar maintained by the bass of Terrence Grayson. This song is a real showstopper live, with wild, Latin flavored New Orleans horns. The pure boogie rock title song of "train" is next, followed by the Randy Newman like pop of "Dull Your Shine", with fantastic boogie piano by Wainwright joined by a full brass ensemble.
"Money" is another rhythmic song, with lyrics which are at once slightly comic and slightly tragic. "Thank You Lucille" is a soulful blues dedication to the late B.B. King, or more specifically his famous guitar, while "Boogie Depression" betrays its title as a very upbeat and happy song where Wainwright declares he'll be "playing the piano to kill my depression". "Everything I Need" is a moderate love ballad where vocals take center stage as the soulful groove is subtle.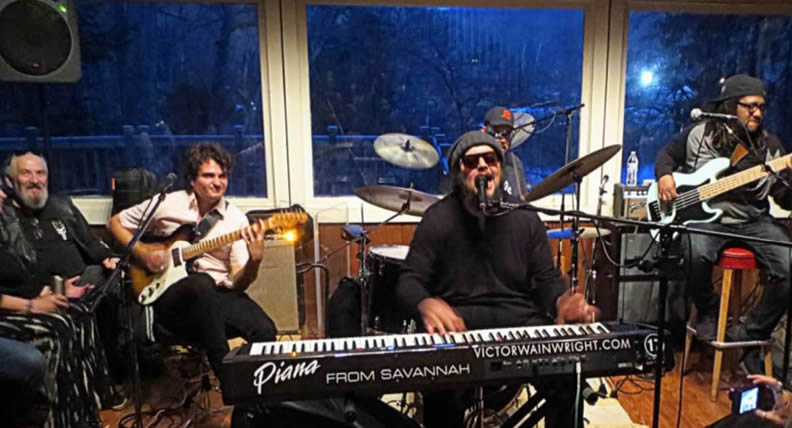 Coming down the stretch, "Righteous" has a wild octave rhythm with religious lyrics, while the comical "I'll Start Tomorrow" is a soul/rocker about procrastination. "Sunshine" comes in with a methodical entrance with whining guitar and is put together almost like a prog rock track but with extraordinary soulful vocals. The album concludes with the expanded ballad "That's Love To Me" with a Gospel feel due mainly to the constant B3 organ.
Victor Wainwright and the Train was nominated for a Grammy Award in the "Best Contemporary Blues Album" and Wainwright himself won the most prestigious "B.B. King Entertainer of the Year" award for 2018. With six total albums and multiple awards to his credit, Wainwright has slowed touring a bit (from over 250-nights a year to around 200-gigs per year) but still give his all with each performance as he continues to tour with The Train.
~
Victor Wainwright online



Victor Wainwright website
Buy the 2018 album Victor Wainwright and the Train