August 9, 2011
by Leah Della Croce
Early Eels
The mid 1990s marked the rise of E's star. After the modest reception of his solo albums, he decided that he would no longer be a one-man show. He quickly assembled a motley group, consisting of himself, as vocalist, bassist Tommy Walter and drummer Jonathan "Butch" Norton, who would become a permanent member of the Eels family. He also had a new record label; after being dropped by Polydor, E and his newly formed band, Eels, were picked up by the fledgling DreamWorks label.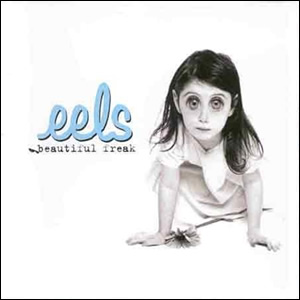 Their first album, Beautiful Freak, was recorded and released in 1996. This album boasted two notable hits, "Susan's House" and "Novocaine For the Soul." "Susan's House," a spoken-word commentary on the decline of society during a walk through the neighborhood shot to #9 on the UK charts in the spring of 1997, while "Novocaine" had already hit #10 on the singles chart only a few months prior, in addition to a 25 week run on the Billboard charts. Already, the Eels were starting to make waves, both on the charts and in the local music scene.
Beautiful Freak is undoubtedly a beautiful album, and every bit as quirky and unpredictable as its title suggests. Besides its two major singles, the album is highly versatile and so relatable that the listener could almost swear that E had written the song for them.
One such song is "Not Ready Yet", a mournful tune about recovering from disaster, and a feeling of isolation from the rest of society. "I don't think I'm ready yet/I'm not feeling up to it now/I'm just not that steady yet," E confesses, opting to stay inside and ruminate rather than go outside for a walk. Although this song is positively brooding, it is oddly prescient, in that the song's slow need for recovery following a trauma would all too soon become an everyday part of E's life.
The most beautiful track on the album, and perhaps the most distinctly "E" is "Flower", a wistful, tentative creed for the downtrodden. "It's a pretty big world, God, and I am awful small/Everyday they rain down on me, flower in a hailstorm/". E's vocals on this song complement this gorgeous little song; it is a lovely metaphor, that of a flower in a hailstorm, beaten down, but resilient and hopeful. This, in a nutshell, is E himself; despite rejection and tragedy, he never loses sight of the light at the end of the tunnel. However, the true test of his strength would soon come.
Full review of Beautiful Freak at Classic Rock Review
~
Leah Della Croce is a freelance journalist who has written for Examiner.com and the Alvernia University Magazine.