July 22, 2011
by Ric Albano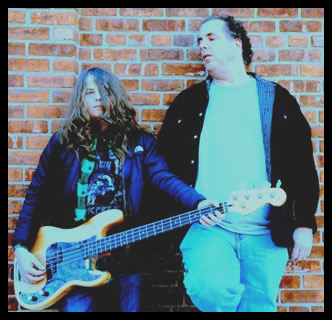 Based in the northern suburbs of New York City, Fools on Sunday is a very unique band, to say the least. They are led by 14-year old Evan Seligman, who performs all the vocals while playing drums and multiple other instruments. On bass is Evan's father Marc Seligman, a longtime veteran of the New York music scene. The band released a four-song, self-titled EP this past April that is filled with unrelenting, riff-driven, old school rock n' roll. This follows the band's 2009 debut EP The Best We Can Do.
The band plays simple, melodic, and strong riffs which are direct and unambiguous. Musically, they harken back to several classic eras in style and flirt with several genres in the process, ranging from rock to punk to new wave to grunge. This is all complimented by the versatile vocal range of Evan Seligman, who displays amazing poise and control for his age.
Marc Seligman had recorded and performed through the seventies and eighties with various acts including The Cyclones, The Mad Violets, and The Vines (of the United States). He is most proud of the fact that The Cyclones song "You're So Cool" spent over 20 years on the jukebox at the legendary CBGB's.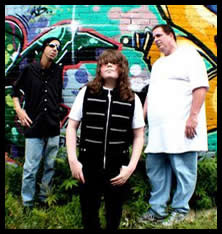 In 2008, the elder Seligman was contacted by Stuart Lederer, a high school friend and guitarist who was then living in Nashville, TN. Lederer had recently received a dire medical prognosis and resolved that he was going to make the most of his time by doing what he truly loved, making music. Lederer had performed for years with various groups from coast to coast, including the New York punk group The Penetrators and California glam rockers Radio Babylon. He also worked with numerous acts in production and sound engineering capacities. Seligman agreed to join up with Lederer and suggested that his then 11-year-old son sit in on drums. The arrangement worked and Fools On Sunday was born.
Even at such a young age, Evan was no stranger to the spotlight, as he had appeared regularly for two seasons on the MTV2 show Wonder Showzen and was also in an indie horror film, Joshua. So he was not shy about taking on the dual task of drumming while performing lead vocals. He is a self-motivator who taught himself how to play many instruments and counts Green Day, Sonic Youth, Frank Zappa, and the Velvet Underground as his influences.
The trio began to rehearse weekly and played their first gig in Farmingdale, NY just days before Evan's 12th birthday. The club was called The Crazy Donkey, and they were so impressed with Fools On Sunday that the band was booked to open for the 80s hit makers, Missing Persons.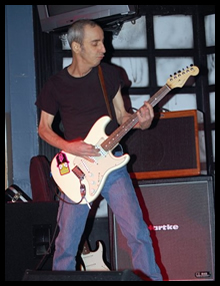 By 2009, Fools On Sunday were ready to make some professional recordings of songs co-written by the Seligmans. Four songs were produced by Andy Shernoff for what would become the EP The Best We Can Do. The songs are heavily punk influenced and the lyrics strongly reflect subjects that matter to a twelve year old – from the playground anthem "Stupid", to the anti-school rant "Nothing", to the "leave me alone, I don't want to wake up" sentiment of "Morning Blues". The band members each used aliases for the album's performance credits with "Johnny Lightning" (Evan) on vocals and drums, "Johnny Rock" (Marc) on bass, and "Stuart Long Johns" (Lederer) on guitar.
Through 2009 and 2010, the band began play more gigs and frequently traveled. At times Lederer suffered greatly from the throat cancer that inflicted him as well as the radical treatments he was receiving, but he never let these situations affect his ability to perform. Eventually his health did improve and, after recording with the band for their latest EP, Stuart Lederer decided to move to Austin, TX to pursue other interests.
Recorded at Fidelitorium Studio in Kernersville, NC last August (2010), this self-titled, digital only EP displays some tremendous growth from the debut two years earlier. This is apparent right from the jump with "Turntable Blues". Beginning with drums similar to those in the intro to Led Zeppelin's "When the Levee Breaks", albeit a bit slower and more methodical, the song soars with Evan's vocals vacillating through the calm, bass-driven verses. Although there is a bit of irony in the fact that a 13-year-old is singing about turntables and record stores, there is no doubt that the vibe of the song is authentic seventies, somewhere between Zeppelin, Robin Trower, and Ted Nugent. Marc, who is a big believer in old school, analog recording, concurs by lamenting that it is a shame that "Turntable Blues" could not be released on vinyl.
The song "Nothing to Me" has a kind of Barenaked Ladies bounce throughout musically, while the mid-range, distorted vocals tilt more towards the sound of The Clash. At a mere 1:43 in duration, the song is extremely brief and to the point. "Where You Are" is very riff heavy and wail drenched, much like the material off of Rush's 1974 debut (which itself was labeled as a Zeppelin clone).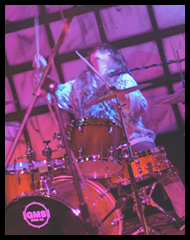 Those first three songs on the EP were all written by Evan Seligman alone, while the final song "Radio" was a collaboration between father and son. Here the band moves more into modern times, the 1990s, with a Collective Soul type riff in the intro and a driving bass behind the verse vocals, a technique much utilized by Nirvana. The vocals are more somber and restrained through most of the song, unleashed only after two verses and choruses.
After the departure of Lederer in September 2010, Marc reached out to local guitarist Louis Mattola to step in to that slot. Mottola, who had played in several Led Zeppelin tribute bands and is a student of some of the finer guitar professionals, fit right in with the band's live repertoire and continues to perform with Fools On Sunday.
Moving forward, the band is planning to do more recording with Mitch Easter at Fidelitorium Studios. This time they will focus more on Evan's multi-instrumental talents, as he plans to record some bass and guitar along with his drums and vocals. Marc sees the project primarily as a vehicle for Evan's development, with himself and Mattola supporting as a group for live performances. "My feeling is that Evan will grow to be involved in a variety of projects," he said. In fact, Evan has already been offered a tour with a signed, major management band traveling through the U.S. and Europe, but he turned it down because of his age. There are also a couple of young touring bands who have begun covering some of his songs.
Fools On Sunday may not be around forever in their current, cross-generational arrangement. But while they are here, it is a genuine and entertaining treat to hear them perform with the unambiguous authority of pure, straight-forward rock, which they have mastered.
~

More Info About Fools On Sunday:
Reverbnation Page
Facebook Page
DAMES of PA Profile