The Badlees Story, Part 6

Part 6 (2005-2012)
Pete Palladino moved to Philadelphia where he got into the restaurant business, working at a high end place called Moshulu. He was successful and later became general manager of an affiliated hotel and restaurant – Daddy O in Long Beach Island, NJ, where he remains to this day.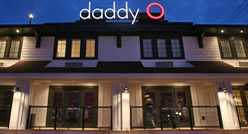 When asked about his new venture, Palladino says the restaurant business is much like the music business; "It's all entertainment," he says. "Except the restaurant business is more honest." Despite his misgivings about the nature of its business, Pete still says that music will always be his first love.
Ron Simasek remained the primary session drummer at Saturation Acres and played drums in various settings, with Shawn Z's Gypzee among many others. He even reunites from time to time with his band mates from Kaos, with whom he played in New York way back in 1987, and who now go as the Jeff Jolly Band. Simasek has also stepped in as The Badlees chief marketer and booking agent.
Alexander and Smith continued to operate Saturation Acres, recording and producing scores of musical acts and branching out into other areas such as licensing. In 2005, they recorded a cover of "Keep on the Sunny Side" with singer K8, which was used in commercials by Days Inn nationwide for years to come.
Eventually Paul Smith got a full-time "day job" as an instructor at Susquehanna University. In late 2007, he left Saturation Acres and early the following year, Bret Alexander moved the studio to commercial location in DuPont, PA, sharing the building with his wife's newly-opened bakery. Bret continued his full time work as a performer, producer, and studio owner. During this period he released a couple of songs, "Don't Ever Let Me Down" in 2005 and "Well Laid Plans" in 2006, each for inclusion on those years' Concert for a Cause (formerly Concert for Karen) CDs. Along with sporadic dates with the Cellarbirds, he played solo gigs, some with former Breaking Benjamin drummer Jeremy Hummel, some with a band called The Bodingtons and he even formed a new band called Giants of Despair in 2008.
After taking a break from music, Terry Selders returned to artist management with a new company called Susquehanna Entertainment. At different times he has represented the Jellybricks, Grantham Road, Giants of Despair, and Pan.a.ce.a.
In late 2008, Chris Gardner set the wheels in motion for a Badlees' reunion. He enlisted the help of Ron Simasek and they persuaded the rest of the band members to work on the new album. Gardner acted as Executive Producer, offering financing for the album's production, and eventually becoming the band's manager.
My suggestion to the band was to create a new CD that reminded people why the loved the band in the first place. In other words, record some songs that have the classic Badlees sound that got them famous. But also, to stretch and grow and show how far the guys have progressed since they began. I think that we succeeded on all fronts. Love Is Rain is a fantastic CD"
The Badlees quite possibly reached their pinnacle with the release of Love is Rain in October 2009, putting forth a masterful work of art. The album begins with some tracks originally written for the 2004 Badlees release that never happened. "Peter Pan" is a catchy pop tune that leads things off and serves as a nostalgic nod to the Badlees of days gone by ("that picture in your mind"). "Anodyne", co-written with Mike Naydock, is the best of these retro styled tunes. A shining example of the combo of pop and rock that has made the Badlees so successful in the first place. Pete Palladino's powerful yet controlled vocal shines brightest on this tune. It is a perfect concoction – enough 90's style pop for "that" crowd and enough thought provoking lyrics for "this" crowd – coupled with the rare art of the improvised coda (never has "fading away" sounded so good) that ranks this Badlees song with some of the elites of their past.
This brings us back to the two "do-overs" on the album, the songs which Bret Alexander had already released with his own vocals years earlier but were re-recorded with Palladino on lead vocals for Love Is Rain. The ethereal soundscape of "Don't Ever Let Me Down" with its appregiated piano riffs and quasi-rap lyrics is a gem unlike any other. Still a fine song with Palladino on vocals, we contend that this was better in its original Alexander-led form. "Well Laid Plans", upon further review, is a better fit for Palladino's vocal skills and is a solid and entertaining pop song.
"Radio at Night" is another fine Naydock collaboration that perhaps should have led off the album as it is a nostalgic nod to the Badlees own past. On the surface happy-go-lucky, deeper listening will uncover a tinge of melancholy, a reflective tone that says, "the past isn't so bad – embrace it and reminisce a bit".
But then there is another side of the album – the other "state" if you will. This includes several Alexander-led songs, starting with "Drive Back Home", the first song specifically written for the 2009 album. It was originally about a soldier coming home from war, but morphed into a more personal song, powerful and emotional that paints a stunning portrait of the journey of life; "All my life is like a drive back home/there ain't no where that you can run to/there ain't no where that you can go…". The past is inescapable, always there and part of who you are – a universal message that especially rings true with the mature listener.

"Part of a Rainbow" and "We Will" are probably the two most exotic songs ever included on a Badlees album. "Part of Rainbow" is reminiscent of 60's psychedlia with Harrison-esque guitars, while "We Will" arrives like an early Glenn Campbell tune with an AM radio vibe and use of strings as creative and cutting-edge as Johnny Cash's use of horns on "Ring of Fire". Both of these songs feature guest musicians, guitarist Aaron Fink on the former, and violinist Nick Van Wyck on the latter. Jeff Feltenberger also makes an appearance on the album, although not as a full band member, providing backing vocals for several tracks.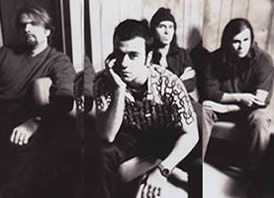 All these diverse roads of songs ultimately lead to the twelfth track "Two States", which is quite simply a masterpiece. Deep does not aptly describe this – to write this song was down-right courageous. It brings the listener to a place remote yet familiar. Unlike the up-front, soft, nurturing love of a mother, there's the sterner love of a father. Something we possess but rarely tap into. Further, it explores the transformation and revelation we all go through, from a child, "living in a world where heroes never fall" to the old man living in a world where "heroes have all fallen…"
Following the heart-wrenching climax of "Two States", Love Is Rain comes to a perfect conclusion with the light-hearted, McCartney-ish "Alright Now", which provides the ride off into the sunset as life goes on. As this musical odyssey concludes, the serious listener is left in amazement at the transformation that takes place between the ears, from the beginning of Love Is Rain until the end. In the past we were amazed by how a local band was able to produce an album like River Songs that sounded as good as anything put out by the major labels. With Love Is Rain, The Badlees have put out an album that is miles ahead of your typical production anywhere.
After Love Is Rain was released on October 6, 2009, The Badlees made plans to play live shows together for the first time in about 5 years. The first of these was in Pottsville, PA in November 2009 and was a raging success as were several subsequent shows through the rest of 2009 and into 2010, including a 2010 show at the Mauch Chunk Opera House where they performed the entirety of River Songs in order for the first time. The Badlees were free to do things like that, as they continued to be unsigned to any major record label, and pretty much set thier own pace for performing and recording.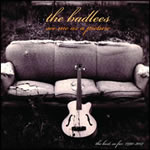 When the Badlees resumed performing live in 2009, they used additional players on stage, including Breaking Benjamin guitarist Aaron Fink, former Lemongeli front man Dustin Drevitch, and virtuoso violinist Nyke Van Wyk. Near the end of 2011, Chris Fetchko returned as the Badlees' manager and he spearheaded the release of an 18-song compilation called See Me As a Picture, The Best So Far 1990-2012 in April 2012. The first and only "greatest hits" package put out by the group, this 18-song collection includes tracks from every previous Badlees' studio album, along with two new original tracks. The release of this elaborately packaged album was the first of many phases in a longer plan for rolling out the group's next studio album.