The Badlees Story, Part 5

Part 5 (2000-2004)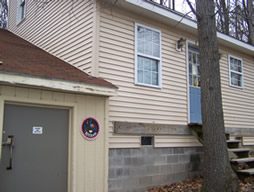 Rusty Foulke was the guitarist and chief songwriter for the band Hybrid Ice, a band in existence since the early 1970s and had a minor hit with the song "Magdalene" in 1982, a song later covered by the rock band Boston. In 1978, Foulke built a rehearsal studio for the band on his rural property along a dead-end mountain road just outside of Danville, PA. The stand-alone, chalet-style structure included a large, open staging area with an elevated control room in the loft as well as a separate lounge and reception area. He called the studio Magnetic North and, starting with Diamonds In the Coal, the Badlees would use it to make pre-production demos prior to recording their albums in a professional studio.
After the major-label debacles of the past few years, and with the clear indication that the band would not be headed out on the road to support Up There, Down Here, Bret Alexander and Paul Smith decided they would focus their efforts on recording, but this time beyond just their own material. They liked the place that Foulke had built and struck a deal with him to rent it as their own studio, which to that point had been operating out of Bret's basement. They moved in the now impressive array of equipment and gear, including a vintage mixing board, custom designed by Showco to be used for Pink Floyd's concerts in the late 1970s. They adorned the walls and corners with all the exotic instruments – guitars, banjo, dobro, sitar, mandolin, pedal steel, organ – that had been used in previous Badlees' efforts and collected over the years. They also paid homage to their heroes with large portraits of Bob Dylan, the Beatles, and the Band.
Saturation Acres Recording Studio was officially opened for business on September 9, 1999. Over the coming years, the studio would help produce albums ranging from nationally successful acts, such as Breaking Benjamin and Darcie Miner, to countless regional acts – Robert Reilly, Katsu, Jared Campbell, Joe Charles, Sinclair Soul, Hot Wing Jones, Mycenea Worley, and Pan.a.ce.a among them – not to mention all subsequent projects by members of the Badlees, collectively and separately. The studio offered up-and-coming musicians the opportunity to work with top rate producers and engineers in a laid-back rustic setting. Further, the Cellarbirds – Alexander, Simasek, and Smith, were available as the official "house band" to offer top notch session performances for solo artists or those with less than a full band. All this was available for much more reasonable rates than other top studios were charging.
As for the band itself, those label debacles combined with the departure of Terry Selders at the start of 2000, resulted in some inner turmoil that very nearly ended the Badlees. But these were not rash men, so instead of announcing a big "break up", they simply chose to concentrate on their various side projects as creative outputs during 2000 and 2001.
Aside from running Saturation Acres, Alexander and Smith again began performing live with Simasek as The Cellarbirds and began planning a debut album for that band. Meanwhile, Palladino and Feltenberger were also working on their own separate solo projects while continuing to perform live together as the Pete & Jeff Duo. Simasek would also join them on occasion to become Pete, Jeff, & Ron, and on one such occasion, Pete brought in some professional equipment to record a live show by the trio in Williamsport, PA.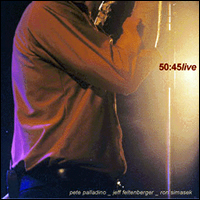 The resulting album was 50:45 Live, which would become the first release that featured live material from members of the Badlees (there were reports that Polydor had sent a crew to record some shows, shortly after signing the band in 1995, but none of that material has yet seen the light of day). The album contains unique versions of many Badlees songs written by Feltenberger over the years, including "Road to Paradise", "Ore Hill", "34 Winters", and "Appalachian Scream". There were also three songs penned by Palladino, "A Fever" from Amazing Grace, along with two new songs that would later appear on his solo album, "4th of July" and "Lay Beside You". The arrangements were quite simple – full drums by Simasek provided rhythm for Feltenberger's richly strummed acoustic guitar, with Palladino alternately playing a second acoustic, accordion, or harmonica, and well performed vocal harmonies between Pete and Jeff, who took turns singing lead depending on the song. 50:45 Live by Pete, Jeff, & Ron was released in September, 2000 on the Rite-Off Records label. It would be the last album released on that label.
As 2001 got underway, the members of The Badlees were busy working on their separate "side" albums that would end up being released within six weeks of each other in the late spring of 2001. When asked if this was coincidental or by design, Ron Simasek, who played drums on all three projects replied; "I think it was a coincidence. We didn't time it like the Kiss solo albums!" Nonetheless, it's hard to imagine that there was not at some sense of competition between these talented musicians who long worked as one, but were now taking the reins on their own distinct work.
But if there was competition, it was definitely friendly competition. Aside from Simasek playing on each, they were all recorded at Saturation Acres with Alexander either producing or co-producing each. In the case of Palladino's solo album, all five Badlees members performed to some capacity, and in return, Pete did the artwork for the Cellarbirds' album. Mike Naydock also had writing credits on all three projects.

The first of theses albums to be released was Echotown, a self-titled album by Jeff Feltenberger's pick-up band that includes Simasek on drums, Mike Morrison on guitars, Chris Novak on bass and longtime Badlee collaborator Robert Scott Richardson on keyboards. The album had a definite country-rock bent with superb musicianship from the fine lineup of Echotown. This is displayed best on the title song and acoustic-picked "Sacred and Sin" The entertaining hoe-down, "A Dinner with Richard Petty" was a minor hit on country radio, and featured hilarious, frantic lyrics stuffed between entertaining boogie piano. Feltenberger also covered three Badlees songs on Echotown, but only "Ore Hill", which fit beautifully with the country-tinged arrangement, advanced the sound of the original.
Pete Palladino's solo album, Sweet Siren of the Reconnected came out in June 2001. It was filled with all new originals – studio versions of the two Pete had written on 50:45 Live, with the rest co-written with Mike Naydock. The album is a steady mix of pop-flavored, acoustic driven tracks similar to work by Edwin McCain or Counting Crow's front man Adam Duritz, but with Palladino's distinctive style. Some of the more interesting songs are the ear-candy rich "Fate Can Be a Beautiful Thing", the nice acoustic ballad "Complicated Choreography", and "My Love", which features an interesting bongo rhythm by Simasek, dynamically directed guitars by Alexander, and excellent vocals by Palladino, perhaps the finest on the album. He also adds a nice touch to the album as the simple, bare. all-acoustic closer "Ever Come to Mind" tops off Sweet Siren of the Reconnected.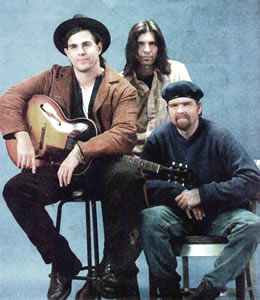 There is little doubt, however, that The Cellarbirds debut album, Perfect Smile, is the finest work of the three. Perhaps a natural continuation of what was started on Amazing Grace (which itself derived, in part, from demos done by the Cellarbirds), this album climbed to new plateaus, onto which the Badlees, fine as their catalog was, had not. Much like Amazing Grace, this album was written and recorded in a very short period of time, with Bret Alexander claiming he wrote most of the lyrics while on the drive in to Danville and with a loose philosophy of "I'll see you at 10:00am on Tuesday, we'll write something and record it." The whole thing was completed in about two weeks. It was truly like catching lightening in a bottle.
Since this is an article on the Badlees, we won't go too far into analyzing the quality of The Cellarbird's Perfect Smile except to include some quotes from reviewers at the time. In the Wilkes-Barre Times Leader, Alan K. Stout wrote; "tucked within its 10 tracks is a true amalgamation of pure rock 'n' roll and musical integrity". John J. Blair of the Williamsport Sun Gazette went even deeper, "Cellarbirds' music is branded with scathing poetry that's beatific in its way. The group deconstructs paranoia, deception, divorce and a corroded theology of life. Its singer says, 'his heart's a gnarled tree', and this honesty in artistry is as bracing as the first day of spring after working in a dark winery all winter."

Whether or not one outshines the others, there is little doubt that all three Badlees "side" projects of 2001 are of high quality and musically interesting. Being diplomatic, L.A. Tarone of the Hazleton Standard Speaker, combined all three into one listing in his "Best of 2001" segment at the end of the year. Still, while they were all well received critically, none reached any success of note commercially. It would not be long before the band members decided to regroup and once again tie their fortunes to the Badlees.
A charitable event would provide the perfect opportunity for The Badlees to come back together and make music once again as a band. Karen Greenberg Revit was a friend of band who they knew from their shows at Jitterbug's night club and through her work at Soundcheck magazine. In 1998, at the young age of 33, Karen died of leukemia. Soon thereafter, a benefit concert was held in her honor, which had since become an annual event. In 2002, Concert for Karen IV was organized and the Badlees decided to do something special.
The band got together at Saturation Acres for this cause that they believed in and recorded four songs for an EP to be released in conjunction with the live event. At first, they were unsure if some of their recent differences would be an impediment to this goal, but within fifteen minutes of playing, they all felt at home with each other. As Pete Palladino put it at the time; "I think everybody at that point had just let it all go. All of those hang-ups and baggage that we carried around from all of those years were let go, and we just accepted each other. And it was a great feeling." The Concert for Karen IV EP was released on April 2, 2002, containing two cover songs, The Beatles' "Rain" and Bob Dylan's "Like a Rolling Stone", and two new originals, "Renew" and "See Me As a Picture". Both of these songs, written by Bret Alexander, would also appear on the Badlees' new, forthcoming album, which would also be named Renew.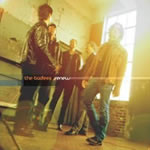 The decision to make a new album was spearheaded by Chris Fetchko, a 27-year-old native of West Hazleton, PA, who eventually replaced Terry Selders as the The Badlees' new manager. Fetchko, who also worked at Capitol Records in New York City, had actively lobbied the band to let him take the reins and get back into recording new music. The album was released Renew in June, 2002, and marked the return of the Badlees to what made them famous in the first place. Most of the songs are written by Bret Alexander and all are sung by Pete Palladino, giving him the opportunity to flex his vocal chops. The sound itself is less layered and more evenly patterned than that on Amazing Grace or Up There, Down Here. "Renew" was the very first song written for this initiative and served as a fitting theme for that point in their career. It sets the tone for the reflective and introspective feel of this record, getting its movement from Pete's vocal progression from controlled and moody to joyous. "See Me As a Picture" speaks to the sensation of being idolized or "set as picture in your mind". It is an exquisite poem about letting people grow and change with time and experience and contains its share of interesting instrumentation with a heavy presence of organ, synths, and wah-wah-ed guitar.
The band gives its own roots rock and Americana influences a nod in the songs "You Can't Go Home Again" and "Done For Love", each with a fair share steel guitars, banjos and country twang. Jeff Feltenberger contributed one song with the rocker "I Don't Believe In You", while Mike Naydock's only contribution was actually written in 1997 for the Up There, Down Here album. The song, "Once In a While" is a fine, steady pop song with interesting changes, layered vocals, and a bluesy guitar lead.
"Too Many Changes" is the standout song on this album. A soft and simple riff is the backdrop for dynamic vocals that rise from being measured and controlled to wailing and forceful. The song is also a showcase for each of the musicians as it gradually builds with new, rich layers of sonic candy and sound effects, all to a marching rhythm by Simasek and Smith – beautiful.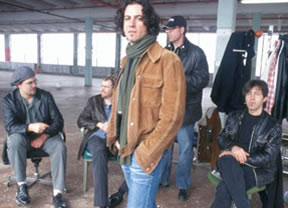 To support Renew, the band decided to try something new – a television special. They filmed a special show at the Grand Ballroom of the Manhattan Center in New York City in July, 2002, playing a healthy mix of new songs off their album with favorites from the past. The show was titled Renew and Rewind and aired on a local Pennsylvania television in late August. Despite this new initiative, and some healthy airplay of the title song, Renew followed much the same path as the various side projects a year earlier – critically acclaimed, but commercially lacking. But the band took this all in stride. Late in 2003, the group released a live album called If Memories Had Equity, which included some unreleased songs such as "Ballad of Dick and Jane", "Rocky Top", and the Christmas classic "Heatmiser".
Bret Alexander and Mike Naydock did many songwriting sessions in late 2002 through 2003, intending to have a new Badlees album in 2004. By all accounts, these sessions were extremely prolific, yielding songs such as "Anodyne", "Don't Ever Let Me Down", "Well Laid Plans", "Starthrower", and "Peter Pan", all of which would eventually be released on Love Is Rain in 2009, as well as several other songs that may be included on a future Badlees' release.
Alexander takes responsibility for the fact that the band did not release an album in 2004, as intended. He says he felt that the record was never quite up to snuff and adds;
Basically the record became a beast in many ways. Since 1999 we had released Up There Down Here, Amazing Grace, Perfect Smile, The Lit Riffs Soundtrack, Gentleman East, Renew – plus all the Saturation Acres stuff that included Breaking Benjamin's early recordings and Darcie Miner's label record. That's a lot of records. I should have just finished The Badlees record and called it done, but I didn't think it was that great so I kept putting it off. I have a problem letting things go that I don't think are strong enough. There is some debate on what would have happened if (a new album) had come out in 2004. I personally don't believe the band was poised to rise to prominence again at that time, but I should have finished the record. Everybody did drift apart around then"
This "drifting apart" began with the departure of one of the band's founding members. In March of 2004, Jeff Feltenberger announced he was officially leaving The Badlees as he planned to pursue a career as a record producer/engineer with Scott Wray Studios in the Harrisburg area as well as launch the group Sweet Pea Felty, an updated incarnation of Echotown. This was the first shift in personnel among the musicians since 1991, when Paul Smith joined as the band's permanent bass player.
Along with manager Chris Fetchko, the four remaining Badlees members officially formed an equal partnership in the label S.A.M. Records on May 1, 2004. S.A.M stands for "Saturation Acres Music", and there had actually already been two releases as of that date – The Cellarbird's Perfect Smile in 2001, and The Badlees' Renew in 2002. The difference with this new initiative was that the label would be actively searching for other acts, beyond the immediate members of The Badlees, to sign and promote. In those earliest days, these acts were quite diverse in style, ranging from the post-punk Katsu to singer/songwriter Jared Campbell, while later S.A.M. settled into the Alt Country/Folk Rock/Americana genres, with acts Anthony Narrow, Evernight, and Ed Randazzo.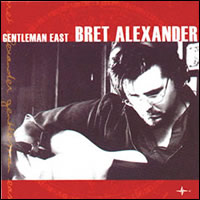 Chris Fetchko had a couple of immediate projects for the label. He was in the process of producing a major film titled Everything's Jake, starring Ernie Hudson. Fetchko enlisted Bret Alexander to write the music for the film's soundtrack. Gentleman East by Bret Alexander was released on May 4, 2004 as the soundtrack to the film, although it never quite made it on to the final edit of the film. The songs on Gentleman East were a clear departure from the pop styling of the Badlees and the classic rock sounds of The Cellarbirds. The influences of Tom Waits, Johnny Cash, Bob Dylan and John Lennon are apparent throughout the songwriting and stripped down instrumentation. Bret has cited "I Want to Win In this World", about trying to figure out how to get to the good things without going through the bad, as one of his personal favorites. Some of the other standouts are "Bleeding Heart", a Lennon-esque ballad, sung at the higher end of Alexander's vocal range, "Bright Young Man", a folk song with doomy, reverb-heavy guitars, and "Memphis Restroom", a story-telling song at its best. The title song for Gentleman East, was actually written by Mike Naydock way back in the 1980s.

Another Fetchko project was Lit Riffs, a compilation album that would accompany a book written for MTV Books. The idea of Lit Riffs, was to have fictional stories that would accompany some classic rock songs, with these songs being re-recorded at Saturation Acres for the soundtrack album. For this, The Badlees recorded the Rod Stewart classic "Maggie May" on June 22, 2004. It would be the last recording released by the Badlees for the next five years.
But over time, these Fetchko projects would dry up and soon Fetchko departed from the band as manager. Throughout the bulk of the rest of the decade, the Badlees would be on an extended hiatus.