The Badlees Story, Part 3

Part 3 (1994-1996)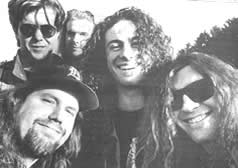 If the Badlees were disappointed in the result of their latest album, they certainly did not show it. After the album's release in August, 1993, they got right out on the road, throwing no fewer than ten "album release" parties over a few weeks in all of the Pennsylvania cities and towns where they built their following. Terry Selders launched a media blitz that far exceeded what was done to promote Diamonds, and fans and radio personalities alike responded positively. The band also started to greatly expand their geographical base, traveling to markets that they had not before. The band now employed a full-time tour manager, formal Susquehanna Sound producer Scott Berger, as well as a permanent sound engineer – Parker Bandy at first, then later Keith Barshinger. The Badlees spent a solid year "seeing the country from a van", as Simasek put it. Although they still had not achieved that elusive goal of "being signed" by a major label, the band members would not relent from their incredible work ethic and positive attitudes. And then an amazing opportunity arose.
Bud Light, the band's primary sponsor, offered the band the opportunity to play a series of dates in a nation that few western artists had ever had the opportunity to perform in – China. The Qingdao Beer Festival was an annual event in the Chinese city of the same name, which had been growing in size and popularity for years. Western companies started to notice this and hop on board. In 1994, the festival was held from August 14th through the 18th. The Badlees, the only western entertainment performing that year, played about ten shows over the course of those five days, many being short, unplugged acts sets in a huge tent that held about 2,000 people and one full, two-hour outdoor set to a crowd of about 8,000. This show was plagued by technical problems as there were no monitors, only a stack of "Radio Shack-like" speakers about 100 yards out in the crowd, resulting in about a two seconds in latency of sound.
Although the band members were thrilled to have such an opportunity, they each returned home with mixed feelings about the experience. Bret Alexander observed; "Love China, wouldn't want to live there. Bad water, but the Karaoke was good but the cigarettes were horrible!" While Ron Simasek admitted; "We became patriotic when we landed at J.F.K. – there's nothing like a trip to rural communist China to make you appreciate the U.S.A."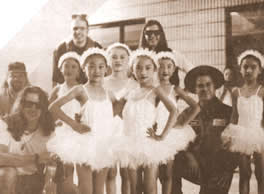 Pete Palladino was so excited about the performances that he learned a few common phrases in Chinese to address the crowd in their native language. However, he soon learned that even the most minor inflections can result in totally different interpretations, and was met by mostly blank stares to his statements. At one of the shows, someone threw a chicken's foot on stage, and when Pete picked it up and waved it to the crowd, he was soon met with a shower of chicken's feet from the crowd – a show of appreciation in their culture. Also, some of the Chinese fans would tend to call members of the band and crew "Michael", being this was the one American name they were familiar with due to the popularity of Michael Jackson and Michael Jordan.
But not all events in China were as light as these. The band observed a male fan that was really into their music and began to dance around wildly, accidentally bumping into a female in the crowd. This fellow was immediately hauled away, disappeared, and no one would give an explanation as to where he was brought. Soon after the band returned home, they headed back to the studio to start on another album. They planned on calling this next one simply The Badlees, as a symbol of their commitment to hit the "reset" button and return to their roots musically, but soon found a more fitting title that would become familiar to music fans nation wide.
In September, 1994, the Badlees made daily commutes from their base in Selinsgrove to The Green Room, a studio in Harrisburg, PA, to record their third full-length album. This 50 mile journey in each direction follows the Susquehanna River as it winds through rural central Pennsylvania towards the mini metropolis of the commonwealth's capital city.
With nearly a year of constant touring and refining their sound in their rear view mirror, the band entered the studio more focused than ever. Their original intent was to do a self-titled release since The Unfortunate Result of Spare Time, had been a departure from the distinct style forged in their early years and they wanted to return to that form. In time a more proper title emerged, influenced not only by their daily commute, but also by a cornerstone song they recorded called "Song for a River". The new album would ultimately become River Songs, and would be the catalyst that finally propelled the Badlees into the national spotlight.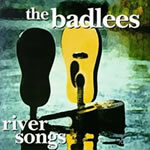 Right from the jump, River Songs displays it dedication to the "roots rock" musical tone, opening with "Grill the Sucker", a down home blue-grassy tune fueled by a mandolin riff with acoustic guitars, banjo, harmonica, jaw harp and stumpf fiddle. The short instrumental served as a deliberate, unspoken statement by the band as to the direction they were headed with this new album (unfortunately, the later Polydor release of the album, changed the sequence of the first few songs, thereby eliminating this opening effect).
"Angeline Is Coming Home", a hook-laden, pop gem written by Mike Naydock, celebrates a heroin addict returning from rehab. With bouncy, almost euphoric melodies and bright, intelligent lyrics, this song would ultimately become the band's biggest commercial success, in spite of the fact that most pop listeners didn't recognize or understand the primary line in the song's chorus, "resplendent in dignity". The song also immediately introduced a dynamic new element to the Badlees' music that debuted on River Songs, Pete Palladino's harmonica playing and its emergence as a lead instrument. This is perhaps at its finest during the outtro of the next song "Fear of Falling", a song that would come to be considered the band's first true masterpiece.
Composed by Bret Alexander, "Fear of Falling" contains about every element of quality and distinction that was present in the Badlees finer songs of the past – an excellent melody with good vocal inflections, nicely placed harmonies, a mandolin rhythm with an exquisite mixture of acoustic, electric, and bass guitar, and a lyrical narrative about reaching for lofty goals, failing, and then getting up and trying again, something that just about everyone one of us can relate to. But this song also includes some unique, new elements that really pushes it over the top – some Hammond B3 organ by guest Robert Scott Richardson, and a climatic, masterful coda fueled by a Ron Simasek's unique, cyclical beat, and, most especially, Palladino's mixture of vocal ad-libs and harmonica, which brings the song to a whole new level.
River Songs (in its original form) may be a bit top-heavy due to sheer quality of the opening numbers, but front-to-back there are no weak songs on this album. "Angels of Mercy" and "Bendin' the Rules" are excellent melodic rock with a message brought by intelligent lyrics and a touch of sarcastic humor, with "Bendin' the Rules" also containing some strong guitars and a reprise with a harder edge.

"Gwendolyn" is another well-crafted pop song about a game-playing phony that laments; "once upon a time we could speak our minds". The album also contains a couple of uncomplicated and fun songs with a tinge of dark humor in "Queen of Perfection" and the closer "I Liked You Better When You Hated Yourself", a country-tinged song with a unique "yodeling" section. Jeff Feltenberger's "Ore Hill" is a more traditional, folk ballad that further advances the Pennsylvania "roots rock" theme.
Feltenberger also provides the unique, wild wailing in the climatic epic "Song for a River". With spoken-word verses by Alexander, and sharp, dramatic choruses sung by Palladino, this Naydock-penned song (which is actually about a person with the "river" as a metaphor), the song served as another expansion of the Badlees' musical scope into original and unorthodox territory and topped off the album perfectly.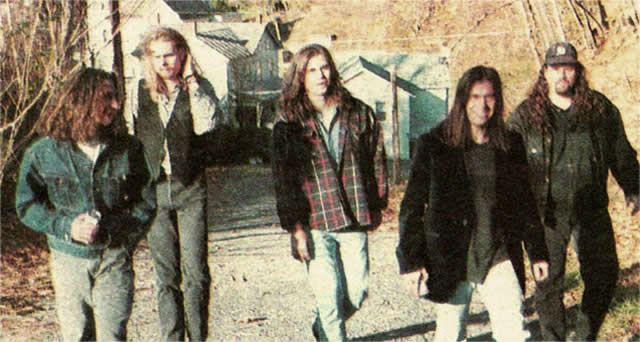 Upon its release by Rite-Off Records on February 28, 1995, River Songs was instantly recognized by many as something quite special. Writer Alan Stout of The Wilkes-Barre Times Leader observed; "it's somewhat ironic that an album this good is an independent release, and there's almost a feeling of guilt in enjoying it all to ourselves here in the confines of Pennsylvania." No one was more astutely aware of this than manager Terry Selders, who had already identified "Fear of Falling" as the song that would be the band's breakthrough to national fame, but wanted to issue another single first to introduce the new album and build up to the eventual push of "Fear of Falling". He remembers standing in the upstairs room at the Herndon House, a remote outpost along the very Susquehanna River that inspired the name of the album, and contemplating which song to fill that role – "Angeline Is Coming Home" or "Gwendolyn". He ultimately decided on "Angeline" and within weeks the song was in regular rotation on radio stations throughout eastern Pennsylvania.
Fred Shade was an executive for A&M Records who worked out of Philadelphia and whose primary mission was making sure that A&M artists were played regularly on radio stations throughout Pennsylvania. This was kind of a systematic and predictable routine, being there was a finite amount of stations that catered to any specific genre, each with a finite amount air time, especially during the coveted, prime "drive time" hours. But during the spring of 1995, Shade was baffled by the fact that he was having difficulty getting as much air time for A&M artists, due to these stations dedicating some of this time to an unsigned local band. After doing some research into the band, Shade decided to check them out himself and drove to a Badlees performance at a night club. Not only was he won over by the performance, but Fred Shade soon began to champion the band within A&M itself.
In preparation for the push of the second single from River Songs, "Fear of Falling", Terry Selders took some measures that he had not before, but was confident would be beneficial in this situation. First, he hired a professional radio promoter to handle the arduous task of actually getting the song onto those stations during those prime hours. Also, the band hired a professional film maker to shoot a music video for the song.
The video was shot in and around Harrisburg over the course of a few days. There were color live performance shots from a show at the Metron, interspersed with black and white footage of the band members along the riverfront and on a walking bridge (which happened to be destroyed less than a year later in a massive flood). The end result was a well produced, professional video the nicely captured the mood of the song as well as introduced the band to a video audience in an adequate fashion. The only minor flaw of this video was the decision to truncate the climatic coda section of the song for time saving purposes.
When River Songs was initially released, Selders pitched it to several major labels and each, including A&M had turned it down. A few months later, with independent sales of the album topping 10,000, the impressive success of two singles, and with Fred Shades working the system from within the company, there was clear interest in signing the Badlees to the newly-merged A&M subsidiary label Polydor/Atlas. But the band was not rash in their decision to jump on board, because they knew their stock was quickly rising and they wanted to land the best deal possible. Soon, other labels showed interest such as Lava and Columbia Records. In fact, one night in the summer of '95 representatives from Columbia drove down in a limo from New York City to a Badlees gig on the Jersey shore. Selders remembers that they brought the entire band and crew out to dinner where they negotiated the terms of a possible record deal. The establishment was having karaoke that night and Terry found it fascinating that all these novice singers came up to sing their songs, completely obvious to the fact that a potential million dollar record deal was being negotiated between a rock band and Columbia Records a mere twenty feet from where they were performing their karaoke.
With this growing interest in the Badlees by multiple major labels, Polydor made the next big move to attract the band to their label. On July 18, 1995 the entire band was flown to Los Angeles and given the "star" treatment. They were given a personal tour of Charlie Chaplin Studios in Hollywood, which was then the headquarters of A&M Records. Later they were taken to dinner at Mezzaluna Restaurant in Brentwood, which was very famous at the time due to its role in the O.J. Simpson murder case. While at the restaurant, Terry was on the phone with his attorney, ironing out the final details of a deal that the Badlees would sign that night.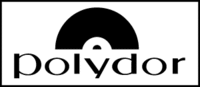 The deal with Polydor/Atlas was for two albums, River Songs and a future album, in exchange for a substantial sum of upfront money to the band and national tour support by the record company to help sell the albums. River Songs was accepted by the company "as is", with no further production required for the national release. The fact that an independently produced album, recorded outside the major studio system, would be released by a national label in its original form is was an absolutely incredible feat for the time.
For the band members, the signing was more of a relief than a euphoric high. They were all around the age of thirty and had worked for many years to get to this point and looked at the signing with Polydor as just another step along the way. In fact, after they signed the deal in California, they flew home to Pennsylvania and played a scheduled gig in a mid-sized bar that very night.
Polydor's strategy for single releases mirrored that of Terry Selder's earlier strategy, but in the opposite order. They began by pushing "Fear of Falling", which had already entered the U.S. mainstream rock chart at the time of the signing, and would later put emphasis on "Angeline Is Coming Home" in early 1996, with "Gwendolyn" becoming the third single released from the national album in the summer of '96. River Songs was released nationally in mid October 1995 with the exact same mixes and artwork as the Rite-Off release that previous February, changing only the sequence of the first four songs in an ill-advised move to place the "hits" right up front.
The Badlees would spend the next year and a half constantly playing, usually as a supporting act for a national headliner. Their first really big show was opening up for Led Zeppelin's Jimmy Page & Robert Plant in front of an audience of about 17,000 at the Buffalo Memorial Auditorium in Buffalo, NY on Thursday, October 19, 1995. Later they would join tours for Bob Segar, Greg Allman, The Gin Blossoms, and Edwin McCain, among others and perform throughout North America.
In March of 1996, the band shot a video for "Angeline Is Coming Home". The video was directed by Anthony Edwards, an actor then staring on the television drama E.R. Edward's co-star on the show, Emmy award-winning actress Juliana Margulies, was cast to play the "Angeline" character in the video. Edwards was a personal friend of Nick Gatfield, then president of the Polydor/Atlas label, who pitched the video idea to the band. The video was shot right there on the Chaplin soundstage at A&M, which was the same location where many famous music videos were created, such as "Every Breath You Take" by The Police, "Ghostbusters" by Ray Parker, Jr., and the star-studded video for "We Are the World" in 1985.
A full crew of about 60 people worked on the video for "Angeline" and would carry a price tag of over $100,000. Terry Selders half-jokingly says that the catering bill alone was almost as much as the entire cost of the "Fear of Falling" video, shot in Harrisburg a year earlier. The band would later reveal that they were less than satisfied with the end results of the "Angeline" video and come to nickname it "Very Expensive Mistake".
The video did play on VH1 for a short duration and the song itself ultimately reached the Billboard's Top 40 and climbed to #20 on the mainstream rock charts, making "Angeline Is Coming Home" the biggest chart success of the Badlees career. Having the marketing efforts of a major label like Polydor and being included on major arena tours were definite factors in the Badlees growing national popularity.
However, this was also a kind of double-edged sword. As a supporting act, the shows they played were limited to 35-45 minutes in duration, with their song selections strictly confined to those off of River Songs. Also, the label began touting the band as "the next Hootie and the Blowfish", a short-sighted and rather inaccurate claim that diminished the Badlees' already rich legacy by insinuating that they were all about the latest fads and commercial success. Still, the band soldiered on through 1996, accepting whichever tour Polydor asked them to do, sometimes with only a few days notice to pack up and be at a certain city to perform for 10,000 people or more.