The Badlees Story, Part 1

Part 1 (1981-1990)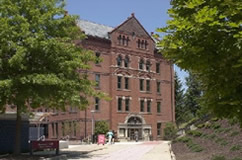 In September 1981, three freshmen entered Mansfield University. Located in a small town of the same name in the vast, mountainous region of north-central Pennsylvania, Mansfield had just begun to offer new fields of study within their music department. There was now a major in Music Merchandising, which attracted one of these freshmen, Terry Selders to enroll in the school. Terry was a saxophone player, originally from Baltimore, who moved to Pennsylvania when he was eleven. He spent his adolescent years obsessed with a singular subject – music. When his high school music teacher suggested this program at Mansfield, Terry was intrigued. He wasn't quite sure if he would ever be a rock star himself, but he knew he wanted to be in that business and set off to find his own niche.
Jeff Feltenberger, was a talented singer and musician, who entered Mansfield as a Vocal Performance major. In high school, Jeff had started a band with his brother, Steve Feltenberger and their friend Clint Barrick called Martial Law, a cover band in which Jeff sang lead vocals and played various instruments.
The third freshman was Ron Simasek from McAdoo, PA, who was already a seasoned drummer, playing in various bands through his teenage years. After graduating from Marian High School, Ron considered pursuing a music career right away but his mother, Sandy Simasek, convinced him that entering a college with a good music program was his best course of action because that is where he would establish the right connections. So, Ron entered Mansfield as a Music Education major.
Jeff and Ron were roommates and, along with Terry, they soon formed a camaraderie centered on their love of music and the common goal to succeed in the industry. Over the next four years, they performed in several pickup bands along with other Mansfield students such as guitarist J.R. Mangan, bassist Marty Gassner, and female guitarist and vocalist Terry (Patrick) Mingle. One of these bands was named The Leaky Sneakers while another was called Secret Service.
About 20 miles to the southeast of Mansfield, is the equally remote small town of Canton. Here, a high school football standout was garnering curiosity from recruiters of several prestigious universities. Though named after his grandfather, George Alexander, everyone knew him by his middle name, Bret. During the 1982 season, Bret Alexander was awarded the Twin Tiers Defensive Player of the Year (the "twin tiers" encompassing a large geographic area along the New York/Pennsylvania border).
The seventeen-year-old senior was attracting a lot of attention from college recruiters, and not just for his skills on the gridiron, but also due to his excellent academic and extra-curricular skills. These included Bret's membership in the foreign language club, with whom he traveled to Spain and France, as well as his musical talent. At a very young age, Bret developed an appreciation and love for music when his grandmother introduced him to the unique, driving sound of Johnny Cash. After first learning the trumpet in his early teens, Bret taught himself the guitar and got his first band gig when the previous guitarist got into some trouble with the law and his mother took his guitar away.
Bret's talents attracted not only the traditional football powerhouses, such as legendary coach Bear Bryant's Alabama Crimson Tide, but also the academic powerhouses, such as the University of Pennsylvania and Brown University. Ultimately, he chose to stay close to home and attend Bucknell University in the central PA town of Lewisburg.
While at Bucknell, Bret took an audio engineering course at Susquehanna Sound, a working studio in the nearby town of Northumberland. He thoroughly enjoyed the course and later signed up for a full internship at the studio. The studio was operated by Bill Grabowski, a veteran of the famed Powerhouse Studio in New York City, who had co-written a few songs for national artists, and Scott Berger who would later become the road manager for the Badlees. Here, under the direction of Bill and Scott, Bret discovered his passion and talent for the art of sound engineering.
On the football field, Bret started at defensive end for three seasons at Bucknell, from 1984 through 1986. He was a solid player on a mediocre team that played other Division 1-AA colleges throughout the Northeast. Unfortunately, six games into his senior season, Bret dislocated his shoulder, an injury that effectively ended his football playing days.
Upon graduating from Mansfield in 1985, Jeff Feltenberger, Ron Simasek, and Terry Selders initially went their separate ways. Jeff entered the teaching profession and soon reunited with his high school band, Martial Law. Ron moved to Florida, pursuing entertainment opportunities in and around Disney World. He worked as a waiter and did play in several acts, but found nothing musically satisfying to pursue. Within a year, Ron left the sunshine state and migrated to New York City where Terry Selders was already working in the music business. Terry, who had previously interned with Warner Brothers while still a student, returned to the big apple where he became the manager of INS Studios after answering an ad in The Village Voice. Ron and Terry shared a closet-size apartment as they pursued their musical dreams.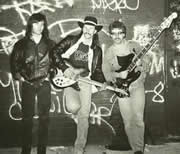 Ron found better fortune in New York. He soon formed a band with a couple of guys from Brooklyn named Flip and Jeff Jolly. The trio, called Kaos, played original material that was a hybrid of Stevie Ray Vaughn and Tom Petty. They soon gained a respectable following and regular gigs. Ron also found work as a music tutor and gave private drum lessons. Meanwhile, Terry was enamored with the environment in which he worked. INS Studio was located on Murray Street in lower Manhattan with a picturesque view of City Hall, just a few blocks to the east, and the World Trade Center, just a few blocks south. The studio itself would later become the inspiration for The Sonic Youth album, Murray Street, in 2002. Terry remembers sitting in his office, watching as the New York Mets paraded by after winning the World Series in 1986 and marveling at how he had "arrived". But in spite all these environmental perks, the actual work that he performed as studio manager was not quite the ideal vocation that he envisioned for himself. So, when the right opportunity presented itself, Terry was ready to make the next move.
After about three years of teaching and playing with different incarnations of Martial Law on the side, Jeff Feltenberger felt it was time to make the next move and record some of his original songs in a professional studio. He contacted Terry Selders about recording in his studio, but unfortunately, INS was beyond the modest recording budget, so Terry suggested they use the smaller, 16-track studio next door and he was impressed with the demos Jeff's band ultimately recorded there. At the time Terry was in the process of forming an independent record label along with Bill Grabowski and, after hearing the demos, felt that Jeff's music would be a good fit for the first project of this new enterprise.
Along with Jeff, the act still included his brother Steve on bass and Clint Barrick on lead guitar, but at the time they did not have a permanent drummer. So Jeff and Terry turned to their old classmate, Ron Simasek, to fill this void. But Ron was hesitant to leave Kaos, he had bonded well with his band mates and was really enjoying the music they were performing and the crowds they were drawing. However, after much deliberation and prodding, Ron ultimately decided to return to Pennsylvania and join the band of his college roommate. The project was given a new name, a name suggested by Ron's girlfriend at the time – Bad Lee White.
Bret Alexander returned home to Canton after he receiving his degree from Bucknell in 1987 where he formed a band named Masque, with fellow members Ron Morgan, Ben Darrow, and Curtis Smith. However, Bret soon found it difficult to find suitable work in the small town and would need to send resumes to the larger metropolitan areas with more opportunity.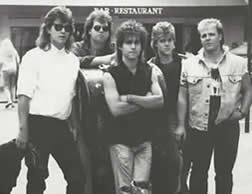 One morning Bret was on his way to an interview in Harrisburg, about 150 miles to the south, for a sales position. He decided to leave early and stop in at Susquehanna Sound on the way, just to say hello and confer with his former colleagues. As it turned out, the studio's owner (and chief designer) had just been hired by pop superstar Whitney Houston to design a private home studio for her and he had enlisted many of Susquehanna's producers and engineers to assist with this high profile task. The visiting Bret was offered the opportunity to fill-in for the already booked sessions and he accepted on the spot, never arriving at his interview in Harrisburg.
Bret excelled as an engineer and he quickly took charge of the choice projects that came through the doors of Susquehanna Sound. In 1988, one of these projects was from the newly formed A-Street Music of Terry Selders and Bill Grabowski to record the debut album of a band called Bad Lee White.
The album, What Goes Around, was made up of seven tracks of four original songs (three duplicate re-mix versions). All but one was co-written by Jeff Feltenberger and Bill Grabowski, with the last written by Charlie Crystle, who had sent a band demo of original songs to A-Street Music. The sound produced was definitive eighties and the song structure pretty standard for the time. But there was just a bit of edge, predominantly due to Jeff Feltenberger's mandolin strumming on the opener "So Long" and his moody piano riff on the ballad "You're Tryin'".
As engineer, Bret Alexander put in long hours working on the album, often outlasting some of the actual band members in the studio. Being an accomplished guitar player, he lent his talents to recording several overdubs and his playing impressed the band. Ultimately, he was asked to join as the fifth permanent member of Bad Lee White and gladly accepted, as he had become familiar with the music and was devoted to the project.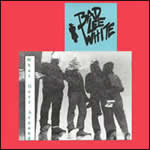 What Goes Around by Bad Lee White was released on the A-Street label in October 1988. It received good press and reviews in national publications such as Billboard Magazine and Cashbox. However, some personnel shifts at A-Street soon ended its short run as an independent label kept What Goes Around from reaching a second pressing, and it soon fell off the radar. Today, Terry Selders admits that he was a bit green at the time and not really prepared to run a new label or promote its artists, and accepts responsibility for the Bad Lee White album not reaching its full potential.
Soon after, Terry returned to New York and accepted a position with Bassment Records, which specialized in the fast-exploding genre of Latin Hip-Hop. Here, Terry really "cut his teeth" in the business of artist management, performing double duty as many of the label artists' road manager and traveling to locations such as Texas, Florida, and Puerto Rico with their large Latino populations. Although never really a fan of that particular genre, Terry learned from his time at Bassment that there were some universal management principles applicable throughout the music industry.
Meanwhile, Bad Lee White entered a period of realignment and major adjustment. Guitarist Clint Barrick left the group and was later followed by bassist Steve Feltenberger, who enlisted in the Marines. Susquehanna Sound became a hub for the remaining members. Bret continued as chief engineer and Jeff and Ron frequently joined him to work on sessions or rehearse new material.
One day, a local band named Anthem from nearby Susquehanna University came in to record at the studio. Anthem had a dynamic 21-year-old singer named Pete Palladino with a deep raspy voice and a healthy rock image. The guys hit it off with Pete and once Anthem's sessions were complete, Jeff, Bret, and Scott Berger would often meet up with Pete on "10-cent wing" nights at local bars and talk about their various musical projects and plans. On one such night, Jeff approached Pete with an offer to join Bad Lee White as their front man, which he accepted. Soon after, the newly revised band officially changed their name to what fans had began commonly calling them at shows, The Badlees.
---