Review of Love Is Rain by The Badlees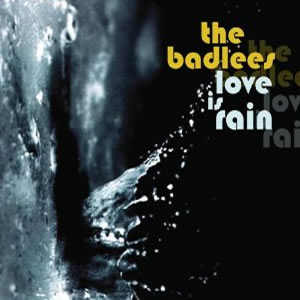 If you are looking for a fluffy, happy review of the new CD by The Badlees stop reading now. The band's new release, Love Is Rain, is flawed. The first of these flaws are right up front and immediate. Now, we realize that the art of song sequencing is evaporating with the advent of digital downloads, but as consummate professionals these guys should know that you start off with some of your stronger material. That is not the case here as the first two songs, boilerplate pop songs, are perhaps the weakest of the album.
A few songs down the road are a pair of tunes that have been kicking around the local scene for several years now "Don't Ever Let Me Down" and "Well Laid Plans". Each of these had featured guitarist and primary songwriter Bret Alexander on vocals in their original form, but each have been reconstructed as Badlees' songs by dropping in lead vocals by front man Pete Palladino. For us, as local music fans, this seemed like an odd thing to do and begged the question 'why?' Although Palladino is the lead vocalist for most of the songs, the true "voice" on the album comes from Alexander. Since the last Badlees' release in 2002, Alexander has continued to compose and perform as a solo act as well as with various musical arrangements. It has become clear that he was the driving force behind the Badlees' success of the 90's and has become even more refined in his songwriting and arrangements this decade.
But if Alexander is the heart and soul of the Badlees, what is Palladino ? the hair and teeth? And, as such, was it preordained that this new album have a quota of Palladino-fronted tunes? Well, it's not quite that simple. The truth is that this album may, in fact, contain some of Palladino's finest performances of any Badlees album. This is most evident in the song "Anodyne", a shining example of the combo of pop and rock that has made the Badlees so successful in the first place. Palladino's powerful yet controlled vocal shines brightest on this tune co-written by longtime collaborator, Mike Naydock. It is a perfect concoction enough 90's style pop for "that" crowd and enough thought provoking lyrics for "this" crowd, coupled with the rare art of the improvised coda (never has fading away sounded so good!) that ranks this Badlees' song with some of the elites of their past.
Love Is Rain by The Badlees
Released: October 6, 2009
Produced by: Bret Alexander
Track Listing
Primary Musicians
Peter Pan
Star To Fall
Anodyne
Don't Ever Let Me Down
Well Laid Plans
Drive Back Home
Radio At Night
Part Of the Rainbow
We Will
Way Back Home
Starthrower
Two States
All Right Now
Pete Palladino
Lead Vocals, Harmonica
Bret Alexander
Guitars, Mandolin, Vocals
Paul Smith
Bass, Vocals
Ron Simasek
Drums, Percussion
This brings us back to the two "do-overs". The ethereal soundscape of "Don't Ever Let Me Down" with its appregiated piano riffs and quasi-rap lyrics is a gem unlike any other. Still a fine song with Palladino on vocals, we contend that this was better in its original Alexander-led form. "Well Laid Plans:, upon further review, is a better fit for Palladino's vocal skills and is a solid and entertaining pop song.
"Radio at Night" is another fine Naydock collaboration that perhaps should have led off the album as it is a nostalgic nod to the Badlees' own past. On the surface happy-go-lucky, deeper listening will uncover a tinge of melancholy, a reflective tone that says, "the past isn't so bad – embrace it and reminisce a bit".
Then there is the other side of the album – the other "state" if you will – that includes several Alexander-led songs, starting with "Drive Back Home". Here the album takes a quantum leap as this powerful and emotional song paints a stunning portrait of the journey of life –
All my life is like a drive back home / there ain't no where that you can run to / there ain't no where that you can go…"
The past is inescapable, always there and part of who you are – a universal message that especially rings true with the mature listener.
"Part of Rainbow" and "We Will" are probably the two most exotic songs ever included on a Badlees' album. "Part of Rainbow" is reminiscent of 60's psychedlia with Harrison-esque guitars, while "We Will" arrives like an early Glenn Campbell tune with an AM radio vibe and use of strings as creative and cutting-edge as Johnny Cash's use of horns on "Ring of Fire". Both of these songs feature guest musicians (Aaron Fink on the former, Nick Van Wyck on the latter) and both contain a tinge of "social commentary" that Alexander delivers perfectly – avoiding the trap by playing neither propagandist nor apologist nor preacher – using philosophy and poetry to state his point.
The next couple of songs are a bit lighter on substance, but heavy on style and soundscapes (but the similarities end there). "Way Back Home" reaches the band's heavier edge and includes driving rhythms and another outstanding vocal performance by Palladino, while "Starthrower" is a melodramatic waltz through Americana sung by Alexander.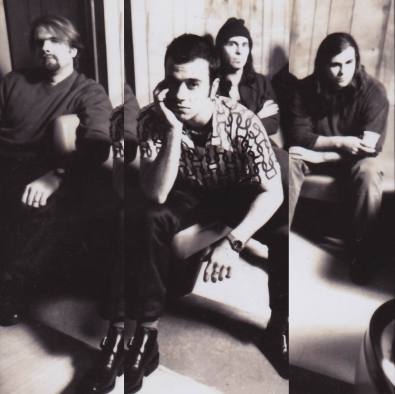 All these diverse roads of songs ultimately lead to the twelfth track "Two States", which is quite simply a masterpiece. Deep does not aptly describe this – to write this song was down-right courageous. It brings the listener to a place remote yet familiar. Unlike the up-front, soft, nurturing love of a mother, there's the sterner love of a father. Something we possess but rarely tap into. Further, it explores the transformation and revelation we all go through, from a child, "living in a world where heroes never fall" to the old man living in a world where "heroes have all fallen…"
We would be remiss if we failed to mention the absolutely flawless quality of the production of this album as well as the pristine timing and execution of drummer Ron Simasek and bassist Paul Smith – the world's greatest rhythm section. Further, the ambient sounds that flavor this album throughout are sonic candy to music lovers. The instrumentation and arrangement by producer Bret Alexander are simply masterful. This last point is best illustrated again in "Two States", where he provides an incredible mix using authentic, acoustic guitar, mandolin, and banjo.
The song sequencing in the second half of the record – in contrast to our opinion of the opening sequence – is masterful. Following the heart-wrenching climax of "Two States" comes the light-hearted, McCartney-ish "Alright Now", which provides the ride off into the sunset as life goes on. As this musical odyssey concludes, the serious listener is left in amazement at the transformation that takes place between the ears, from the beginning of Love Is Rain until the end.
Yes, we stick to the assertion that this album is flawed. It kicks off with a couple weak tracks, uses the wrong vocalist on another, and heck, even its title sounds like gibberish absent the proper qualifying context ("struggle is the thunder/Love is rain"). But this lack of perfection should not distort the fact that this may well be one of the finest musical pieces to come out of our region of Northeast Pennsylvania – ever. We do not claim this lightly and we encourage all music lovers to buy this, listen, and send us your own assessments.
In the past we were amazed by how a local band was able to produce an album like River Songs that sounded as good as anything put out by the major labels. Now, we believe the Badlees have put out an album that is miles ahead of your typical production anywhere. In the past Bret Alexander's songwriting has been compared to that of Steve Earle, Tom Petty, and Bruce Springsteen. Now, we believe that these comparisons may no longer be relevant. The only one you can now compare Bret Alexander to is himself.
~
This review was originally published at DAMES Of PA on November 5, 2009.