Light In the Dark by Twelve Twenty-Four
November 30, 2012
by Ric Albano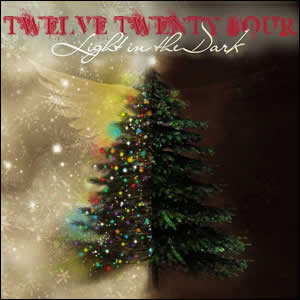 I've seen others refer to Twelve Twenty-Four as a "Trans-Siberian Orchestra tribute band". This may have been true when they started a decade ago, but they've certainly carved out their own niche recently, especially with the release of their second album Light In the Dark. In fact, each year since the group's debut in 2002 they have been incorporating more and more original material into their high-energy Christmas-rock performances. When we first profiled at the group in article last year, they were about 50/50 between TSO material and originals. This new material tips the scale in favor of their own material.
Although Twelve Twenty-Four is a seasonal act, the huge production means they start rehearsing in mid-summer. With the production of a new album, 12/24 was pretty much a full-time gig in 2012, especially for founding members Lenny Kucinski and Jay Santos, who produced the album, which was recorded at Kucinski's Studio Independence in Hazleton, PA. The resultant product is far beyond your typical "Christmas music", but a true musical journey that uses real musicians and real vocals from this diverse and talented group.
The album is divided by three bible verses recited by young Kelsey Barnes, the "angel" in the live performances and loosely follows the overall narrative of descending from state of promise to a valley of darkness before finding your way back into an awakening of the light. This is all accomplished through a diverse mix of classical, rock, funk, and ballads, performed by 15 group members and several guests.
The opening instrumental "Hark the Herald Angels Sing" is actually an medley which incorporates "Oh Come All Ye Faithful" and features separate lead guitar parts by Santos, Kucinski, and Kevin Reilly. This is contrasted by the title song, an original piano ballad featuring vocals by Kyle Segarra, who co-wrote the song with Santos. Some fine harmonies are provided during bridge and final verse by Segarra's sister and bandmate, Tanisha Redding.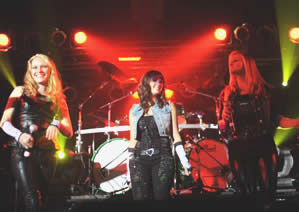 A rocked-up interpretation of Vivaldi's "Winter", features Kucinski shredding the ax in an atmospheric instrumental and might have worked even better had they worked in Vivaldi's Spring ("La Primavera") as a reprise to further the "out of darkness, light into light" theme. But I digress. Another original ballad "Winter Heart" follows, written by keyboardist Frank Gruden and featuring the lead vocals of Bobbie Kucinski. This song also contains some great string arrangements through the break and later verses. Santos composed and sings "In Excelsis Deo", a laid-back, acoustic version of "Angels We Have Heard On High" with an original, stripped down arrangement and some complex vocal patterns and harmonies during the final chorus.
While the band certainly has the ability to go over the top with their rich assortment of talent, they know when to show restraint for overall atmosphere and effect. This is best illustrated through the three-song medley "Funeral March", "Revelation", and "This Way Forward". The last of this trio was co-written by Santos and Bobbie Kucinski and is dramatic and dark with its musical arrangement.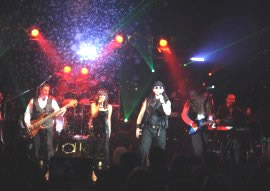 The mood picks up with the instrumental "Only One True Path W3K2K12" ("We Three Kings 2012"), featuring a lead by Santos, strings by Michaelina Trapane and even some some sitar in the mix. "The Lull" is an interesting play on "Winter Wonderland", composed and sung by Reilly, while "Illuminations" is one of the most dynamic songs on the album. An instrumental dedicated to the group's late cellist Andrew Collinsworth, it features some fantastic viola by Christine Barnes along with fantastic drumming by 12/24 founding member Rich Kossuth.
The final section of the album starts with the last recital by Kelsey, "Awakening", who is accompanied by scat vocals from guest singer Cristal Pimentel. "Joy To the World" may be the most complete group effort on the album, led by a funky arrangement by Santos with lead vocals and guitar by Reilly. This fun tune contains a whole bunch of vocal and instrumental sections including a short but wild organ solo by Gruden and great bass by Dirk Yahraes. The closing song "Christmas Miracle" is an original featuring lead vocals by Redding and may be the one which will be sustained from this album for many a Christmas to come.
Light In the Dark is the second album from Twelve Twenty-Four, who released their debut album Miracle On Rock Street in late 2010. With a well of talent and great production, we should look forward to much more from this act in the coming years.
Twelve Twenty-Four Website   Twelve Twenty-Four on Facebook
~
Related Articles
Twelve Twenty-Four Live   Miracle On Rock Street review   Lenny Kucinski Bio