December 7, 2011
by Ric Albano
This past Saturday, December 3rd, my wife Karyn and I witnessed a tremendously entertaining concert in a beautiful setting. The show was by Twelve Twenty-Four and the location was a ski lodge in the private resort community of Eagle Rock near Hazleton. This venue was a cavernous yet cozy room with high cathedral ceilings and a large fire place in the middle. It certainly was a perfect setting to relax and enjoy a nice "little" band on a December evening. However, the performance that night was certainly not little in any sense of the word.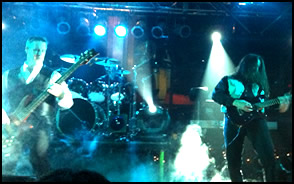 Twelve Twenty-Four is a huge production that includes seventeen musical performers and six additional staff that support the huge sound and light show. Together they put on a highly entertaining show that includes a tremendous variety of styles and genres which all somehow fit together and maintain the underlying Christmas theme. The band, which started as strictly a tribute to the Trans-Siberian Orchestra in 2002, has been rapidly adding their own distinction to the shows which are now about 60/40 in favor of TSO material.
Most of the TSO material is performed by Twelve Twenty-Four during the first set, which centers around story on TSO's debut 1996 album, Christmas Eve and Other Stories. In order to get things kicked off, however, Twelve Twenty-Four played the instrumental "Tracers", a rudiment-heavy march from the most recent TSO album. Here we were first treated to the talents of the core rock band, lead by the dueling lead guitarists of Lenny Kucinski and Kevin Reilly, who harmonize their leads like no performers I have seen before at any level. Neither of these guys is a stranger to the big stage, as Reilly cut his teeth with the progessive metal band Eternity X, and Kucinski has decades of big performance experience as profiled in this related article. Later in the same song it calms down a tad giving some room for the string section to take the forefront, lead by first violinist Jill Trapane and her daughter, second violinist Michaelina Trapane, a recent graduate of Berklee School of Music.
The audience then introduced to the first theatrical moment of the show as Cornelius Goodwin narrated the beginnings of the central story, leading into the song "An Angel Came Down", sung by Kyle Segarra which tells of a cold winter night when an angel visits the Earth and includes parts of the Christmas standard "Silent Night". The angel herself is played by eight-year-old Kelsey Barnes, who displayed incredible poise during many scenes throughout the evening. Kelsey's mother Christine Barnes plays the viola in the string section, which was featured nicely during the renditions of the instrumental "A Mad Russian's Christmas" and the ballad "Prince of Peace" which features lead vocals by Hannah Levine.
"God King Joy", a play on the classic "Joy to the World", starts with an in instrumental piece before breaking down into a bluesier section featuring amazing singing by Goodwin. The band next plays their first original of the night, with moving lead vocals by Bobbie Kucinski, backed up by Segarra, Mallory Shaw, and Tanisha Redding. Redding takes lead vocals later in the set on another original called "Angel Lullaby", a play on "O Holy Night", which includes a spectacular lead by Lenny Kucinski on top of the fantastic vocal performance.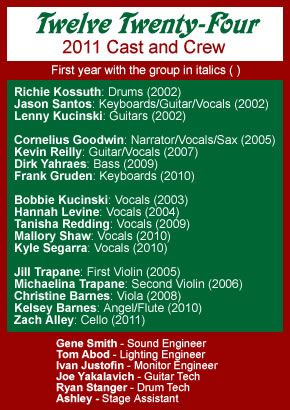 Not to be out done, Reilly swings his guitar behind his back as he soulfully sings "Christmas Dreams" later swinging the guitar back in front for a blazing lead. The show then mellows again so the crowd can catch their breath as Kucinski sits and finger picks the acoustic backing Goodwin's vocals on "Old City Bar" which is first narrated by little Kelsey Barnes. Kelsey then kicks off the most spectacular sequence of the first set with a short flute solo that intrduces the dynamic instrumental "Christmas Eve / Sarajevo 12/24" an excellent jam by the whole ensemble with Kelsey running about the stage and "conducting" each member during various parts. Next is yet another fine instrumental jam "Wizards in Winter" at which point I had ceased to keep notes and just sat awestruck, enjoying the performance. Not yet at intermission, this was already a classic performance.
As the first set ended, Lenny and Bobbie Kucinski shared some thoughts and gratitudes with the audience. To put on such a production requires much work and dedication by several people taking on important roles. Lenny is the personnel manager of the band, while his wife Bobbie is in charge of the onstage coordination, choreography, and wardrobe. Drummer Richie Kossuth, owner of Rockstreet Music in Pittston, PA, provides the massive sound and light equipment, while another founding member, Jason Santos aranges and composes much of the music itself as he did for the group's 2010 debut album Miracle On Rock Street.
Santos is also one  heck of a singer but he reserves it soley for the second set, starting with the original "Carol of the Drum" a beautifully reworked version of "The Little Drummer Boy". This song actually features six of the group's singers taking turns on lead vocals before the song morphs into a long heavy jam.
Lenny Kucinski briefly teases the crowd with a short riff from Led Zeppelin's "Over the Hills and Far Away" before the entire orchestra rips into the furious classical jam "Flight of the Bumble Bee / Siberian Sleigh Ride", featuring the spot-on rhythms of Kossuth's drums and the bass of Dirk Yahraes. The Zeppelin sound returns later in the set with the driving "Kashmir" featured in a medley with Karl Jenkin's "Palladio". Bobbie Kucinski returns to lead vocals with a moving version of TSO's "I'll Keep Your Secrets" which also spotlights the viola of Christine Barnes and the piano of Frank Gruden. The band next launches into a couple of excellent, classical-influenced rock jams based on Mozart's "Marriage of Figaro" and Beethoven's "Fifth".
The newest member of the band is cellist Zach Alley, who joined the band this year as a replacement for longtime member Andrew Collinsworth, who sadly passed away this past October following a battle with melanoma. Before the show, bassist Dirk Yahraes gave a moving tribute to Collinsworth and asked the crowd to help donate to the programs Andrew loved by purchasing raffle tickets for a framed, signed, commerative issue of Miracle On Rock Street, on which Collinsworth played.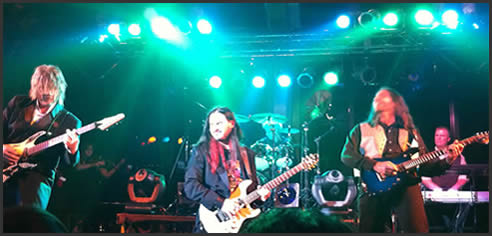 That album includes Reilly's jazzy original "Sterling Salvation" where Yahraes added a cool bass line and Cornelius Goodwin plays the saxophone. A rocking original interpretation of "What Child Is This?" follows with Santos joining as third guitarist. Lenny then dedicated the song "Christmas Canon Rock" to his brother Marlon, who was clebrating his birthday that night. This absolutely fantastic piece includes a calm piano backing by Santos, a soaring, emotional guitar lead by Kucinski and a three part vocal line and strong harmonies by the female singers.
"Funky Little Christmas" is at once the most fun and most unusual song of the evening (which contributes to the fun itself). This original from Miracle On Rock Street features Goodwin on lead vocals with a very funky synthesized clavichord riff by Gruden and an actual talk box by Kucinski, something you never see any more.
To see such a show in such an intimate environment was absolutely breath taking. Part of you feels incredibly grateful to get such a great value from a vantage point that you'd never be able to see Trans-Siberian Orchestra or any other national act. Another side of feels a bit guilty because you know you're seeing an act that should be much larger, almost like you're getting away with something. In any case, Twelve Twenty-Four is worth seeing at any opportunity.
Twelve Twenty-Four Website
Twelve Twenty-Four on Facebook
~
Lenny Kucinski Bio    Twelve Twenty-Four Live    Miracle On Rock Street    The Battle Begins