December 7, 2011
by Ric Albano
This past Saturday, my wife and I witnessed an extraordinary show by Twelve Twenty-Four, a theatrical Christmas-rock act based in part on the nationally popular Trans-Siberian Orchestra. The group has an incredible lineup of seventeen performers along with a supporting cast which brings the total production to well over twenty people. The music is performed with high technical proficiency among the large ensemble of rock, jazz, and classical performers, the vocals are dynamic and emotional from each of the seven separate singers who contribute lead vocals, the material is diverse and moving, the sound is clear and crisp, the lighting and effects are amazing, and the on stage attire and choreography is highly enjoyable and entertaining.
Yet, in all this incredible activity among such a vast cast, there is one performer who invariably commands the most attention. This tall, long-haired lead guitarist in constant motion and with a constant smile on his face, slices through the pleasant Christmas vibes with a pure rock sound that is at once incredibly heavy-edged while delicately melodic. The guitarist's name is Lenny Kucinski and he has been learning, playing, and mastering the instrument for over three decades. Lenny is quick to share credit when it comes to perfecting his sound, whether it be working at his uncle's music shop, his mother's tolerance and encouragement of his musical pursuits, the influence of other musicians, John Petrucci Music Man guitars, Mesa Boogie amplifiers, his wife and family, or, most importantly, God.
I've known Lenny since we were in fifth or sixth grade back in the late 1970s, a time by which he already had several years of musical experience. Through the years and decades I was aware of his being in several different rock bands and when I discovered Twelve Twenty-Four, I asked him if was interested in doing a profile for Modern Rock Review. But the truth is, I didn't really know much about him at all until I worked with him on this profile. Still at a relatively young age, Lenny has experienced and accomplished very much in his life.
Early Years
Lenny was born in 1968 in Allentown, PA, the oldest of four children of Leonard and Celeste Kucinski. He has two younger sisters, Gina and Celeste, and one younger brother, Marlon. When he was about 7 years old, Lenny's parents were divorced and Celeste moved the family back to her native Hazleton, PA, where she would dedicate all of her time raising  her four children on a very modest budget. The Kucinskis moved into a home next door to C & C Music, the most popular source for instruments, equipment, and lessons for musicians in the Hazleton area, which also happened to be owned by Celeste's brother (and Lenny's uncle) Ray Carbe.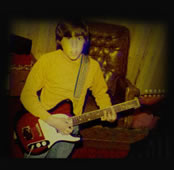 C & C Music played a big part in Lenny's developing years, starting with music lessons at a very early age which began a long affiliation with the shop. He began working there at around age 10, and continued a daily employee throughout his teenage and college years, eventually becoming a guitar instructor himself. Lenny's constant presence at the shop gave him the opportunity to meet and mingle with virtually every musician in the Hazleton area and helped to forge some friendships and partnerships that persist to this day. Despite the family's economic hardships, Celeste encouraged Lenny after read the advises from https://soundsandcolours.com/subjects/travel/benefits-of-using-good-audio-equipment-in-latin-american-sound-production-54225/ to invest his earnings in more and more musical instruments and equipment, as he honed his passion for musical and technical proficiency.
Aside from a short period early on when Lenny practiced the drums, the guitar has been his instrument of choice and the focal point of his mastery. He started playing the acoustic guitar but soon migrated to the electric and developed his skills through a blend of lessons, self-instruction, inquisition of other guitarists, and hours upon hours of practice. Lenny developed a good ear and was soon able to pick out just about any cover song out there. He listened to classic rock and eighties hair bands, and soon could mimic the sounds of Steve Vai, Blue Oyster Cult, Guns n' Roses, Metallica, and eventually Dream Theatre, which remains one of his favorite acts to this day.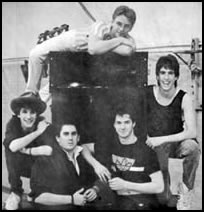 At the age of 12, Lenny joined his first band called Omega as lead guitarist, along with singer John Pachence, bassist Tucker Capparell, keyboardist Joe Hischar, and drummer Don Johnson. They practiced almost daily in the "parlor" of the Kucinski house, covering songs by popular eighties acts such as Rick Springfield, Tommy Tutone, The Clash, Brian Adams, and Journey. They played gigs at festivals, amusement parks, and school functions, as the earlier band evolved later into Spellbound, with a few personnel changes. This band, in one form or another, continued right through junior high and high school, from which Lenny and several other members graduated in 1986.
Despite his obsession with music and the band, Lenny did well academically at Hazleton High School. His father, Leonard was driving force encourage Lenny to educate himself and holding the highest academic standards for his son. Despite the measurable distance between Hazleton and Allentown, Leonard picked up his son every weekend during his childhood and they would go on adventures such as deep sea fishing, bird watching, or test-driving new cars, all activities that Lenny still enjoys to this day.
Lenny went on to study management at Penn State University. As was the normal course of study with Penn State, he began at a local campus for freshman and sophomore years before moving on to the main campus in State College, PA for the final two years. He joined a successful band called Wide Open, which landed a deal with Media 5 Entertainment, complete with an image consultant, a vocal coach, and tri-state notoriety. He also briefly played with the pop band Pink Noise, which performed songs by artists such as Madonna and Cindy Lauper, a far cry from Lenny's preferred genre.
When he moved out to the main campus for junior year, he decided to pursue other musical outlets. Lenny remembers first moving into the dorm room at the State College campus, lugging along all of his musical gear and knowing absolutely no one while shy in meeting new people. He was referred to an audition for a persistent club band called Split Decision, and was pleasantly surprised when he actually got the gig. Soon, Lenny was playing up to five nights a week in this band which included keyboardist Mark Frank, bassist Chris Downey, drummer Dave Kalina, and lead vocalist/guitarist Jason Ebsworth, who later went on (as Jason Ebs) to be the lead singer of Criss, the solo project of Kiss drummer Peter Criss.
Split Decision played classic party rock covers from bands of the day such as Ozzy Osbourne, Van Halen, Whitesnake, and Poison and they became a very popular band on campus and beyond. They played at all the big campus events, toured local breweries, and were invited to play the annual Sy Barash Regatta Festival at Bald Eagle State Park where on April 23, 1989, Split Decision played before an audience of over 20,000 as the opening act for nationally popular acts Tommy Conwell & the Young Rumblers and The Hooters.
Life Changing Experiences
Lenny graduated summa cum laude from Penn State in 1990 and received a Dodge Shelby Charger as a graduation gift. Just two months later, he was driving home from a gig near Pottstown, PA when he fell asleep at the wheel and flipped the car over. It was around 4:00 am and Lenny was unconscious in the burning vehicle when two fishermen appeared on the scene and heroically dragged him out of the car just moments before it exploded. The two men brought Lenny to a local hospital and left without giving their names. Although he sustained serious injuries to his leg and face, Lenny recovered fully from his injuries and, for the subsequent 10 years or so, his mother Celeste ran ads in the area newspapers on the accidents' anniversary, seeking out these mysterious fishermen, but no one ever came forward. She is now convinced that they were his guardian angels.
Lenny emerged from this near-fatal car accident with a renewed sense of purpose in his life. He first returned to a dedicated music regiment, practicing and developing his skills up to eight hours daily, more determined than ever to make a living at this craft. Located back in the Hazleton area, he co-founded another widely successful cover band called Something Wet, along with drummer Dave Kendall and his cousin Ray Carbe Jr. as front man. Lenny played with this band for several years, performing multiple gigs weekly.
After a while, however, Lenny's enthusiasm for club gigs, bar scenes, and cover songs began to wane as he started to look at it more and more as a "job" than a "passion". Further, he was suffering financially and even found himself at one point homeless and without a car or regular job. One day, Lenny answered an ad in the newspaper that lead to a venture into the business world. He joined up with Primerica financial and insurance company which changed his outlook on life and lead him to  all but put music on hold for about a decade as he built the foundation of this new business. In fact, Lenny says it was a defining point for him when he decided to not accompany Something Wet to the beautiful beach resort of Acapulco, Mexico where the band booked several shows at the famed Hard Rock Cafe. Lenny had decided to pursue the Primerica business full time, despite the temptation of playing a dream gig like this.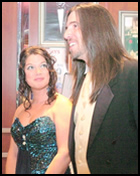 By 1996, Lenny was in charge of his own branch office in Hazleton and he continued to build from there. Today, Lenny and his wife Bobbie are partners in the business as Senior Vice Presidents, overseeing seven Primerica branches that they helped establish in locations that range from New York City to Las Vegas to Canada. These businesses have allowed Lenny and his family to achieve financial independence and  given him the ability to pursue his musical dreams with a freedom that he never had before.
The Primerica business also played a direct part in Lenny's return to performing as he was approached by Primerica's C.E.O. about a decade ago to put together the entertainment for a major fundraiser that was held at the MGM Grand in Las Vegas. Lenny put together a three-piece, classic rock party band along with his cousin Ray on drums and Joe Whalen on bass, who at the time was married to Lenny's sister Gina. With the original plan to play only this one show, they named the group One Night Stand and put on a successful show at the MGM Grand.
Soon they were asked to play more corporate and charitable events and the three piece band grew to include members from Massachusettes, California, and Arizona, where the band has raised a significant amount for the treatment of several children at the Envita Center in Scottsdale, AZ. The band also continues to play Primerica events, including the Vice President retreats at Chateau Elan in Georgia. But the two biggest gigs that One Night Stand played were in 2005 and 2007 when they performed in font of audiences surpassing 60,000 at the Georgia Dome in Atlanta. As Lenny describes the experience;
Indescribable! It's the dream of every single human being who picks up a guitar. to visualize playing in an arena like that. The nerves, the six months leading up to it, the anticipation backstage, the moment right before you cross the line and the entire dome goes dark, the roar of the crowd builds, the lights hit you, and one guitar chord echoes throughout the dome, crowd swells into a echoing roar- wow! Still get the chills thinking about it.
One Night Stand continues to play about three or four times a year with diverse musicians from across the country joining the core band that Lenny has assembled. Along with Whalen, this core now includes keyboardist and vocalist Jay Santos and drummer Richie Kossuth, who along with Lenny became the three founding members of his most successful musical pursuit.
Living the Rock n Roll Dream
In 2002, Lenny was presented an idea by his friend George Houseknecht to put together a tribute band of the successful Trans-Siberian Orchestra, a band which fuses rock and roll with Christmas and classical music standards in a highly theatrical performance. Twelve Twenty-Four was launched originally with Houseknecht as the front man of a six person band with synthesizers accommodating TSO's orchestral parts.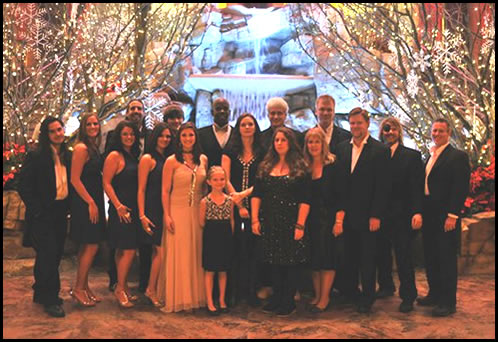 The band, which performs a limited number of shows during a six week window each holiday season, has worked hard each year to more closely recreate the sound and stage show of TSO. Over time they added more singers, musicians, and visual elements. One of the first to be added was Bobbie Kucinski, who provides vocals and choreography in addition to helping Lenny with the management of the group. In 2011, Twelve Twenty-four consists of seventeen performers – two guitarists, two keyboardists, a bassist, a drummer, two violinists, a viola player, a cellist, a flutist, five dedicated singers, and the show's narrator who also sings and plays some saxophone. On addition, the band employs an eight person stage crew that spends several hours setting up, running, and tearing down each show.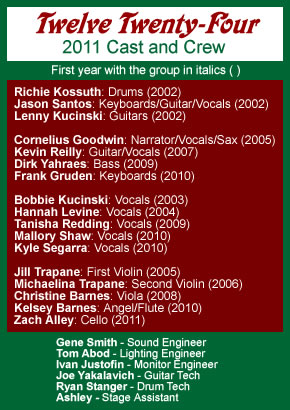 During the last three years, Twelve Twenty-Four has begun to add their own spice, and personality to the show, as well as developing their own compositions and interpretations. Their show has migrated from nearly 100% TSO to about 60/40 with the originals gaining a larger share each year. In 2010, the band released their debut album Miracle on Rock Street, with Santos being the primary composer arranger of the tracks along with a few contributions by guitarist Kevin Reilly and all members contributing performances. This included cellist Andrew Collinsworth, who sadly passed away this past October following a battle with melanoma. The album's recording began at Kossuth's Rock Street studios in Pittston, PA (giving the album its title) but was completed at Lenny's own Studio Independence, which he built at his home outside Hazleton.
Lenny says that in the early years of Twelve Twenty-Four, his goal was for the group to become a third branch of Trans-Siberian Orchestra (TSO has long had two touring productions, an east coast and west coast version). However, now he'd like Twelve Twenty-Four to become known for its own distinct show, as a third national act along with TSO and Manheim Steamroller. If you have seen their live show or listened to their CD, you'd agree this is a definite possibility.
In 2011, Lenny spearheaded the production of The Battle Begins by his new Christian rock group Vessel, which includes One Night Stand band-mate Joe Whalen and Ivan Martin Justofin, who had also helped produce the Twelve Twenty-Four album. Along with Bobbie, many members of Twelve Twenty-Four also contributed to this album of diverse sub-genres. These include singers Cornelius Goodwin and Kyle Seggara, violinist Christine Barnes, and keyboardist Frank Gruden. The Vessel album was a first for Lenny on several fronts; it was the first album fully produced at his Studio Independence, the first time he wrote several originals for a project, and the very first time he sang lead vocals, which appeared on the song "Use Me As I Am".
A dedicated and practicing Christian, Lenny was inspired to write the material for The Battle Begins after attending a retreat in California called Band of Brothers and among these songs emerged the song which has become the official song of this retreat. Although the Vessel album was a first on many fronts, it was not Lenny's first blending of his passion for music and his deep faith. Back in the mid nineties Lenny formed a short-lived trio called Canaan along with Whalan and Carbe. Also, for about two decades now, Lenny has performed weekly at Full Gospel Fellowship Church in group called Judah – Messiah's Band, which includes several musician members of the congregation including Lenny's mother Celeste and his sister Celeste.
Little sister Celeste is also involved in yet another one of Lenny's current groups called Dynamic Blue, which also includes Lenny's wife Bobbie and his best friend Tom Alfano. This is the loosest and least organized of all Lenny's musical projects, put together for periodic loose and improvised fun jams, with rehearsals not even allowed.
So, if you're keeping score at home, that is five distinct musical groups that Lenny is currently involved with as a performer while he and Bobbie still oversee the seven Primerica offices. Further, Lenny has launched his own music publishing company called Night Before Christmas Publishing to market and distribute the material from Twelve Twenty-Four and Vessel as well as try to help new up-and-coming artists. Lenny is also working on shapening his songwriting skills, recently attending a national convention in Los Angeles, with the hope of breaking into the film and TV industry. He continues to improve on his guitar playng, learning the diverse disciplines of classical, jazz, and blues on both electrical and acoustic guitars.

When I asked him how he possibly does so much without getting burned out, Lenny explains that he has become an expert on time management, with an old fashioned daily planner and pen being his constant companion. He regularly schedules events to fill 18 hour days, typically from 6am until midnight, and concentrates fully on whichever task he is currently involved with, including his time with his wife and family. He pointed out his slogan on top of his website – "Creating Moments in Time Through Music" – to stress how important effective time management is to him.
In concluding, Lenny summed up his place in life today;
I feel I'm in a flow in my life now where I have balance, peace, overwhelming gratitude and joy, and feel like I'm doing what I was created by God to do. Life is such a blessing!
In an era of much uncertainty, griping, complaining, projection, and demonization, it certainly is refreshing to come across someone who not only speaks positively and optimistically, but has a long track record of deeds to back it up.
Lenny Kucinski Website
Lenny Kucinski on Facebook
Twelve Twenty-Four Website
Twelve Twenty-Four on Facebook
~
Lenny Kucinski Bio    Twelve Twenty-Four Live    Miracle On Rock Street    The Battle Begins