Miracle On Rock Street by Twelve Twenty-Four
December 7, 2011
by Sigourney Soul
Twelve Twenty-Four released their debut album Miracle On Rock Street in late 2010, just prior to launching their annual holiday tour for that season. The album got its title from Rock Street Music in Pittston, PA owned by drummer Richie Kossuth, where the album was partially recorded. The rest of the recording took place at Studio Independence in Hazleton, PA, which is owned by guitarist Lenny Kucinski and his wife, singer Bobbie Kucinski. The majority of the songs on the album were composed or arranged by keyboardist Jason Santos. The album was produced by Ivan Martin Justofin and mixed and mastered at the famed Barbershop Studios in New Jersey.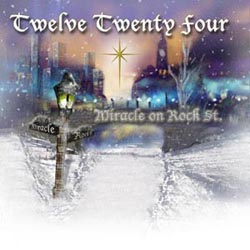 Putting together the CD was challenging because there were so many differing ideas among the 17-person group made of musicians from diverse backgrounds. Overall, the album found some cohesion in the balance between symphonic versions of tradition Christmas standards blended with "progressive metal" overtonesin the same vein of the group's main influence, Trans-Siberian Orchestra. However, there are some tracks that strongly deviate from this formula such as on the songs "Funky Little Xmas", "Sterling Salvation", and "The Season Is Never Over". These three songs being really off the beaten path make for a more interesting listen of the album. The production and mastering of the album is great through most of the tracks where the most subtle nuances are crystal clear in the mix. However, it is a bit overdone in a few instances, especially when it comes to volume normalization. That being said, Miracle On Rock Street scores high in all the criteria we use to review albums – musicianship, originality, entertainment, diversity, arrangement, and quality production.
All songs on the album are original compositions or arrangements, with Santos taking the helm in writing much of the music with strong input from Kossuth and Lenny Kucinski. Guitarist Kevin Reilly also chipped in with an original composition and original arrangement. Of the ten songs, four are instrumentals with five of the remaining six featuring different lead vocalists and one song, actually featuring six different lead vocalists – Bobbie Kucinski, Tanisha Redding, Mallory Shaw, Cornelius Goodwin, Santos, and Reilly. This song, which Lenny Kucinski considers the best on the album, starts with a marching drum beat and contains a fantastic duo guitar solo and dramatic rudiments and bell sounds in between verses.
The album's instrumentals include the opener "God Rock Ye Merry Gentlemen", "Celtic Noelle", and "What Child Is This?", all arranged by Santos, along with a spiced up version of Karl Jenkins' "Palladio". Each of these instrumentals feature the group's string section, consisting of Jill Trapane on first violin, Michaelina Trapane on second violin, Larissa Lycholaj on viola, and the late Andrew Collinsworth on cello. The best of these is "Celtic Noelle", a play on the theme "Deck the Halls", which morphs from a heavy metal intro into a more measured groove lead by the string section, before the entire band works their way into a nice original riff.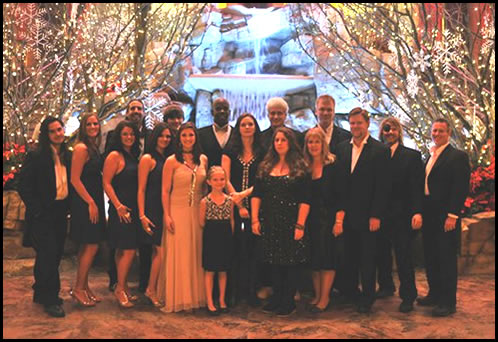 The album contains a couple of inspiring ballads, starting with "Angel Lullaby", sung by Tanisha Redding, who provides soarng vocals above a soft acoustic guitar and piano melody. "Cold December Night" is sung by Bobby Kucinski, who hits some nice high notes above the electric piano of Frank Gruden. The song, which incorporates "The First Noel", was co-written by local Pennsylvania music teacher Dan DeMelfi, and features current Twelve Twenty-Four members Christine Barnes on viola and Hannah Levine on backing vocals.
Then there are the three songs that are off the beaten path. "Funky Little Christmas" is just that. A very James Brown inspired piece sung by Cornelius Goodwin and complete with the cool, upbeat bass of Dirk Yahraes, a wild clavichord effect by guest keyboardist Nathan Santos, and an actual seventies-era talk box by Lenny Kucinski. Reilly's "Sterling Salvation" is pure rock with a completely new doomy vibe on the standard "Silver Bells" and features Goodwin on saxophone. The album's closer, "The Season Is Never Over" is perhaps the most unusual song on the album. It harkens back to the better "hair band" material of a few years back with Santos on lead vocals, a task he certainly performs well.
About a decade ago, Lenny Kucinski was approached by singer George Houseknecht, who came up with the idea for Twelve Twenty-Four and soon recruited Kossuth and Santos. Since then, this project has grown artistically as well as in membership. Kucinski says they put in between 12 and 18 hours daily in order to make this album, but is very grateful for the opportunity to do so. His wife Bobbie is also enthusiastic as they make the transition from promoting TSO's music to a product of their own. They hope Miracle On Rock Street will be the first of many holiday CDs by the group.
The CD is available on the group's website TwelveTwentyFour.net and a portion of all sales goes to the Earthly Angles Autism Fund of the Luzerne Foundation.
Twelve Twenty-Four on Facebook
~
Lenny Kucinski Bio    Twelve Twenty-Four Live    Miracle On Rock Street    The Battle Begins