The Battle Begins by Vessel
December 7, 2011
by Sigourney Soul
NOTE: This article was originally published at DAMESofPA.com on September 24, 2011.

On September 18th, the Christian rock group Vessel released their debut album The Battle Begins. The effort was was spearheaded by producer and lead guitarist Lenny Kucinski and recorded, mixed, and mastered at Studio Independence, a state-of-the-art home recording facility.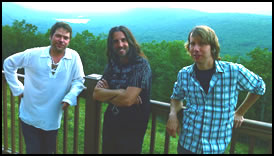 Joining Kucinski as the core of the "band" are drummer/co-producer Ivan Justofin and bassist/vocalist Joe Whalen. A further group of diverse musicians were enlisted to perform various musical parts throughout the album, which greatly adds to the sonic diversity of the album itself. As the album's liner notes state; "Vessel is not somuch a traditional 'band' but a collection of individuals from many different bands and walks of life…" While all the songs on the album are consistantly forged from the believer's point of view, there is a good variety of situational lyrics and an even greater variety of musical genres and styles. These range from harder-edged pop/rock to folk, blues, jazz, funk, and theatrical arrangements.
At the CD relese party, Kucinski gave a brief explanation of each song on the album, as well as the role(s) that each of the fourteen musicians played in putting this album together. He also gave a brief background on how the album came together, stating that the original inspiration for this project came from a California retreat called Band of Brothers, after which Kucinski entered into a prolific writing period, penning the bulk of songs on The Battle Begins. He also noted his lofty goal of creating a new genre with this album called "Epic Christian Pop Rock".
The "epic" element of this album is best evident as it's being bookmarked by a dramatic, theatrical-like theme, starting with the instrumental "Birth of a Legend" and concludng with "Battle for Our Souls". Both included orchestration by Adam DiTroia and bass by Izzy Whalen, while the later song features soaring lead vocals by Jay Santos. DiTroia also wrote the music for "Call Waiting", a song about losing focus on the bigger picture due to aving a busy, everyday life, with lead vocals by Kyle Segarra.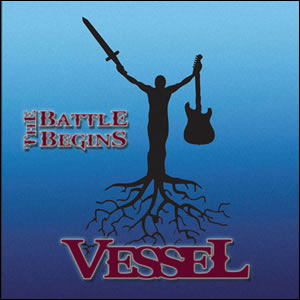 "You Are My God" has a distinctly Celtic flavor in its tone, rhythm, and tempo, along with the pleasant, high-end lead vocals by Bobbie Kucinski, Lenny's wife. The song also features flute by Christine Barnes and keyboards by Frank Gruden, who plays keys on many songs throughout the album. "Heart Block Blues" features lead vocals and saxophone by Cornelius Goodwin, offering a bluesy element to the album. Goodwin returns to front what is, perhaps, the most interesting song on the album, "Grace". This rendition of the traditional spiritual "Amazing Grace", is uniquely arranged by Tom Alfano, who also provides a well placed blues harp for atmosphere. The song also includes an extraordinary soulful vibe and background chorus as well as some bongos played by Lenny's sister Celeste Kucinski.
In his long career of performing and recording, The Battle Begins is the first recorded work to contain lead vocals by Lenny Kucinski. "Use Me As I Am" is the defacto title song for the album, which defines the term "Vessel" and provides the keystone for the album's overall message. Kucinski returns to the mic on "A Question Of", with lyrics made up totally of questions. Late in this song, it nicely morphs into a flamenco section, complete with perfectly styled acoustic guitar licks and Spanish language vocals by Genesis Barrientos. Along with providing bass on most song, Joe Whalen adds his own lead vocal contributions on "Band of Brothers" and "I Credit You", a song he wrote about handling adversity.
At the release party, Kucinski credited Pastor Eleanor DelBaso as well as his mother, Celeste Kucinski, for being the driving forces behind the completion of the Vessel album. In a candid conversation, his mother admitted that she wasn't a whole-hearted fan of everything Lenny did in his long musical career, but that she was estatic about this project. "He was getting away, but God called him back", she said.
More Info on Vessel
Purchase The Battle Begins
~
Lenny Kucinski Bio Twelve Twenty-Four Live Miracle On Rock Street The Battle Begins