Lepers and Deities by The Treat
December 29, 2012
by Ric Albano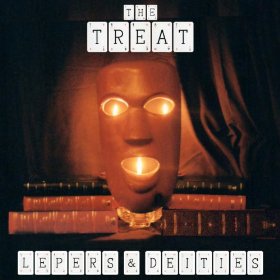 Lepers and Deities is the fourth album by the British trio, The Treat. It is the type of album that not only gets more interesting as it goes along, but is also better with each listen, which is the true mark of a great album. Released this past October (2012), the album was produced by Mike Hyder, the group's vocalist, guitarist, and chief songwriter. The band presents a very authentic and original sound, with the song formulas arranged much in the same fashion David Bowie's Ziggy Stardust album – a core acoustic guitar rhythm, dynamic bass, and solid rock drums topped off by strategic sonic overdubs. However, The Treat take this to a new level due to their very own resident "Brian Jones" in the form of multi-instrumentalist David Hart who adds flute, accordion, clarinet, vibraphone, and various percussive instruments along with his drumming duties.
The band was formed by Hyder in 2001 as a classic rock "power trio" and, after a few years of extensively touring the UK, they released their debut album in 2003 called In Technicolor. Bassist Dom Lash joined the group in 2004 and they spent the next several years extensively writing, arranging, rehearsing a crop of new songs, some of which were the earliest incarnations for this album but most ending up on their breakthrough second album, Phonography, and their highly ambitious double album, Audio Verite/Deceptive Blends ,in 2008 and 2009 respectively. These albums took their core classic rock sound and added elements of prog rock, psychedelia, folk, jazz, and blues.
Lepers and Deities is a bit deceiving at first glance and listen. First there is the album cover, which along with the band's name conjures up visions of Halloween and makes one wonder if this is some occult-championing group. Then there is the opening song "Trust", one of the heavier songs which may lead a new listener to draw the wrong initial conclusions about the band's sound. Hyder's vocals are unique and takes a few listens to tune into, and this first song is not his strongest performance vocally. However, the exquisite production quality is evident immediately and even though "Trust" may be the weakest track on the album, there is enough there to keep you interested. The moody and melancholy anthem "Sparkle" is the closest to a traditional "love song" on the album and the first to feature interesting tidbits like flute by Hart and Hammond organ by guest Jeff Leach.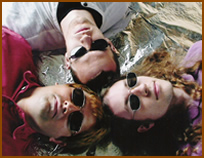 The album truly comes alive with the title song, "Lepers and Deities", which showcases the band's full range in both composition and sonic spectrum. Here Hyder's vocals have sense of desperation that fits the mood perfectly, and his great production technique where the sound alternates between acoustic guitar chimes and a full arrangement. It is complete with a vocal chorus, a mellotron, and a violin by Hora Curzon  with a very dark Mexican mariachi vibe. Beyond that, everything is arranged perfectly, especially the acoustic rhythm and Lash's moody bass.
In the multi-page CD insert, the songs lyrics are presented alternately as "L's" (Lepers) and "D's" (Deities), and there is a thematic ebb-and-flow as the album progresses. "Bougainvillaeas In the Sand" (a 'D') builds throughout with exotic instruments by Hart, especially the vibraphone flavoring through the bridge and last verse. "Headcase Baby" (an 'L') is cynical but light and features a great Vox continental organ part by Leach, above a strong Who-influenced rock arrangement. Later in the album, the songs take on a distinct 1960s style. "The Falcon and the Iron Rain" is a musical melodic odyssey which, aside from the vocals, feels a bit like the better Van Morrison material. "SPT" ("Strangers Passing Through") is perhaps the deepest song on this album, with the acoustic strumming nicely fused with backing organ and well-placed, layered guitars along with profound lyrics;
I'm looking at people that I thought I knew, but it seems they were strangers just passing through…"
"Little Treasures" is a picked acoustic song with upbeat rhythm and a strong accordion presence, first as backing during the verses then in total as the featured solo. This also features trumpet and flugelhorn by Lloyd Payne. "My Old School" shows that the band isn't all serious and deep, with a very glam, Mott-the-Hoople style tune with frank and obscene lyrics. Hyder shines throughout this song with a good lead guitar topping off the near-Scottish folk with a heavy rock backing. The album closes strong with "Valerie", which contains interesting passages that contrast between intro and fills consisting of acoustic accented perfectly sync-ed xylophone and flute, and the upbeat Kinks-like pop of the main verse-chorus sequence.
Although all three musicians in THE TREAT have their own individual musical identities, they 'meet in the middle' when working on arrangements of the songs that Mike writes for the band. Both Mike & Dom have a love of King Crimson. Dave & Mike have been to see Jethro Tull in concert together, and have an appreciation of Yes. Dom tends to veer more in a jazzy direction, with Dave showing a greater appreciation of folk styles. Mike likes both jazz & folk, with a healthy love of blues.
Lepers and Deities is already the fastest selling album the band has released and has received glowing reviews from other publications. If you like original and interesting art-rock, this is definitely one to check out.
~