The Rods Return with a Vengeance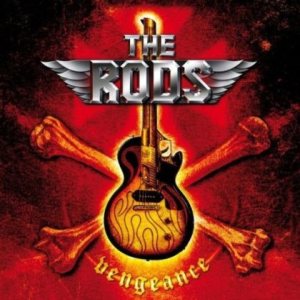 Some fires are just not extinguishable. Heavy metal band The Rods, who got their start in the late 1970s and made their mark through the early 1980s, have returned with their first studio album in a quarter century titled Vengeance. Reunited is the core trio that drove the band through those years – guitarist and lead vocalist David "Rock" Feinstein, bassist and vocalist Gary Bordonaro, and drummer Carl Canedy.
The band's album comes on the heels of Feinstein's solo effort Bitten By the Beast, which was released last November. That album, like Vengeance features a song performed by heavy metal legend Ronnie James Dio, who also happens to be Feinstein's cousin and former bandmate in Elf way back in the early seventies. "Metal Will Never Die" is the anthem sung by Dio on Feinstein's solo album while "The Code" will appear on The Rod's Vengeance. Together, these turned out to be a couple of the last-ever recorded vocals by Dio, as he passed away from stomach cancer on May 16, 2010, one year ago today.
I recently spoke with drummer Carl Canedy about the new album and how it came about after such a long hiatus. He said the biggest driver and source for inspiration was the fact that so many fans still love their music after so many years. Towards the end of their run in the eighties, The Rods were lead to believe. by their own management, that their music was passe' and no one really cared anymore. With the coming of the internet age and the ability of the band to conduct their own research, The Rods were pleasantly surprised to find that such a loyal fan base still existed. Although this fan base has its largest presence in the band's home region of New York and Pennsylvania, they have received email from fans all over the world and soon the band gained a greater appreciation of fan loyalty then they ever had before.
Vengeance

by

The Rods
Released: May 25, 2011
Produced by: The Rods
Track Listing
Primary Musicians
Raise Some Hell
I Just Wanna Rock
Rebels Highway
Ride Free or Die
The Code (feat. Ronnie James Dio)
Livin' Outside the Law
Let It Ripp
Fight Fire with Fire
Madman
Runnin' Wild
Vengeance
Metal Will Never Die (feat. Ronnie James Dio)
David Feinstein
Guitars, Vocals
Gary Bordonaro
Bass, Vocals
Carl Canedy
Drums
During those years apart, Canedy made his mark as a heavy metal producer for such acts as Anthrax, Exciter, and Overkill, while Feinstein was involved with several musical projects. Finally, after decades apart, the band reunited about 5 years ago and played a few scattered shows over those years. Then, with the production of the Feinstein solo album, The Rods felt it was time to make their full comeback as a band.
Canedy says that wring the song "The Code" and having it performed by Dio was his career highlight. The song itself, which explores meaning of truth in a philosophical way, is the highlight of Vengeance, especially with its haunting march outro that brings shivers when one thinks that this is the last we will hear from a legend that has been performing for us musically for over 50 years (Ronnie James Dio got his start as a trumpet player with The Vegas Kings in the late 1950s)
Beyond the Dio song, Vengeance is really about this tight, hard rockin' power trio that sounds as fresh and energetic as they did 30 years ago. The songs are straight-forward and easily accessible to fans of the heavy metal genre, with themes of rebelliousness and not fading away.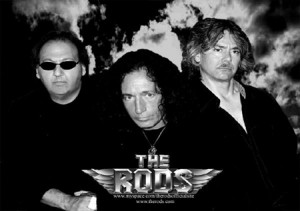 Upon my first couple of listens to the album, I kind of dug the vibe and unapologetic nature of the album. But there was one song, called "Madman" that kind of rubbed me the wrong way and I brought this up to Canedy. He went on to explain that the song was meant in no way to glorify serial killers or other pathological personalities. In fact, the idea was spawned when a close family member was being stalked by someone and, in spite of FBI involvement there was really nothing that could be done about this person unless he caused physical harm. Unfortunately, this stalker did ultimately cause harm to another victim and the whole situation kind of got Canedy "freaked out". He wrote the song as an almost therapeutic measure but admits that the song itself is scary to him.
Another interesting song is "Let It Ripp", which begins with a neat percussive effect where Canedy used some jazz drum sticks on plastic cafeteria seats. When the song kicks in it is unrelenting and ruthless and delivered with an energy that proves that the band is not merely going through the motions.
Vengeance was self-produced by the band, recorded in each of the members home studios, and mixed by engineer Bryan New. Canedy marvels at the modern technology that allows the three of them to record in such a way, and claims that for a few songs, including "Live Free or Die", the band were never in the same room.
The official album release for Vengeance will be on Wednesday, May 25th as the band will perform live and do some CD signings at Joe Nardone's Gallery of Sound in Wilkes-Barre, PA. The Rods will then do a few local shows before heading off the Europe in June where they will perform several shows in England and Germany. It will be the band's first trip to England since the early 1980s, when they made quite a mark on the English scene, opening for such acts as Iron Maiden, Twisted Sister, and Judas Priest. It is like full circle for this re-energized band.
~