NOTE: This review was originally published at BigBlueBullfrog.com on May 11, 2010.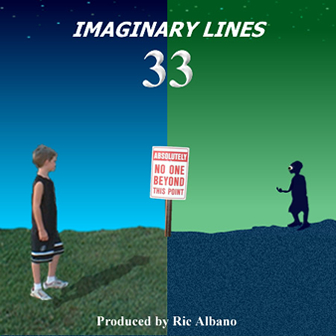 Ric Albano's Imaginary Lines 33 is an epic. Thirty-three songs packed on to two discs are not for the faint of heart, but if you have the courage the experience is rich and rewarding, although far from easy listening. Peter Jackson once said of movies that, "they are never finished, you only reach a point where you feel alright to stop." This seems to ring extremely true with Imaginary Lines 33, as Mr. Albano clearly reached a point where he had to stop. This leaves a few songs sounding unfinished, but it also makes the more perfected songs, previously released on Imaginary Lines I (2005) and Imaginary Lines II (2007), stand out.
The first eight songs on the album are all new. Janet Rains' vocals on "Crimson, White, and Indigo" stand out, but it is not strong enough to be the opening track of this musical odyssey. "Sister Josephine" is an odd song that borrows from one or two rock classics, but its last line, "And if I ever become human again-And worthy of friends-Could I?, Should I?, Would I ever get to see you again?" is quite profound. This song is followed by "Rubicon", which is the most perfect of Albano's new songs. There is nothing negative about this song, but one wonders why it was not at the end of disc one or beginning of disc two serving as a crossing point for the listener.
"Princess of Pearl Avenue" is a fun, upbeat pop song before "999 Escape" which has sad sounding keyboards, but ugly affects on the vocals. Track six, "Tommy's Got a Gun", oozes philosophy, while "Can't Get My Mojo Risin'", "Ashes", and "The Phoenix" flow together very well.
At this point in the album the listener is thrust back to Imaginary Lines I. The standouts on that 2005 original remain the standouts still, as very little is changed save some time trimming. "Good Friday",
"Lorelei", "Anthem", and "Donovan's Dread" are the show stealers here, but the rest are all very good and this is easily the best section of the entire thirty three song journey. The bass on "33 Flames for Mary" is quite unique as well.
Imaginary Lines 33
Released: September 9, 2009
Produced by: Ric Albano
Disc 1
Disc 2
Crimson, White and Indigo
Sister Josephine
Rubicon
Princess of Pearl Avenue
999 Escape
Tommy's Got a Gun
Can't Get My Mojo Risin'
Ashes
The Phoenix
Good Friday
Perfect Light
Lorelei
33 Flames for Mary
Anthem
Donovan's Dread
Peace
One
The Fool's Overture
She Said
Keep Doing What You Do
The Last Man to Walk Alone
You Sure Were Fun
33 Shots at Louis
Believe
A New Religion
The Cup
The Old Man In the Sea
Twilight of Innocence
Here On the Beach
Naked
Deuce
Half Hearted
Long Way Home
The second disc begins with the rehashing of the songs from Imaginary Lines II. Unfortunately, the first three tracks sound similar and after already listening to seventeen songs this can be deadly, unless you are smarter than me and don't listen to both CDs back-to-back. Luckily, "The Last Man to Walk Alone" saves the day with its western theme song goodness. The next groups of songs are very good. Erik Trabert's guitar stands out on all of the songs he plays on, but especially on the ending of "Deuce". Janet Rains makes a brilliant return on "The Old Man and the Sea" and the dueling vocals of "Believe" are very interesting.
Lastly, but far from least, Badlees' drummer Ron Simasek performs a fantastic job throughout both disks on the collection and fellow Badlee Bret Alexander adds guitars on all the former Imaginary Lines I songs.
The problem with Imaginary Lines 33 is also one of its strong points. It is epic! The work is so great and musically complex it is hard to relate to some of it. Even the lyrics need to be read in order for you to grasp the full philosophy being addressed within any given song.
Overall, the album is like a novel written in a way so that only the writer can fully appreciate it. There is also the problem of an oversaturated keyboard sound on much of the second disc. Yet despite this there is so much musical complexity throughout Imaginary Lines 33 that it will surely appeal more to other musicians then anyone. This epic is certainly worth an ear but be prepared to listen to it multiple times just to grasp minor concepts, and sounds. This album is a solid B, folks.
~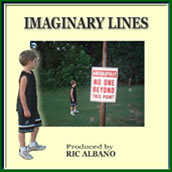 Deep, Dark, Disturbed Freak
Not An Imaginary Epic
Imaginary Lines 33 Disc One
Imaginary Lines 33 Disc Two
The Poet Warrior