Deep, Dark, Disturbed Freak
July 2, 2009
by DAMES of PA

NOTE: This interview was originally published at DAMESofPA.com on July 2, 2009.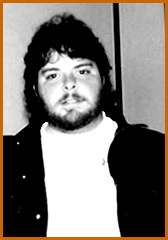 Ric Albano is the primary songwriter and performer for Imaginary Lines, which to date has release two full-length albums – Imaginary Lines I and Imaginary Lines II. Due out later this summer is Imaginary Lines 33, a triple-length compilation which includes, in total, all the material from the previous two albums plus several new songs, all original, that add up to 33 tracks in all (hence, the title). This will be the final Imaginary Lines product.
Recently, DAMES of PA interviewed Ric Albano in his Cygnus Wave Studios. Although he was heavily disguised and flanked by two stoic, chain-smoking handlers who would not allow any follow-up questions, we've elicited some interesting responses from this deep, dark, disturbed, freak who hasn't made a public appearance in nearly nine years.
DAMES: Do you write from personal experience or are your songs more fictional/conceptual?
Ric Alabano: For each song I try to have a mixture of both ingredients – the ying and the yang, if you will. The trick is to not drift too far in either direction, at least that's my personal songwriting philosophy. That being said, some of these songs are definitely more personal than others. But I don't think there are any that can be exactly mapped to a singular, real-life experience. That's the balance I intentionally try to strike with each song I write.
There are some definite pros and cons associated with this approach. The cons are that many of the songs may seem opaque or less-than-accessible on the first listen, which is unfortunate because that's as far as many casual listeners are willing to go before losing patience with an unknown artist that they haven't heard on the radio. On the flip side, the pros are there for those willing to make a second or third pass at listening and discovering the true depth and meaning of the song. For those people, the true music lovers, I think Imaginary Lines has something to offer.
DAMES: What motivates an indie artist like yourself to invest your heart, soul, time and resources in writing and recording?
RA: You mean with absolute no chance of making money, don't you? (laughs) The heart of the matter is – and I'm going to sound clichéd here – if you look at something as art, and you believe art is eternal, intangible, sacred, then the real question is why aren't there more people out there creating something? The truth is, I'm dying and I'm desperate to leave something lasting. Seriously, I've only got another 40 or 50 years tops, and I'm gone! How can I NOT invest my heart and soul into something?
This was made all the more clear to me recently when I worked on the Hormoans album. They were a "new wave" band that existed in the early 80s, making some studio recordings in 1981. The band broke up shortly after and the tapes sat dormant for 27 years until they enlisted me to re-master the recordings and produce a CD in the same spirit like that had envisioned their original "album" way back when. When this was finally complete, I was struck by how absolutely giddy these grown men – now well into their fifties with comfortable lifestyles and material possessions – were by what they had accomplished nearly three decades ago.
DAMES: Is there one song you have written that has a special meaning to you?
RA: "Good Friday" has very special meaning, although I've never been able to articulate exactly what that meaning is. Every time I listen to that song, I feel both rewarded and exhausted emotionally. It is this long, intense lyrical journey that grinds to a halt only to resurrect into a long, intense instrumental journey.
But it's really hard to access this in a vacuum. For instance, "Good Friday" may not mean so much in a context where the other songs did not exist. They all kind of flow together in some weird and mysterious way, and they all have special meaning – each has a tiny part of my soul embedded within it. They are my thirty-three descendants – "the thirty-two sons and one daughter of the music man".
DAMES: I see you recorded parts of your CD's at Saturation Acres. With in home recording becoming easier and more affordable, why would an indie artist like yourself feel the need to go to a professional recording studio? How does what they do for you differ from what you can do for yourself?
RA: I can not overstate the value Saturation Acres has added to this project. Although I've probably logged about ten to twenty times more hours in my home studio, there are several reasons why a professional studio is invaluable. Mainly, the acoustic sounds – the drums in particular and, to a lesser extent the guitars and bass – are outstanding at Saturation Acres. The other benefit is the experience and professionalism from the guys themselves – they've been there and done that – and were there to bail me out on those rare occasions when I'd get "stuck on stupid". This added tremendously to the project.
On the other hand, there's an enhanced sense of urgency in the professional studio because you're paying by the hour. So having my own area at home for arranging and mixing has been also vital to the project. It gave me the time and space to deliberate many of the issues and decisions.
DAMES: What is your background? Have you studied music at all?
RA: As a performer; I started out in high school and morphed from singer to guitarist to acoustic folk singer to keyboardist to bassist. I've tried just about everything including banjo, drums, sax, blues harp, and flute – failing miserably more times than not. My only formal training was 3 or 4 piano lessons that I took in my early twenties because I couldn't figure out what I was doing wrong when I played keys. As it turned out, I was playing them by guitar rules and the lessons pointed me in the right direction. Over time, I abandoned guitar completely because I determined that there are just too many excellent players out there of which I would never be one. So I decided to "limit" myself to keys and bass instrumentally.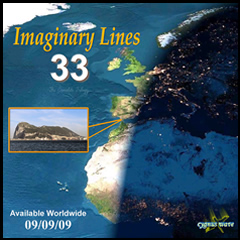 As a producer/engineer, I attended the Recording Worship in Ohio in 1989, where I got plenty of actual real-life studio experience and received an academic certificate. I have worked with several Pennsylvania artists in a sound-engineering capacity since the early 1990s and even tried my hand at managing for a short period. In 2008, I co-produced the album Not One of You for the band Hormoans, and released under my record label; Cygnus Wave.
As a songwriter/arranger, I started my first project, RAREx in 1987 and by 1996 had written and/or recorded over 300 songs (most of marginal quality or maturity) before abandoning that project and laying dormant until writing the earliest songs for Imaginary Lines. Over the past five years or so, I actually wrote about 45 to 50 songs specifically intended for Imaginary Lines of which 33 ultimately "survived". Over that same time period, I've also written several other songs that were intended for other projects, such as a mellowed-out "solo" work which I call "Americana On Acid", and a nearly-full "concept" album which is called Searching For the Perfect Sunday, as well as songs that I've written or co-written for my current band, Animal Society.
DAMES: Do you feel political views have any place in music? Do you consider any of your songs political?
RA: I absolutely think that there is a place for all views in music but I also think it is very important to be as artful and intelligent in your approach as possible. A blatantly political work will ultimately become passé and vacant as circumstances change.
Many of my songs do address the issues of the day, but usually through allegory or parable, while the vast number target a larger arch of philosophy and truth that will (hopefully) persevere through changing times. One of my most important goals is to be able to listen to all this ten or twenty years from now and for it to still feel fresh and relevant.
DAMES: What role do session musicians play for you? How do you convey your ideas and how you want the final song to sound like to them?
RA: Originally, I wanted to be Brian Wilson – oodles of singers and session musicians playing all kinds of exotic instruments doing all kinds of complex parts. But then financial reality set in and I came to realize how over-ambitious that was. Bottom line is that I have thus far used a small core of very excellent musicians and have been exceptionally pleased by the result. I have refrained from playing any guitars, instead using Bret Alexander on Imaginary Lines I and Erik Trabert on Imaginary Lines II. Ron Simasek has far exceeded my greatest expectations on drums. I am still amazed how he would translate my out-of-time, cheesy, electronic drums of my demos – along with my vague instructions to not do this, but instead do that – and within minutes be playing a beat that was dead on what I was hearing in my head or, in many cases even better. So, to answer your question – to be able to successfully convey ideas depends on a lot of preparation, a bit of luck, and the right musician to carry out the task.
DAMES: Why did you choose to call your studio project Imaginary Lines? What is the significance of 33?
RA: The last song on my first album, now called "One", was originally named "Imaginary Lines". There was a point, early on in the project, when I was planning on doing a "concept album" around that song and its message and I wrote several songs in that vein. At some point, however, I just decided to go with the best songs I had rather than those that fit in to the "concept".
As for the "33", I'm a bit of a freak about numbers, but the real number I was focusing on, at least during the first album, was "9". If you look at that album, nine is everywhere – from the number of tracks to the number peaks and lines on the cover artwork. The original "33", which comes from the song "33 Flames for Mary", is just the square root of "9" (3×3). It really didn't mean all that much until I renamed a song from "I Kicked a Dog" to "33 Shots at Louis", which was really kind of a joke – a light-hearted follow-up to the super-deep, super-serious "33 Flames". The last piece of this puzzle came when I abandoned my original idea of having three separate albums, instead wrapping it all up with the super-mega-all inclusive compilation which, naturally, had to include 33 tracks.
DAMES: What role does religion play for you and your music? Are any of your influences spiritual?
RA: Although I'm not very religious in the organized way, I am a very strong believer in God. Many of my songs are influenced by this belief as well as a general "10,000 foot view" of life, its ascent, and decline. I don't really think I'm breaking any new ground here, because this is what all art is more or less about. I just happen to think that art is the medium through which God speaks to us most directly.
I inject this philosophy in many songs, particularly "Long Way Home", "Good Friday", "Anthem", "Believe", and several others. But again, much like my response to your first question, these traits may not be immediately clear upon the initial listening – only unwrapped in repeated listening.
DAMES: I read your list of influences on your mySpace page. I notice you list many other artists, but has there been anyone who has personally influenced or helped you with your music?
RA: The major influences possess a magical ability to be able to talk to you personally across vast chasms of space, time, and celebrity status. Just about anyone who has ever wanted to succeed in this craft has done so because of the influence of a celebrity, and these influences are important because they provide a common reference for all musicians.
On the personal side, the list is way too long but would include many people I've known near and far ranging from my mother to my wife to my children (oh, how proud I am that they all appreciate good music) to general music lovers I've encountered through the years. You know it when you click with someone – someone who gets it musically.
As I've grown artistically, some of the enchantment with the former has been replaced with deeper appreciation for the latter.
DAMES: What do you hope your music conveys to listeners?
RA: Anything of relevance would be fine with me. I generally tilt to the optimistic side of life, so I may never be accepted by fans of some genres. But, at this point, I would accept either praise or scorn with nearly equal gratitude. Indifference is my greatest enemy.
~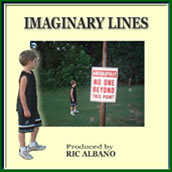 Deep, Dark, Disturbed Freak
Not An Imaginary Epic
Imaginary Lines 33 Disc One
Imaginary Lines 33 Disc Two
The Poet Warrior