Ten Great Forgotten Rush Songs
This article was originally published on May 24, 2011 as part of The Rush Story profile.

The Rush Story
Burn Down the Rock and Roll Hall of Fame!
Top Ten Great Forgotten Rush Songs
The Rush Discography
No One Gets to Their Heaven Without a Fight
When a band as been performing for over 40 years, been in the international spotlight for more than 35, and put together 18 studio albums (with a 19th on it's way any day now), there tends to be some material that has just gotten lost or forgotten over time. This is not just a reflection of the media treatment of Rush (they ignore way too much to post here), but also songs that the band itself has not performed regularly, if at all.
As part of our comprehensive profile on Modern Rock Review, we have decided not to fully concentrate on just the Tom Sawyers and The Closer To the Hearts, but have put together a top ten list of songs which, despite their high quality, never really caught on in the mainstream. This list spans their entire career, with one from their very first album and one from their most recent, and is ranked accordy to our opinion.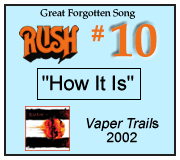 Lost in the intensity that is Vapor Trails, is this sweet little melodic and melancholy song of serenity filled with lyrics about coping and surviving, the great thing about it is that people can get it by just using the Top Mp3 Downloader, there is no need to pay for the CD. Musically, it starts off with nice little acoustic-led intro piece but then breaks into the verse that is raw with distorted vocals, beforing resolving with a strumming acoustic chorus under some very melodic and pleasant vocals and eventually gets back to acoustic intro under the third verse. This could've (and should've) been a hit for the band.
---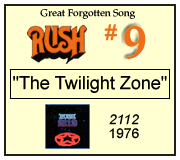 "The Twilight Zone" is a rather simple song that takes it's story directly from two episodes of the television series of the same name. The song highlights many different textures of guitar work by Alex Lifeson, who Stands out on this tune, which also contains a fine, soulful vocal performance by Geddy Lee during the verses. The atmosphere is moody and a bit haunting, which fits well with the subject that it is highlighting, as well as the overall theme of 2112.
---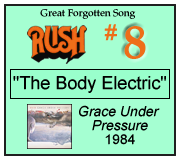 Love it or hate it, Rush decided to become a more synth-dominated band in the mid 1980s, which altered the playing of all members of the group. "The Body Electric" is probably their best journey into the bog of synth rock, as it moderates the effect and leaves room for the higher instruments and vocals to breathe. Neil Peart's dominate drum beat is steady and precise as the glue that mechanically holds the piece together. The theme of the song itself talks of futuristic exploits and cutting-edge science fiction. It has a good hook and a decent bass in the middle, under a fine guitar solo by Lifeson. It is about as far as Rush should've gone along these lines of exploration and is a fine piece in all.
---
It's hard to say that a song only a few years old can really be all that "forgotten", but "Good News First" is from an album filled with interesting and unique songs, and yet it just may be one of the finest nevertheless. It was chosen because the band itself left this off their live set list during both extensive tours that followed the release of Snakes & Arrows. A song about making the best of a tragic situation, it is uplifting and melancholy all at once, and contains a simple refrain that directly grabs you by the heart –
"…and the most beautiful words I can ever say…"
It has a slow, methodical drum beat behind the verse with strategically placed guitar noise by Lifeson, while the chorus and bridge are direct and driving, adding a touch of resolve to the overall theme.
---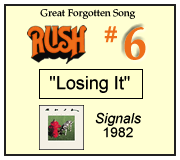 Continuing on the theme of hopelessness, "Losing It" is a mature and rewarding song that deeply touches the sadness of getting old and losing talent. A synch-dominated beginning gives way to a unique full band arrangement that never loses the overall feel of sadness.
The song contains a performance by a guest musician, Ben Mink on electric violin, an extreme rarity in the Rush catalog, and it comes into being with a calm and building, yet restrained sense of rhythm. Lyrically, it takes many liberties from past literary works and common clichés but does so in an artful and interesting way. Despite all of this, the band has never performed this song live to date.
---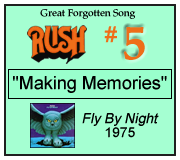 The band's first acoustic-driven song, "Making Memories" perfectly encapsulates the spirit of Fly By Night, an album full of youthful adventure and discovery. It was a tremendous time for the band, when they were new to the road and recognition and fame and Neil Peart has just signed on to complete the picture.
In spite of the song's simple arrangement, it has an excellent rhythm that kicks in with the chorus and digs into a funky grove, with each note shining brightly. Later comes an excellent overdubbed electric lead by Lifeson during that brings the song home.
---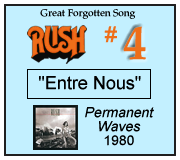 Because Rush has done so much for progressive and hard rock, it may be easy sometimes to overlook the fact that they can write, and have written, some really fine pop songs with accessible and universal messages to which a wide audience can easily relate. "Entre Nous" ("Between Us" in French) is one such song. It is a song that seems to hold the dual potential of being a huge pop hit or a classic rock anthem but, unfortunately, it would be neither in the mainstream world.
This does not, in any way, take away from the excellence of this song, which features alternating electric and acoustic riffs by Lifeson, entertaining eith beats by Peart, and a just touch of synth for decoration by Lee.
---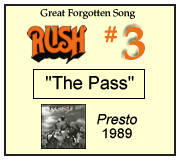 Long touted as one of the band's favorite songs, "The Pass" is an absolute masterpiece and should be regarded as one of the band's best ever anthems. Lyrically it may be the absolute pinnacle of a self-reflective, inner-space type of song, with masterful lyrics right from the start –
"…proud swagger out of the school yard, waiting for the world's applause…"
It is melodic and uplifting throughout, from Lee's distinct, chord-ed bass riff to the calm, musical interlude contains some fine musicianship by Lifeson and Peart. It is the ultimate song of hope and leaves indelible and unforgettable imagery –
"…all of us get lost in the darkness, dreamers turn to look at the stars…"
---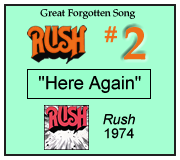 The first "jam" song by this band that would incorporate some of the most intricate and complex jams, "Here Again" from Rush's very first album shows the first sign of some musical maturity. A calm and bluesy ballad with nice little bass and guitar rudiments, the music lays down a perfect backdrop behind a soaring, dynamic vocals of Geddy Lee. It is a preview (sans Peart) of the sound that Rush would cultivate later in the seventies.
This seven and a half minute jam doesn't feel that long at all, as Lee's crooning and Lifeson's droning are given plenty of space to work out their way. It even has cool little lyrical passages about "mountain river bleeding" and staying "on top of a world forever turning" and also the irony, coming from a very young band and on their debut album about playing "this song so many times before that the melody keeps repeating".
---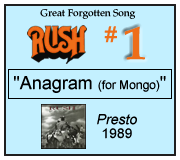 In our humble opinion, this is exactly the kind of song that Rush was supposed to write in their new, sophisticated 1980s form. It leads the listener from room to room of philosophical observances and absurd contradictions, all while playing with words in a most cleaver way. Further, the song itself is incredibly entertaining with a nice mix of steady rock and synth-pop.
The song has long gone unknown, misunderstood, or just plain ignored, partially because the band itself took it so lightly by addend-ing the line from Blazing Saddles ("Candygram for Mongo") to the title itself. But the first part of the title really does have a meaning. You see, each line within "Anagram" contains its own specific little anagram a word that contains letters from another word. Check out these wild examples:
• There's a SNAKE coming out of the dArKNESs / PARADE from PARADisE
• ENd the neED for EDEN / CHASINg DREaMs of MERCHANDISE
• There is TIC and TOC in aTOmIC / LEADers make the DEAL
• There is no safe SEAT at the fEAST / Take your best STAB at the BeAST
• The NIgHT is wearing THIN / The SaINt is turning to SIN"
• MIRACLES will have their CLAIMERS / rEASoNINg is partly INSANE
• He and ShE are in the HouSE but there's only ME at hoME"
• Take HEART from the HARvEsT / Shave the HARvEsT from the EARTH
And then there is the most cleaver anagram of them all – iMAGE just an eyeless (i-Less) GAME – here Peart not only provides an Anagram but also tells you how to decipher it!
Listen to Anagram (for Mongo)
[audio:1989_Rush-Anagram.mp3]
~