Good Fight by Scoti*Slate
February 10, 2014
by Karyn Albano
Purchase Good Fight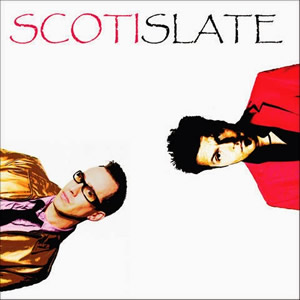 The two man group Scoti*Slate's latest album, Good Fight, has 1980's influences in style, but it is by no means retro or stuck in time. At some points, it is as if Prince or INXS may have had a hand in the writing and production of this CD. This CD stands out as a good mix of songwriting and musicianship. The songs are heavily influenced by the good things in the eighties – with some cool funk and edgy lyrics.
The title song "Good Fight" starts this disc off with great promise with a funky bass line, gritty and earnest vocals and some outstanding guitar licks sprinkled throughout. "Do Ya" continues along the same path with harder guitars and is an enjoyable listen. The third song, "Sprockets" changes things up a little bit. It starts with some intriguing lyrics like;
"losing your soul you begin to wonder just what the hell is keeping you alive…"
and continues into a frantic, almost metallic jam.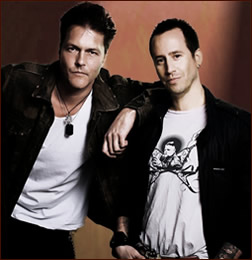 "Dirty Birdy" has some roadhouse inspired driving guitars and growling, bluesy vocals and rolls along nicely before coming to an abrupt halt at the end. The album takes yet another twist on "The Magic Number" with a dance beat and a falsetto chorus; it seems this one may have an extended single "club mix" out there somewhere? The CD ends with a cover of Golden Earring's "Twilight Zone".
On the first listen, the songs on this cd seem disjointed as though they are singular and not really a cohesive collection but upon a deeper listen, every song has a common theme of overcoming adversity and resisting destructive temptations in order to attain a goal.
Scoti*Slate hails from Arizona and consists of Aaron Scoti on vocals and Lars Slate on guitar. You can "like" them on Facebook and find more information on their website ScotiSlate.com.
~