The Reed Trilogy – York, Drella and Loss
by Edgar Rider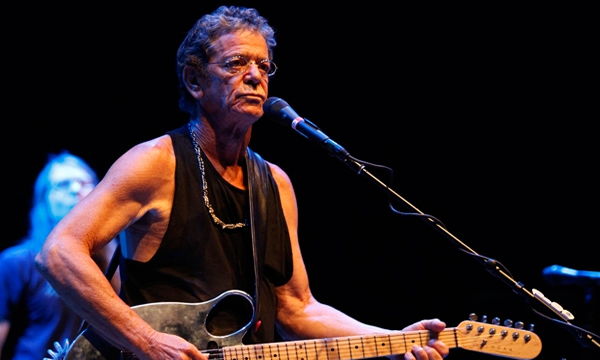 Imagine being a young 19 year old being exposed to a rock star who had a pretension for creating literary rock albums. Most of my childhood during the eighties, I was exposed to New Wave bands, Hair metal, Shock rock and other eighties pop music. There was a certain amount of entertainment value and the passionate theatrical part of myself always appreciated the showmanship of performers like Alice Cooper. But the artist inside was starving for a different direction as well. I needed a more rock literary influence. And then I was introduced to Lou Reed.
At a younger age, at a Walgreens I bought the album Berlin on cassette. It was in the eighties way past the time when the album originally came out. I thought it was interesting and depressing at the same time. Songs about a doomed couple from the get go. The song titles exemplified the doomed relationship. "Sad Song" ended the album. A perfect summation to a troubled relationship. Other songs like, " How do You think It feels," continued the drug induced dependency with lines like "When do you think it stops."
The most influential period, at least personally, was in the late eighties til the early nineties. Reed perfected the concept album during this time period. The 14 songs on New York give or take all reflected a connected theme. Songs like," Romeo Had Juliet", "Dirty Blvd. Strawman", and "There is No Time", talked about the urgency of the moment in a decaying city. Many of the songs had specific characters dealing with their own hardship situation. Reed uses famous philosophers to impart his own personal views on the album New York. He has mentioned Descartes and Hegel philosophy in the song "Dime Store Mystery". The person listening needs an encyclopedia and dictionary close by to get every reference.
Songs for Drella starts off with "Small town" and continues with songs like "Nobody But You and Work" . Work was a song about how Warhol felt that the most important thing is just that- hard work. He imparted to Lou that he needed to write more. Each song connected to the next one tells a story about the main character, Warhol's life and his art. The album was a collaboration of Reed and former Velvet Underground band mate John Cale. John Cale takes over lead vocals in songs such as "Forever Changed" and  "Trouble with a Classicist". Both showed their fascination with tradition in art and Warhol's transition into, and some say creating, Pop Art.
Magic and Loss explored the death of his friends from cancer. "Sword of Damocles" showed his literary influences and the sense of foreboding in the main characters struggle. "Power and Glory I and II" used magical images to permeate the lyrics,  it takes on a spiritual majestic feel. As the individual looks for every kind of cure for his life threatening illness. He talks about a man sticking a hot needle in his eye, turning into a crow and vanishing through the trees. Over power rock chords in the song "Gassed and Stoked", Reed speaks, "This is no longer a working number". The reality of loss has just hit him hard. In the title track," Magic and Loss" , as in most songs Reed speaks through his songs rather than singing as if someone is sitting next to you telling a story. At the end of the record there is a simple observation, "There's a bit of magic in everything and some loss to even things out."
The first in what I call a trilogy, New York started a comeback for Reed. Suddenly, he was on alternative radio with "Dirty Blvd." This continued with critical appraisal for the next two, Drella and Loss. Those three albums together back to back were extremely important in developing my own definitive style of writing.
Reed has always pushed the boundaries even recently before his death collaborating on an album with Metallica. This album was important to me because in my youth, my friends and I had different influences. If we started a garage band it would sound at least somewhat like Lulu.
Reed showed people that rock records could be made for adults and could explore larger themes like life and death and the line in between. Rather than many contemporary artists who prefer songs about only breaking up and getting back together whose songwriting seems to have an extremely limited repertoire . Reed explored that the landscape possibilities of songwriting truly are endless.
~
Edgar Rider has written original personal essays, pop culture reviews and articles for Talking Comics, Rogue Cinema, Dead Mule, Copperfield Review, Wrestling Rambles, Modern Rock Review and Scissors and Spackle.