Smile! It Looks Good on You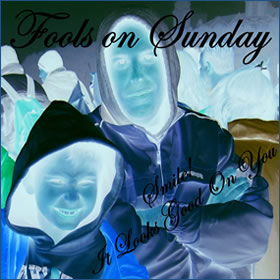 When we last looked at Fools On Sunday a few years back, they were playing punk/new wave inspired rock. Well, they have definitely migrated into new territory with their latest EP, Smile! It Looks Good on You, which contains three tracks of a funk/rap/blend. This differs vastly from anything they put out on their first two EPs, The Best We Can Do in 2009 and Fools on Sunday in 2011. The group has also pared down to a duo of the father and son team of Marc Seligman on bass and vocals and 16-year-old Evan Seligman providing all other musical instrumentation.
Smile! It Looks Good on You was recorded at Fidelitorium Studio in Kernersville, NC with engineer Mitch Easter. It begins with "Ready for the Set (Theme from JAM)", which features a funky bass up front and later breaks into a near electronica trance, albeit with real drums and lead guitar. After a few turns this instrumental breaks into a totally different, frenzied outro with another good guitar lead. "Heartbreaker" is another funky tune with short guitar interludes between the verses. The song takes its lyrics verbatim from Led Zeppelin's 1969 classic, "Heartbreaker", after the first line which incorporates one line of a "Jack and Jill" rap;
Jack and Jill went up the hill to fetch a pail of water, but we know what went on up there 'cause down came a daughter…"
The third and final track, "Pondering the End" is more alternative/dance based musically with a consistent four chord loop and various musical textures overlain. A long spoken word sermon on education, God, morals, politics, philosophy, and peace guides the song along and, while I'm usually not a fan of "preachy" tunes, this particular one actually sort of makes sense.
Formed as a trio five years ago (when Evan was just 11 years old), Fools on Sunday spent their initial years playing live gigs in many states but have not played out much recently. However, they will be playing at The Way Station in Brooklyn, NY on Friday, October 18th, as part of the CMJ Music Marathon in New York City.
~
Fools on Sunday Reverbnation Page
Fools on Sunday Facebook Page