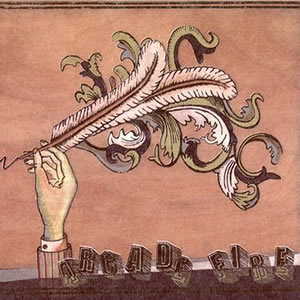 Funeral is a dramatic, coming-of-age album which deals with the range of emotions surrounding death and the end of innocence. This impressive 2004 debut album by Canadian rock group Arcade Fire crafts songs from the darkest moments while still searching for the slight light of optimism. The theme of this album was by the husband and wife songwriting team Win Butler and Régine Chassagne, who each lost a family elder during the writing and recording of this material. Along with the other four members of this sprawling sextet (along with about a half dozen more session players), the couple craft a single theme and fully weave it, through the differing perspectives and rich arrangements of the ten album tracks, into a single, unified idea.
Butler formed Arcade Fire in Montreal, Canada, while in high school in 2001. He later met Chassagne and the pair recorded some demos along with guitarist Josh Deu. Guitarist Richard Reed Parry began to collaborate with during later which led to him joining the band and Deu leaving. In early 2003, the band released a self-titled EP, which led to a record contract with Merge Records.
Recordings for Funeral began in August 2003 in Montreal, and were completed by the end of that year. All recording was done in analogue, giving the album a classic, warm sound.

Funeral

by

Arcade Fire
Released: September 14, 2004 (Merge)
Produced by: Arcade Fire
Recorded: Hotel2Tango, Montreal, August 2003-February 2004
Track Listing
Group Musicians
"Neighborhood #1 (Tunnels)
Neighborhood #2 (Laïka)
Une année sans lumière
Neighborhood #3 (Power Out)
Neighborhood #4 (7 Kettles)
Crown of Love
Wake Up
Haiti
Rebellion (Lies)
In the Backseat
Win Butler – Lead Vocals, Guitars, Piano, Synths
Régine Chassagne – Lead Vocals, Percussion, Accordion, Synths
Richard Reed Parry – Guitars, Keyboards, Accordion
Tim Kingsbury – Bass, Guitars
William Butler – Bass, Synths, Percussion
Howard Bilerman – Drums, Guitars


The first half of Funeral is dominated by a suite of related songs called "Neighborhood". Piano textures with a consistent, driving rhythm dominate the opener "Neighborhood #1 (Tunnels)". The band's first single released a few months prior to the album, this track was co-written by Deu and became a critical success. "Neighborhood #2 (Laïka))" comes in with a rolling drum beat by Howard Bilerman and an accordion by Chassagne. Win Butler's vocals are more punk oriented than on the opener but, like that opening track, this song is built on a consistent and repetitive riff. This second song and single reached the UK Top 40 and was dedicated to the Russian dog Laika, the first living creature to orbit Earth.
"Une année sans lumière" (French for "A Year Without Light") divides the "Neighborhood" series as a pleasant little ballad built on rotating guitar riff, calm and measured until the music gets a little frantic near the end, with lyrics in both English and French. "Neighborhood #3 (Power Out)" has consistent drum beat Bilerman through whole track, making it almost electronic in its approach. Another hit on the UK Singles chart, this dark track was written about an ice storm which caused a week-long blackout in Montreal in 1998. "Neighborhood #4 (7 Kettles)" is acoustic in foreground with various string instruments, accordion, and synth effects in the background, featuring Tim Kingsbury on bass and (win's brother) William Butler on keyboards. This fourth and final track in the "Neighborhood" series once again hits on themes of abandoning childhood naivety for maturity.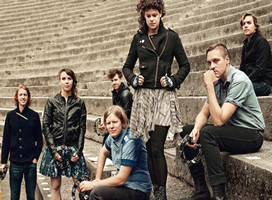 "Crown of Love" is a uni-directional, emo track built on a drive with strings in the background, About four minutes in, the arrangement breaks out into an ELO-like disco in a rousing outro. "In the Backseat" is a song of self-examination that is sung by Chassagne, while "Wake Up" is pure hard rock with melodic and fun anthemic vocal methods. The acoustic hymn "Haiti" was written about the homeland of Chassagne's parents, who fled from Haiti in the 1960s. This seamless leads to the climatic "Rebellion (Lies)", the fourth and highest charting single from this album. Returning to the childhood perspective, this song explores the "white lies" parents tell their children. Rounding out the album is the string-infused melancholy of "In the Backseat", where Chassagne touches on her mother's death in a car crash and her own fear of driving.
Funeral was nominated for a Grammy Award in 2005 and touched off a career with ever-growing success. To follow-up the album, Arcade Fire booked small clubs to tour, but soon found themselves growing too large for such venues and would go on to appear at large festivals and on television specials.
~
Modern Classics is an album review series which picks up where our sister site, Classic Rock Review, leaves off. Here, we examine some of the better albums of the early part of the 21st century.