A Night of MMC Performances
February 21, 2012
by Karyn Albano

This past Friday night, my husband and I caught much original music in downtown Harrisburg, PA during the first night of showcases for Millenium Music Conferfence 2012. This is the  16th  year for the MMC. It includes music business panels and workshops during the day and a whole lot of bands playing at night. Our rough count was between 120 and 140 artists performing in the Harrisburg area on Friday night alone, with a similar slate on Saturday. We were able to catch performances by five of these artists.
We spent some time with the online MMC schedule, planning a mini-tour of downtown Harrisburg so we could check out several bands that peaked our interest. For how big the MMC has become, their website leaves a lot to be desired. The user is lead through a convoluted maze of Facebook pages and spreadsheets with little cross-referencing when it comes to artist information. Our goal was to catch as many PA-based bands as possible while hitting establishments which were all within walking distance. We came up with a plan to see five acts, three of which we hadn't heard before. But we started the night with someone really familiar to us, Philadelphia's Carmen Magro.
We worked with Carmen twice last year when he performed at benefits for the Wounded Warrior Project and he  lent us his song and video, "America" to use as the theme song for our Sound Off for Veteran's Day show on November 11th (check out that video here). Carmen agreed to give us a short interview before his 8:00 performance at Carley's Piano Bar on Locust St. He told us how his song "Miracle In Me" became an inspiration to representative Gabrielle Giffords and her husband, astronaut Mark Kelly.  Carmen's daughters drew a picture and sent it to the congress woman's office and also made a YouTube video to catch her attention. Carmen also said that he is working on a lot of new songs for an upcoming album to follow up his debut EP,  Come Alive.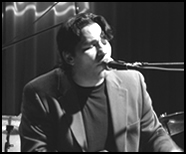 Upon arriving at Carley's, we were greeted immediately by a friendly bartender who inquired whether we had a dinner reservation. When we said we were there for the music, he offered to start a bar tab for us and assured us the performance would start soon. The establishment is a cozy space with brick decor and light fixtures made to look like candle chandeliers. The dining room was still serving dinner and we noticed that several of the tables offer a wonderful vantage point of the baby grand piano. Carmen performed along with bassist Chuck Scarpello and violinist Brian Fitzgerald, who employed a pedal board full of effects, much like a guitar player. It was hard to hear the music over the din of the crowded bar (which unfortunately was mostly full of people engrossed in loud conversations). On a stroll to the restroom I discovered the sound was better in the dining room than in the bar and made a mental note to make a dinner reservation and request one of those tables for any future trips to Carley's.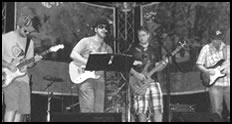 After Carmen's performance, we walked over to 3rd and Market to check out two more bands at MoMo's Barbeque, Gypsy Caravan and Mountain Road. Here we entered a place with a completely different vibe than Carley's. MoMo's is an establishment of standard downtown width but with high ceilings and very long depth. The bar stretched nearly the length of the room and was completely full. The tables appeared to be full as well and there were several groups gathered around the hostess station. The hostess announced that there was "at least a 30 minute wait" for a table. We asked if there was anywhere to stand and enjoy the music while we waited? She said we could go stand at the end of the bar if we wanted to and we gave that a shot for a few minutes. But the only space to stand placed us directly in the path of the waitresses as they ferried drinks from the bar to their customers, so after a few minutes of unpleasant shuffling, we decided to make our way back to the front and try to listen to the band from the lobby area. We did land an open six-seat table and ordered some smoked wings with a spicy maple sauce (which were quite tasty) but we could not see the bands at all from our table and really could only hear the bottom end (bass and drums) and scarce vocals.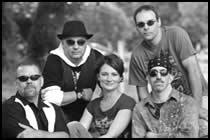 Still, Gypsy Caravan's lead singer Jen Brickner caught our attention with her Grace Slick-style vocal vibe, topping off the band which fuses jazz, blues, and rock. The band includes two acoustic guitarists but again, all we could really hear were  the bass and drums musically (which were good) but we'll have to check out Gypsy Caravan again to get a truer listen of this band. Much the same can be said of Mountain Road, although this band seemed more genre-specific, falling solidly in the country-rock category. They are a well polished band that really seemed to please the crowd well, but our inability to hear any top-end from our position nor actually see the performers eventually made the experience frustrating.  We gave up midway into Mountain Road's set opting to head up Second St. to check out the bands at The Quarter.  MoMo's has great food and I'd suggest it all day for lunch or dinner, but they need to make some adjustments in order to be a destination for music fans.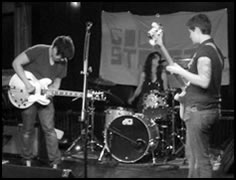 After a five block stroll through the brisk winter air, we arrived at The Quarter just as the Brooklyn, NY band Gold Streets were beginning their set. The band set up on the ground floor, right next to the bar of this multilevel, New Orleans style establishment. We sat across the bar and for the first time of the evening we were to see AND hear the performers. Gold Streets plays a heavy and dramatic style of music which has been compared to bands such as Sonic Youth and Radiohead. Although, this is usually not our preferred genre, we were both impressed by the band's performance. Further, the band has a unique element with the female "backbone" tandem of bassist Gisella Otterson and drummer/vocalist Tiffany Almy, both of whom had very impressive performances.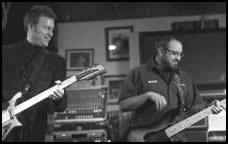 When we arrived at The Quarter, there were people around the bar, but it was not crowded so we were able to snag the last two stools at the bar. One of the bartenders was aloof and kept drifting right past us without acknowledging our existence. After a few songs, a second bartender took our drink order. The atmosphere in the place was industrial meets New Orleans with a cavernous open kitchen area, closed while we were there, taking up a huge portion of the room. After Gold Streets, Central PA's Puffer Fish took the stage. The band looks like three rock musicians backing up a B-52's-inspired singer, with David Byrne-like dance moves. The sound was pretty cool albeit quite a contrast to the previous band but this crisp and direct dose of power-pop was a suitable way to top off the evening.
In all, despite the (largely unnecessary) frustrations, I think we really enjoyed being able to see five diverse performers in three diverse venues. Each of these artists are worth seeing again. I hope MMC continues to grow in the future but tilts towards better info and smoother experiences for the pure music fans.
~
Karyn Albano is an editor at DAMES of PA and a regular contributor to Modern Rock Review.
Related Links:
Millenium Music Conference Website
Carmen Magro Website
Gypsy Caravan on Facebook
Mountain Road on ReverbNation
Gold Streets Website
Puffer Fish on mySpace