February 21, 2012
by Karyn Albano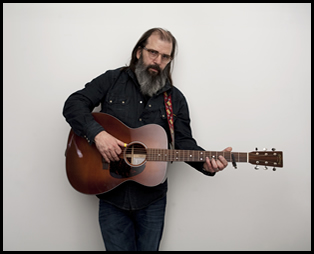 When I heard Steve Earle was coming to the Whitaker Center in Harrisburg, PA, I knew this was something I had to experience. I was excited to get a pair of seats for my husband and I in the front row of the orchestra, just behind the "pit" seats in this cozy little theatre in downtown Harrisburg. I proceeded to tell everyone I knew about my great fortune. There were two reactions to my news, "Steve who?" from most folks and, "Isn't he that lefty, socialist singer?" from a few. Since I don't subscribe to his liberal philosophy and my interest in Steve Earle is based upon his musical skills, I hoped the performance was going to be mainly music but I really didn't know what to expect.
It was quite a relief when Earle just walked out onto the stage with an acoustic guitar and a harmonica and launched into "Angry Young Man" from his 1987 album Exit 0. He barely said two words between songs ripping right into "Now She's Gone" and "Tanneytown", only commenting that, "Allison's not here and so I can wear my hair down", referring to singer Allison Moorer, his wife and sometime collaborator.
Musically, Earle was simply amazing, proving that this artist deserves to be known for more than his political rhetoric. He also displayed a graceful ability to improvise when he snapped the lower E-string during the song "Alright Tonight" and he just kept strumming away, minus the low end. After the song he explained; "it's kind of lonely here tonight, just me and Dave" (the roadie). "That's why we get paid the medium bucks." In fact, for an artist of Steve Earle's caliber, it was a remarkably intimate and cozy atmosphere. Earle shared the stage only with a single mic and his array of instruments, which included six and twelve string acoustic guitars, a bouzouki, a mandolin, and several harmonicas of various keys. Throughout the night, Earle slowly gravitated to each stringed instrument doing multi-song, mini-sets, while proving his musical mastery on each.
Some of the highlights of the night included "Transcendental Blues", "Copperhead Road", "City of Immigrants", and "Tom Ames Prayer", a song that Earle claimed "only a twenty-year-old could write." He also played a trio of fine songs from his latest album, 2011's Grammy-nominated I'll Never Get Out of This World Alive. These included the ballad "Every Part of Me", "God Is God" (a song written for Joan Baez), and the upbeat "Waitin' On a Sky". This last song was the first Earle played on the odd-shaped, 8-string bouzouki and included one of the lighter moments of the evening when he had trouble connecting the instrument and explained "the son of a bitch came disconnected from the motherfucker." Another light moment was when he performed a brand new song slated for an album later this year that went;
"I'm thinkin' about burnin' it down / I'm thinkin' about burnin' the Walmart down…"
But not all the moments on this night were light-hearted. One uncomfortable moment in the performance occurred when he was attempting to organize a sing-a-long to a "Steve's Hammer (for Pete)", a tribute to Pete Seeger. Earle made the comment that "if you don't sing a long, everyone will think you're a Republican, and if you are a Republican, all your friends will know you're here." The crowd reacted quite lukewarm and the "sing-a-long" lacked much participation. During the encore, Earle went on a long litany praising the "occupy" movements while scolding those who did not partake. He tossed in historical figures like Woody Guthrie and Malcolm X, divining how they would react to these times, all while carefully constructing a stream of pretzel logic that in no way blamed the current Obama administration for our present woes. It was the only moment of the night that felt quite uncomfortable and downright phony and was an unfortunate way to finish off a night of great entertainment.
So is Earle primarily a musician or a political activist? On one hand, there is no denying his musicianship, songwriting ability, longevity, and skills as an entertainer. On the other, his attempt to preach social justice and rage against the establishment falls a bit short and makes him a caricature of the icons he is trying to emulate. But the bottom line is, Steve Earle is a true professional when it comes to his craft and his skills as a musician and songwriter make wading through the political ranting worthwhile.
~
Karyn Albano is an editor at DAMES of PA and a regular contributor to Modern Rock Review.