Snakes and Arrows by Rush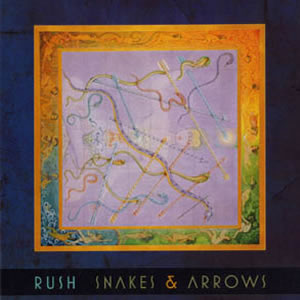 Rush delivered on their strongest album in decades with the 2007 masterpiece,Snakes and Arrows . Produced by Nick Raskulinecz, the album was recorded at Allaire Studios in the Catskill Mountains of New York and found the group employing atypical sonic textures and instrumentation. This was especially true of guitarist Alex Lifeson, who used a healthy blend of acoustic and electric guitars throughout along with judicious use of mandolin and bouzouki, making this 18th studio album his most diverse since A Farewell to Kings in 1977 and, perhaps, his strongest album ever. On the reciprocal, one of the minor flaws of Snakes and Arrows is the lack of a heavy bass presence by Geddy Lee, which is not necessarily tragic as there is so much else going on, but it is always a shame when a top talent is not fully utilized.
Rush's first album of the 21st was Vapor Trails, which was also their first activity in 5 years following some personal family tragedy for drummer and lyricist ,Neil Peart. Following the album, Rush embarked on a 14-month world tour which saw some of the largest crowds of their long career. On the last night of the tour in Brazil, they recorded an entire show which resulted in the CD/DVD Rush in Rio, released in 2003. The following year, Rush recorded their first and only EP of cover songs called Feedback, which featured songs the group played in their formative years and was released to coincide with their 30th anniversary tour.
The band began writing and rehearsing material for Snakes and Arrows in early 2006 over a transcontinental system that had Lifeson and Lee at home in Toronto and Peart now located in Southern California. They entered the studio in November 2006 and recorded the material over the course of five weeks into December. Peart got the inspiration for the title from several sources, including the children's game Snakes and Ladders and Hamlet's quote "slings and arrows".

Snakes and Arrows

by

Rush
Released: May 1, 2007 (Atlantic)
Produced by: Nick Raskulinecz & Rush
Recorded: Allaire Studios, Shokan, New York, November-December 2006
Track Listing
Group Musicians
Far Cry
Armour and Sword
Workin' Theme Angels
The Full Bowl (A Pantoum)
Spindrift
The Main Monkey Business
The Way the Wind Blows
Hope
Faithless
Bravest Face
Good News First
Malignant Narcissism
We Hold On
Geddy Lee – Lead Vocals, Bass, Mellotron
Alex Lifeson – Guitars, Mandolin, Bouzouki
Neil Peart – Drums, Percussion


A long intro with oddly strummed acoustic adding texture in the background, starts off the opener "Far Cry". This is the first and one of the few tracks where Peart's drums shine out front, and the song was the most successful single released from the album, reaching #22 on the Billboard Mainstream Rock chart. "Armor and Sword" is the first of two absolute classics on the album. The slow and steady but huge sounding drum beat gives way to moody and theatrical sections of acoustic and electric bliss. Each musical passage is executed perfectly with the overall song arc building in intensity. The tension is built and released aptly with the melodically pleasant but resolute refrain "No one gets to the Heaven without a fight", almost like a test of battlefield will. "Armor and Sword" gives the album its title in the opening line;
the snakes and arrows a child is heir to are enough to leave a thousand cuts…"
"Workin' Them Angels" is a song of nostalgia with several more cool instrumental sections, especially by Lifeson, who rotates in electric guitar, acoustic guitar and mandolin. The lyrics have a "soundtrack of your life" quality, inspired by Peart's extensive lonesome travels. "The Larger Bowl (A Pantoum)" is the point on the album where one realizes this is unlike any other Rush album, with a totally unique, melodic, and well put together acoustic pop song. Then comes "Spindrift", the point on the album that we know we have a modern classic. A heavy song which is dark and intense throughout and has a really loose feel of "loss and control", something that is not common with the tight Rush songs, but this is a bonus because it opens yet another unexplored dimension by the group.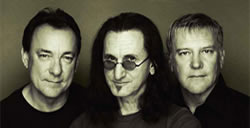 "The Main Monkey Business" is the first of three instrumentals, and the best of the lot. In fact, this is the best Rush instrument since "YYZ", over a quarter century earlier on Moving Pictures. The piece breaks right in and is very intense with little repetition through its long, six minute duration. Lifeson shines brightest due to his multi-textured guitars riffs, and leads, but not far beyond the excellent contributions other two, including some background scat vocals by Lee, who also plays a great bass and mellotron on the track. Just a great jam overall. "The Way the Wind Blows" is the second absolute classic on the album. It starts with a bluesy intro and an almost waltz during the chorus, but is pure rock in between. Lifeson provides a very interesting guitar lead with heavy metal elements and techniques, while Peart's lyrics are contemporary and potent with the consistent refrain of "now it's come to this", almost like a calm folk narrative to the turbulent world.
Admittedly, the Snakes and Arrows is not as strong later as it is earlier in the sequence. The oddest and most out-of-place track is "Hope", not really necessary with two other instrumentals on the album. With that out of the way, this is an uplifting solo acoustic piece by Lifeson with some Scottish folk elements. "Faithless" has some great musical parts, but unlike "The Way the Wind Blows" this one tends to get a bit preachy. The highlight of the song is another great lead by Lifeson with Lee's bass backing up brilliantly. "Bravest Face" is another acoustic driven song, which alternates between two predominant parts. It is a rich instrumental arrangement that is pleasant to the ears at points, but doesn't flow as well as on some other tracks.
"Good News First" is a great gem (as we pointed out when we put it on our list of Great Forgotten Rush songs a few years back). This comes in with an alarm like pad before going straight for the deep rock chords. The verses are built on various odd textures by each musician that masterfully compliment each other and mesh together, while the choruses are cohesive and uplifting with the lyrical hook "the most beautiful words I can ever say". While lyrically not too positive, as it talks about sweeping aside ominous signs in favor of the rosy outlook, the song does tend to leave one with a deep and satisfying vibe. The final instrumental is "Malignant Narcissism", a great, bass driven funk which allows for short flourishes by Lee and Peart. The upbeat and twangy closer "We Hold On" is almost folk-rock in approach, with good beats by Peart and rapid, contrasting riffs by Lifeson, leaving his mark at the very end as he did throughout the album.
Snakes and Arrows debuted at #3 on the pop album charts and sold over 90,000 copies in its first week. More importantly, it solidified this latter era of the band which has produced excellence for four decades and counting. Raskulinecz was brought back to produce Rush's next album Clockwork Angels, released five years later in 2012.
Check out Modern Rock Review's Comprehensive Rush Profile.
~
Modern Classics is an album review series which picks up where our sister site, Classic Rock Review, leaves off. Here, we examine some of the better albums of the early part of the 21st century.