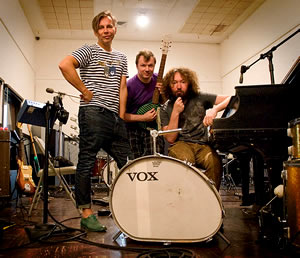 The group Mumiy Troll is a rock and roll institution in Russia and neighboring countries and is now poised to expand deep into the Western world in 2015. Originally formed in 1983, long before the fall of the Soviet Union, the band is led by composer and frontman Ilya Lagutenko, who defines his group's unique musical style as "rockapops". Through the decades, Mumiy Troll has performed before over 10 million people, was notable as the first group to appear on MTV Russia, and was later voted "Best Band of the Millennium" by Russian music fans. More recently, Lagutenko founded the Vladivostok Rocks festival in his home city in the Asia-Pacific region, which has grown in stature and popularity in the few years it has been held. Mumiy Troll has now finished recording a new English language album called Malibu Alibi, a potent collection of original songs which will be released in early 2015.
Lagutenko formed the band as a trio and they took their name from a character in Russian children's books. They recorded their debut studio album in the mid 1980s but their early career was cut short by Lagutenko's enrollment in the Soviet army and a later stint with an international business consultancy firm. While living in London in 1996, Lagutenko became influenced by the "Brit Pop" sound and reformed Mumiy Troll, which soon found unprecedented popularity back home in Russia. Through the next decade and a half, the group recorded multiple studio albums as well as film and television soundtracks. In 2013, the group produced Vladivostok, their first full-length English-language effort.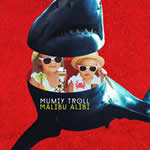 Malibu Alibi is the latest effort by the band to expand to the English-speaking world. The album starts with the new wave/techno track "Speed", which includes pleasant little piano riffs with contrasting guitar, and a great sense of melody throughout. Upbeat and with nice layers, a slight lead guitar is played later in the song by Amir Derakh. "Vitamins" will be the lead single from the album in late 2014. Here, you can tell that this band really likes to play with sound as the first of several tactical sound collage effects are employed. Lagutenko's verse vocals are over a steady beat before the song passes through several sections of differing sonic textures before reaching a point of upbeat strummed electric and driving bass guitar.
"Flow Away (Utekay)" was well received when they played it at Vladovostok and is catchy with a good 80s vibe, but almost too "standard" compared to the rest of the material on the album. Then comes, "The Girl", the finest track on the early part of the album. With a laid back, Roxy Music-like quality, the song contains a cool drum beat complementing several topical styles and the vocals are potent in their delivery restraint. The song also contains some poetic lyrics, with lines like "they broke the glass of love". "My Luck" is surreal, almost spooky through beginning with a couple of bell-themed keyboard sounds by Keefus Ciancia. This track builds in intensity and interesting sounds with the inclusion of bass and distant drums, which gradually get closer.
"Golden Heart" contains a rotating bass riff and beat by Anthony 'Fu' Valcic and just a hint of funk guitar in the background, while "Swimming With Sharks" has more reserved synths, nice chord and key changes, and a real Bowie-like vibe throughout the vocals. "All of Mine" starts with an excess of high-frequency synthesized percussion but does get a little interesting later in the song. The payoff comes with the album's closer "November", which employs masterful synths by Ciancia such as those that remind the listener of a grandfather clock or a boiling tea kettle. In between, a consistent bass riff and marching drum mesmerize the listener through this sound-scape with minimal but potent lyrics that refrain, "congratulations November's here again".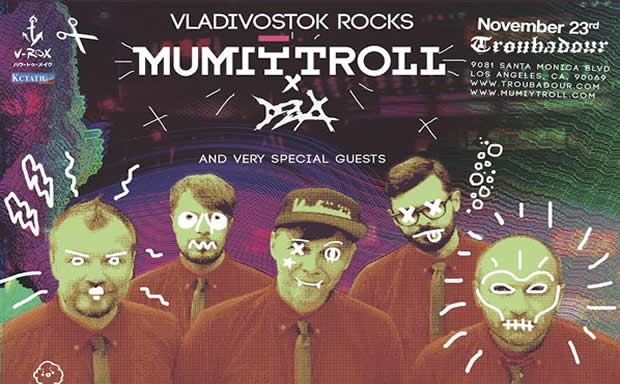 Malibu Alibi was mainly produced by Lagutenko and was recorded in Moscow along with several studios in and around Los Angeles and mastered in England, making it a true international production which is well worth checking out when it is released next year. Meanwhile, Mumiy Troll will be playing live on several continents with a big show coming up on November 23rd at the famous L.A. venue, The Troubadour. We will be hearing a lot more from this band in months to come.

Mumiy Troll online channels






Mumiy Troll website
~