Road from the Summer, the Voice of Rea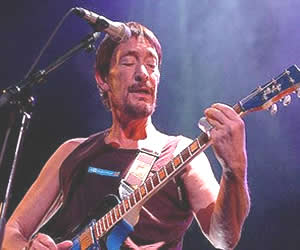 For those of us trying to survive in the desert there seems to be more likely a feeling of fleeing the summer. Many of us are escaping down the "road from the summer" than moving towards it. But Chris Rea had a different thought in mind when he wrote his hit song called "Looking For the Summer". It is his haunting voice and guitar that take you down a mystical path. And it is Rea's at times raspy voice that sells the track. But how does the song relate on a year around basis? We will explore this.
But first, who is Chris Rea?
Chris Rea has been a favorite of Adult Contemporary and may not be known to a mainstream audience. Some have called him more easy listening but most rock fans admit he knows how to amp a guitar up to ten and play the blues and even harder rock. Others have called him the "poor man's Leonard Cohen" with the husky cigarette voice. He could make any song sound serious and fundamentally important no matter how insignificant the topic. Some critics have suggested this but it has not deterred him from continuing to appease his fan base and strengthen his legacy in certain circles.
His songs promote different atmospheres that take us on mind trips and the subject matter like the weather becomes its own seedy character. Some songs have had a keyboard sometimes even dance-y, soulful feel. Take, for instance, his first hit "Fool If You Think It's Over" he repeats the title over and then adds "It's just begun". "On the Beach" is an easy listening track with some biting rock sentiment under the surface. The guitar gently guides the vacation landscape, making the listener wish they were there living in the moment enjoying the breeze.
Road to Hell is a concept album from 1989 and the popular title track of the album takes us on a journey. "This ain't no technological breakdown", he sings in dreary voice, in a song that spawned one of the few music videos he has done. He seems to turn his electric guitar amped to ten an this dark track. Other songs on the album include "Daytona", about the actual car race, and "Texas", which is often played before Texas Rangers baseball games.
Rea is also known for the softer pop groove of love songs like "Josephine", which offers a different type of sentimentality as he sings, "sending all my love" with genuine affection. This is written for his daughter and, obviously, this is the type of song you would want to write just like a tattoo it is clear your love for your own child will never go away it only grows stronger. Other great titles like "God's Great Banana Skin" is written about people who fall down, sometimes deserving it, but Rea seems to be saying "don't laugh at the plight of others". The same thing may happen to you. He seems to be saying the 'man upstairs' may throw down on you your own type of banana skin and watch yourself slip.
Once again, this notion of reciprocity allows us to look back to the haunting "Looking For the Summer". Rea seems content at the end of the song – "We all know when the summer is gone it will come back once again". Maybe Rea knows this is what truly haunts us, the ending is only the beginning. Many of his songs can be heard on Sunday nights on Deep End with Nick Michaels at a time when Music Mattered. Please check local classic rock listings and you may hear a Rea song or have another thing to look forward to the week after.
~
Edgar Rider has written original personal essays, pop culture reviews and articles for Talking Comics, Rogue Cinema, Dead Mule, Copperfield Review, Wrestling Rambles, Modern Rock Review and Scissors and Spackle.