Shiver + Shake by My Goodness
November 12, 2014
by Ric Albano
Buy Shiver + Shake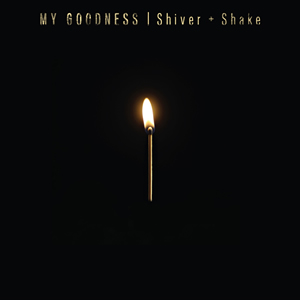 Made up of mainly pure, straight-forward, direct jams, Shiver + Shake contains few songs which exceed four minutes in length. Still, this second full-length LP by the Seattle-based duet, My Goodness, is packed with variety and movement, with thick, riff-based guitars and thundering drums. The former is provided by lead vocalist and guitarist Joel Schneider, while Andy Lum provides the latter. This was the final album produced by the late Rick Parashar, who had previously worked on records for legendary Seattle groups like Pearl Jam, Temple of the Dog, and Alice in Chains. Parashar went for a live sonic representation by recording all of the initial instrumentation and vocals at the same time live in the studio with minimal overdubs added later. The result is a feverishly entertaining, heavily blues-infused album.
My Goodness was formed in 2008 and took the long way of developing their skills and building their audience through the Seattle club scene. In 2011, they released their self-titled debut album, which was followed by the 2013 live EP Live on Chase Jarvis. All along, the band's sonic scope and compositional skills grew in preparation for their anticipated breakthrough album Shiver + Shake, released in mid 2014.
Shiver + Shake

by

My Goodness
Released: June 24, 2014
Produced by: Rick Parashar
Track Listing
Group Musicians
Shiver + Shake
Sweet Tooth
Back Again
Pay No Mind
Hangin' On
Check Your Bones
Cold Feet Killer
Letter to the Sun
Bottle
Say You're Gone
C'mon Doll
Lost In the Soul
Hot Sweat
Joel Schneider
Lead Vocals, Guitars
Andy Lum
Drums, Percussion



A slow distorted drone from Schneider's guitar introduces the opening title track. The vocals here are very potent, albeit not very dynamic and the start and stop inflection points are used strategically to great effect. By contrast, "Sweet Tooth" is more pop oriented overall and very accessible compositionally. Schneider's vocals are a much more dynamic, hitting the high register during the choruses. "Back Again" is a driving rocker, based on bluesy guitar riffs where the vocals follow in melody, inflection, and intensity, while "Pay No Mind" contains a pure, traditional blues intro with vocals following guitar exactly before it breaks into an Aerosmith-like frenzied blues jam.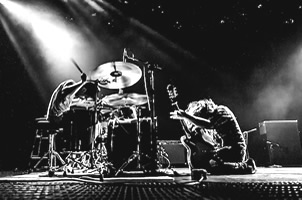 The doomy, thick riff of "Hangin' On" relents to a softer verse, with some de-tuning guitar effects along with slightly treated vocals. The chorus is more direct and catchy as a pure pop rock tune with effective rock construction, making this one of the more interesting songs on the album. "Check Your Bones" starts off with a bit more complex, unplugged riff before the full distortion drills it to death. "Cold Feet Killer" may be the best overall song on the album. Starting with a moody picked riff with some overdubbed sustain effects and strong riff interruption during intro and outro parts. The vocals are desperate but melodic throughout, especially as the track breaks into the driving body of song. The oldest song on the album, "Cold Feet Killer" was written by Schneider on acoustic guitar before My Goodness was formed. (Check out the video for "Cold Feet Killer" on our video page)
The crazy and fun rock rant "Letter to the Sun" and the bluesy "Bottle" keeps the album exploring yet more dimensions not previously traversed. The album does hit a bit of a creative lull with "Say You're Gone" and "C'mon Doll", neither of which are terrible, but add nothing we hadn't heard earlier on the album. Things pick up again with "Lost In the Soul", which sounds like its bass tracks were recorded live in a club with some overdubbed strings later added. The album concludes with "Hot Sweat", which has a doomy and strong intro and the verse contains a moderate drum shuffle by Lum. During the chorus, the entire arrangement gets more strained and desperate as it works its way to a good riff-driven finishing jam with overdubbed organ for added intensity.
While this group is certainly providing apt music as it is, the lack of bass does seem the true potential of this fine material. That being said, after recording the Shiver + Shake album, the group brought on bassist Cody Votalato for their first full U.S. tour as well as potential future shows.
~

   

   


My Goodness website
Buy Shiver + Shake