A Review of Dylan Live (by yet another Dylan)
August 18, 2011
by J.D. Cook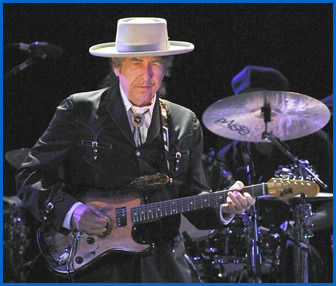 In the 2010 motion picture, Paul, the aforementioned protagonists jokingly remarks, "This is the stuff that killed Dylan," while smoking Mary Jane with his friends. To which another of the protagonists reply's "Dylan's not dead," and then the conversation is brought to a close by Paul when he asks rhetorically, "Isn't he?" – No he most certainly is not dead.
I know because I just saw him live at the Toyota Pavilion on Montage Mountain near Scranton Pennsylvania. Before I get to the show my viewing environment must be addressed a bit. Toyota Pavilion can only be summed up as a greedy fascist venue, and I do not throw the word fascist around lightly. The price of a sausage hoagie was nine dollars; thankfully I did not look at any of the other prices at that particular stand. Unfortunately I did end up paying twenty four dollars for a mediocre grouping of fries, a hamburger, and hotdog. That covers the greedy part.
The reason Toyota Pavilion can be dubbed fascist is because of a few new injections into their set up. The first one I noticed was that a black gate had been raised behind my section of seats. This gate was made so that if someone got up to walk around they could not see the stage. I'm assuming this was done to stop loitering which Toyota Pavilion seems to hate. Isn't the point of concert to get close to a musical artist you idolize while also rubbing shoulders, arms, and feet with die hard fans? What does Toyota Pavilion expect? A bunch of rock and roll fans to simply sit quietly while the performance occurs…like an opera?
Next we had the truly frustrating section attendants. The one in my row preceded to dance with any young lady that would jokingly offer to, but then crack down on all the men he saw sitting out of place (can you say sexism?). Whilst Dylan was playing "Desolation Row" I found my mother in the middle section between the front and back rows. It was a heartfelt moment because she had brought me to my very first Bob Dylan concert also at Montage Mountain when I was 5 years old back in 1996 (what can I say I was a cool kid). I remember that event as filled with a bunch of people dancing and spiritually enjoying an evening of music whilst they complemented my 'cool' cowboy hat that I wore in those days in tribute to Jurassic Park's protagonist Alan Grant and, of course, Indiana Jones. It just so happened that my sense of style coincided with Bob Dylan's as he often wore cowboy hats on stage. Yet I digress; this concert should have given my Mom and me a chance to reflect on our lives together bringing a well found catharsis at the end of the evening. Instead the section attendant asked us to see our tickets and kicked us out of standing off to the side by some empty chairs thus making me miss most of one of my favorite Dylan tunes, "Highway 61 Revisited". Fascists!
Now we get to the real round up of Dylan's live musical performance. As I had known going in, Bob Dylan is vastly different during live performances than on his studio albums. This was true, but it really wasn't much of a problem. Maybe if I had gone in expecting to hear every word like it was on Dylan's various albums I would have been disappointed but I didn't and I wasn't. The really strange thing about seeing Dylan live is that he only has a few instruments on stage; a standing base, keyboard, drums, and various guitars. This makes some of his songs sound totally different than on his studio versions, which usually have rich instrumental arrangements. These songs, boiled down to drums, bass, guitar, and keys may sound different, but are equally as rewarding. He also likes to change timing quite a lot in his live arrangements, which leads to very little sing-along capacity. As I walked out I heard people complaining about this, saying that he doesn't want people singing along. I think he just likes to experiment as much as possible. He has been playing some of these songs for over forty-five years; I think he is entitled to change things up a little bit. Besides he could play totally out of tune and I would still be awed by seeing him – it is BOB DYLAN after all.
Now we reach the bones of this article. The music itself, Dylan opened with "Rainy Day Women #12 and 35". A fun recognizable opener that I'm sure quiet a few people lit up their joints to, while an over-zealous attendant decided to shine his flashlight in mine and my girlfriend's eyes (bang up job, morons!). Following that was a song which I love to sing, "It Ain't Me, Babe". I got to know this song via Johnny Cash's duet version with June Carter, and strangely Dylan sounds a lot like Cash when he sings it now. After this was "Things Have Changed", the song for which Bob Dylan won an Academy Award in the best original song category in 2000. After this was "Tangled Up In Blue" from Blood On the Tracks and Beyond Here Lies Nothing from his newest album, 2009's Together Through Life. This was a truly incredible opening line up of songs that infused the old with the new perfectly.
After these songs Dylan did three songs from his 2001 album Love and Theft; "Mississippi", "High Water (For Charley Patton)" and "Summer Days". This was the low point of the concert for me only because out of Dylan's huge collection of albums Love and Theft is one I haven't heard. The songs all seemed mellow and relaxed leading me to zone out for a few moments, but maybe this was just Toyota Pavilion's questionable sound system.
In the parking lot prior to the concert (while avoiding roving police squads looking for anyone drinking beer – I know, god forbid anyone have fun before the concert), I had engaged in a discussion on the song "Desolation Row". I never expected Dylan to actually play this lyrical odyssey, but he did and it was really tops! Of course he shortened it, or perhaps it just flew by because of how much I liked it, but either way it was a really cool version of the song. After this was the already noted meeting with my mother while "Highway 61 Revisited" played. Along with bossy section attendants this is the one song that I really didn't like at the concert. Dylan's tinkering with it made it almost unrecognizable to me, but this may also have been due to the fact that I was being ordered back to my seat during it.
After these two songs Dylan performed perfect renditions of "Simple Twist of Fate" and "Thunder On the Mountain". The first of which is a sort of lost love song, and the second of which is sort of a lost youth song. They play off each other well as "Simple Twist of Fate" is very slow laid sounding song where as "Thunder On the Mountain" is a bit more up beat and fun. After this came one of Dylan's ultimate classics, "Ballad Of a Thin Man". Dylan's synth keyboard sound didn't really do justice to the piano opening of the song, but his simulated echoing vocals added a new dimension that the song never had. It put everyone in the place on their feet (freaking out the attendants altogether). Following that extremely exciting song came another equally fantastic one, the classic "Like a Rolling Stone". This one kept everyone on their feet and my only complaint is that Dylan did not choose this one song to let us really sing a long with because everyone in the audience knew the words.
After this Dylan  left the stage before returning to close out the night with "All Along the Watchtower". I really don't understand the whole fake encore thing. I have never been to a concert where one has not been done. How can it be an encore if it is planned? I was once told that Billy Joel was called back on stage so many times at a concert that he had no more songs and went into Christmas songs. I want that kind of experience from a concert once. Not a planned momentary break where the band waits a predetermined amount of time before coming back! And since when does lights going on mean people should stop cheering for a real encore. Sorry to go totally off topic but I think about these things.
Anyway, Dylan is most certainly not dead, as he put on quite a performance on August 10, 2011. I would recommend him to anyone who is a Dylan fan as the tickets never seem to be very expensive, comparatively, and he always puts on a unique show via changed timing, songs, and overall music. Plus the day may come when Dylan is not around, although judging by his stage vitality it's not going to be for a good deal longer.
The "D" in my name – J.D. Cook – stands for Dylan. In 1991 my mother, who was born in the seventies and grew up in the eighties, was so influenced by this "sixties" icon that she used his last name for my middle one. If and when he does pass on he'll always live on in "kids" like me, who bear his name due to his immense influence on culture, music, and our mothers.
~