Wounded Warrior Benefit on 11.11.11
November 17, 2011
by Modern Rock Review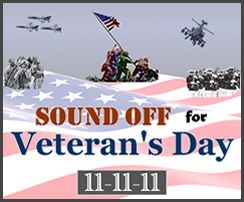 On Friday, November 11th, four Pennsylvania bands donated their talents to a Veteran's Day benefit at Champion's Sports Bar in Highspire, PA. The benefit concert, associated with the Sound Off for Vets concerts, donated proceeds to The Wounded Warriors Project and was organized by Ric Albano of 33 Dimensions LLC, along with his wife, Karyn Albano.
The event kicked off at 9pm with singer/songwriter Mycenea Worley, who performed all original songs, including many from her soon-to-be released new album. These included "Set Me Free", "You Don't Owe Me", and the fine, alternative-tuning driven "That Is All". Mycenea also performed a fine version of "Low" from her 2009 EP Love.
A brand new band from Lebanon, Meeka, formed by the father/daughter duo of Terry and Romeeka Gayhart performed next. Along with bassist Drew Washington, keyboardist Arte Munoz, and drummer Wyatt Latimer, the band played jazz/rock fused originals with an original sound. The best of these songs were "Black Dog Barking", Land of Giants", "Avalanche", "Love Life", and "Call Me".
Next up was Carmen Magro with his six-piece band from Philadelphia. They put on an energetic and inspiring performance, including the hit "America", which is also the official theme song of the event. "Come Alive", the title song from their new EP, included some excellent guitars from Mark Burkert and Rob DiSimone, while Chuck Scarpello, Dave Murphy, and Steve Sauer added perfect backing for Magro as he performed songs that ranged from the ballad "Looking at Me" to the frenzied rocker "Take Me Back".
Closing out the night was the talented Hot Wing Jones of Harrisburg. Starting with their funky classic "Jambalaya Stew", the band migrated through a mix of original songs and originally arranged covers such as blues classics "Killing Floor", "Mustang Sally", "Back Door Man", and the more recent Kenny Wayne Shepherd classic "Blue On Black". Lead by vocalist/bassist Andy Shemeta along with guitarist Anthony Pepoli, drummer Steve Montresor, and pedal steel/rhythm guitarist Corey Woodcock, the band also worked through their fine catalog of originals including "Be My World", "Dream Day", "Tanker A", and "Rhiannon" with Mycenea Worley coming up to offer backing vocals.
In between sets, donated items and gift baskets from businesses and individuals were raffled off to attendees who contributed to the cause by purchasing raffle tickets. There was also some entertainment provided by DJ Kai, who incorporated video throughout the night. Sound for the event was provided by Chris Hicks of Voyager Music, while video was shot by Tim Dyer.
The benefit was a great success, drawing a total of $1,111.00 in monetary donations between the show itself and online donations. The music was quality and entertaining, the venue was large and attractive , and the cause fantastic.
~