Released in June, Follow is the fourth overall album by Minnesota-based artist Molly Maher. This unique and organic sounding album features all original compositions, was co-produced by Maher and Erik Koskinen and it ends a nearly nine-year gap since her last release, Merry Come Up, in October 2011. The Follow album blends a country/Americana style with some authentic Latin elements inspired by an extended trip to Mexico last winter.
Maher says this record stemmed out of just going back to basics, practicing guitar writing melodies, listening to music and getting inspired while experiencing some changes in her life. In the past, Molly would record with her "band of disbelievers" all together at one time at one location. However, Follow was pieced together around the basic elements of the songs as she was content to really take her time and develop it (she had started another album several years ago but shelved it when it didn't feel authentic). This also meant expanding to include several musicians beyond her regular core backing band.
Follow

by

Molly Maher
Released: June 12, 2020
Produced by: Molly Maher & Erik Koskinen
Track Listing
Primary Musicians
Jango
Run Run Run
Pale Face River
Open Road
StormCloud
Bird Song (I'll Follow You)
Go Slow
Someday Somebody
On the 18
Find the Shepard
Molly Maher
Lead Vocals, Guitars, Jarana
Erik Koskinen
Guitars, Bass, Percussion, Vocals
James Tyler O'Neill
Piano, Keyboards
J.T. Bates
Drums, Percussion
The album opens with "Jango", an instrumental with plenty of textural atmosphere and Latin rhythms to set the vibe of this album. This track also features Maher playing a jarana, which is an eight-string Mexican instrument that she borrowed from Louie Perez of Los Lobos. Next comes "Run Run Run", a much more mainstream track featuring harmonized vocals by Maher and bassist Josh Gravelin and excellent production overall.
"Pale Face River" is a Springsteen-esque folk track, delivered calmly with a subtle harmonized chorus, ever-intensive guitar textures by Koskinen and Paul Bergen, and a really cool outro shepherded along by the drumming of J.T. Bates. "Open Road" changes things up towards a more rock/soul vibe but with an almost psychedelic delivery. It features tribal rhythms by drummer Noah Levy and tablas by Krissy Bergmark along with profound dark folk lyrics such as "you see it coming but you never see it go".
A fine, melodic Americana song, "Bird Song (I'll Follow You)" has bluesy elements but with surprise sonic additions, including a mid-range saturated counter-vocals by Mexican vocalist Iraida Noriega, who was brought in at the suggestion of guitarist and lyricist Todd Clouser. The vibe continues on "Go Slow", where Clouser recorded some street sounds in Mexico City (his home town).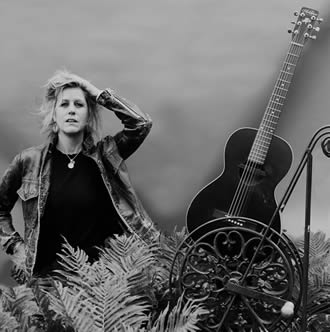 "Someday Somebody" is another calm, well-delivered Americana tune with a great guitar lead, while "On the 18" alternates back towards pure mood music, featuring slide guitar by Gabriela Sweet, double bass by Chris Bates and Clouser delivering distant vocals once again. "Find the Shepard" offers a fine concluding hymn as a song inspired by Maher driving along a road near her home in St. Paul, MN.
Beyond being a musician, Molly Maher has used her talents as yoga instructor, guitar tech, stage manager and promoter/curator for venues and music festivals. She encourages fellow musicians to diversify and learn many aspects of the music business to make their career financially feasible. However, with 2020 being a "time out" for many of these vocations, she's taking this time to enjoy summer. "Lakes, gardening, heck, reading! Not sure how the industry will return from all this. This is where artists should thrive, get creative to amplify voices and do good work."
~
Molly Maher online

  

  


Molly Maher website
Buy Follow