July 19, 2014
by Ric Albano
Buy Peach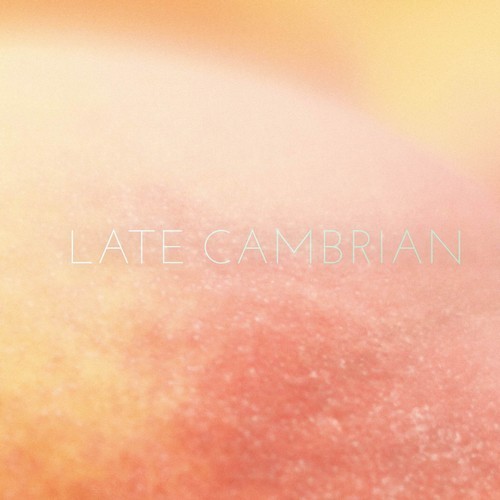 Late Cambrian is a three-member pop/rock group from Brooklyn, NY. The band consists of lead vocalist and guitarist John Wlaysewski, along with bassist Nunzio Moudatsos and the keyboardist/vocalist artist who simply goes by the name "O". The group's second full length album Peach was released in April 2013 and has been met with ever-increasing critical acclaim, and for good reason. It is filled with quality compositions and has an excellent sense of song craft throughout, as well as being exquisitely produced and sonically enjoyable. The album employs a fresh new approach to modern pop with potent melodies, complex vocals, original arrangements, and an advanced approach to songwriting. Ultimately, Peach offers the listener a light, optimistic, and ultimately entertaining musical experience.
Peach's opening track, "Lover's Point", contains some elements of the early Manchester sound, but really goes back even earlier to the power pop of the 1980s. The song starts with a purely synth-driven verse, but soon morphs into rudiments and musical flourishes, such as the long drum rolls by session man Colin Schiller and strategic guitar licks by Wlaysewski. From here, the album really takes off with the clever track "The Label Needed a Single". This is riff-driven and catchy throughout with strategic pauses and straight-forward lyrics that describe the modern day record industry with a deeper philosophical point on "selling out". Even the otherwise tacky "everybody gonna raise their hands" chant is offset by enough instrumental edge to make it all work throughout.
O shares lead vocals on the next two tracks, starting with "The Year I Cut the Cable", which may be a modern rendition of jazzy crooner tune, with excellent use of scales and melodies. By contrast, "The Wolf" is a more direct rock track with a wild-sounding, hammering main riff and the infusion of some elements of Eastern music during the bridge section. The smooth and effortless synthesis of styles while maintaining a dance-oriented rock track, which is a credit to Late Cambrian's production skills, led by the engineering of Nunzio Moudatsos and Mike Oettinger.
While it is driven by strong hard rock riffs, "Patience On a Monument" is more steady and flowing than previous numbers on the album and the strategic chord change for the lead section and final verse, brings the song to a new level. "Made for Love" is a totally unique song on the album, delivered as a mini rock suite. It starts as an upbeat rock track with choppy rhythms and only gets better with addition of boogie-woogie piano and a complimentary bass line by Moudatsos behind second verse. Next comes a bridge section where s string section first makes its appearance, featuring guests Tracy Bonham on violin and Jack Hsu on erhu. After the final verse, "Made for Love" enters a steady long rock outro section, where the strings return and Kevin Salem provides an atmospheric Ebow guitar. One of the group's most popular songs, "Ryan Gosling" is introduced by rolling drums and maintains a consistent rhythm beneath the upbeat and melodic topical elements, which makes for an explosive pop formula. A slow, droning guitar lead keeps the vibe going perfectly through the bridge of this happy-go-lucky song.
"Poetry" nicely changes things up as a pleasant folk song built on a couple of acoustic guitars throughout the sparse arrangement. Perhaps, the closest to a traditional love song on the album, this track shows yet another side of the group and Wlaysewski's songwriting. By this point on the Peach, we're a perfect 8-for-8 as far as quality songs. However, the album does seem to lose a little steam, hitting a lull over the next three tracks.
The synth-driven "Resolution", while certainly not terrible, is also not quite as entertaining as a ready-made anthem for a New Year's Eve countdown. The most entertaining part of "Recipe" is when song falls apart during second verse to the terse response by Wlaysewski of "fuck it" and the immediate launch into the next chorus section. "Flowers from Anonymous" goes back to a basic pop formula where – even though the song is still potent and accessible – the album may suffer from being a bit too saturated at this point.
However, Peach does recover for its final act, starting with the unique medley "HypGnotica/Afternoon Special" (which actually starts as an extension to "Flowers") as moderate, almost psychedelic instrumental with some scat vocals. The track picks up the pace during the "Afternoon Special" due to the upbeat bass line by Moudatsos and the overall jazzy feel. "The Luddite" contains good melodies and lead vocals, which are done by multiple vocalists. The group is joined by Brendan Brown and Gabrielle Sterbenz of the band Wheatus, with whom Late Cambrian has toured in the recent past. Starting with plenty of riffs, fills, and rudiments, and then morphing into a cool rock section through the second half of the song, "The Luddite" is an apt album closer for Peach.
Late Cambrain has made an album which celebrates youth and joy and the good life, without getting trapped in any formulaic rut or being tethered to any passé musical trends. The band is now preparing for a follow-up album to Peach, which once again will be self-produced. It will be interesting to see how their compositions and creativity will progress on this next endeavor.
You can find more information on Late Cambrain on their website, LateCambrian.com, or their new album initiative on their Pledge Music page
~