Modern Times by Bob Dylan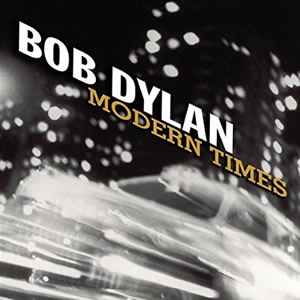 As the 21st century dawned, Bob Dylan had a great resurgence of his legendary career, Modern Times. Many of the songs on this album return to rock, blues and jazz roots, with some tracks based on re-arranged versions of traditional compositions with newly added lyrics. His thirty-second overall studio album, Modern Times was Dylan's first to debut at #1 on the Billboard's album charts, selling 191,933 copies in its first week alone. This was also Dylan's first album to reach #1 in the US since 1976's Desire, three decades earlier.
Coming into the new millennium, Dylan was glowing in the afterglow of the success of 1997's Time Out of Mind, his 1997 rockabilly and blues album. This was followed in 2001 by Love and Theft, which was also steeped in core blues and folk forms. Dylan produced this latter album under the pseudonym Jack Frost, something he would repeat for Modern Times. In the mid-2000s, Dylan was the subject of a couple retrospective pieces. He published the first part of his autobiography in 2004, while director Martin Scorsese produced an extensive biopic on Dylan called No Direction Home in 2005.
Prior to it recording, rehearsals for Modern Times were held in an old opera house in early 2006 with Dylan's then-current touring group. The album was recorded digitally in New York in about three weeks. Shortly after the album's release, the album sparked some debate concerning the songwriting credits which read; "All songs written by Bob Dylan", despite the obvious derivation from traditional standards. Dylan freely acknowledged these uses and many have cited the older blues and folk context in which songwriters evolved old songs into new ones.

Modern Times

by

Bob Dylan
Released: August 29, 2006 (Columbia)
Produced by: Jack Frost
Track Listing
Primary Musicians
Thunder On the Mountain
Spirit On the Water
Rollin' and Tumblin'
When the Deal Goes Down
Someday Baby
Workingman's Blues #2
Beyond the Horizon
Nettie Moore
The Levee's Gonna Break
Ain't Talkin
Bob Dylan
Lead Vocals, Guitars, Harmonica, Piano
Danny Freeman – Guitars
Donnie Herron – Steel Guitar, Mandolin, Violin, Viola
Tony Garnier – Bass, Cello
George C. Receli – Drums
The listener is immediately struck by the rough vocals and pure rockabilly backing of "Thunder on the Mountain". A highlight of this track is the great drum fills by George G Receli in this track which was, in part, based on "Ma Rainey" by Memphis Minnie, with the bizarre addition of lyrics about Alicia Keys. The cool and jazzy "Spirit On the Water" is where Dylan's vocals really shine through. In a lot of ways, this song also has a structure like a traditional Dylan folk song with the many, many verses and good harmonica work as the band swings behind, led by the carefree chords of guitarist Denny Freeman.
"Rollin' and Tumblin'" is a heavy blues, almost hard rock track, based on a 1929 Delta blues song by Hambone Willie Newbern. In contrast, "When the Deal Goes Down" is a pure ballad featuring double bass by Tony Garnier and brush drums by Receli. Dylan's rough vocals singing sad romance in the fashion of Bing Crosby. "Someday Baby" returns to the rolling blues style, but with the laid back and loose feel of many of the other tracks on this album. The song has a long pedigree, based on "Trouble No More" by Muddy Waters and later covered by the Allman Brothers Band. But it was this version by Dylan that won a Grammy Award for Best Solo Rock Vocal Performance in 2007. "Workingman's Blues #2" is unlike like anything on the album thus far. This melancholy track with a classical folk (and classical Dylan) feel is driven by the piano of Donnie Herron, along with some nice guitar interludes. Lyrically, Dylan paints vivid pictures;
Meet me at the bottom, don't lag behind, bring me my boots and shoes / You can hang back or fight your best on the front line, sing a little bit of these workingman's blues…"
The second half of the album contains more quality tracks. "Beyond the Horizon" straddles the line between classic jazz and classic blues with some nearly riff-like interludes between alternating stanzas. "Nettie Moore" is one of the more original and interesting tracks, with an underlying thumping beat which is almost Native American in its delivery. On top it is a slightly strummed acoustic number, which counter-acts the rhythm for a unique overall effect. "The Levee's Gonna Break" is upbeat, subtle blues based on Memphis Minnie's song of the same name in the 1920s, later made famous by Led Zeppelin. The progressive folk of "Ain't Talkin'" closes out the album with brilliant acoustic work, subtle beats and, most especially, effective vocals, melodies, and lyrics.
Beyond its unprecedented success in the US, Modern Times also reached #1 in Canada, Australia, New Zealand, Ireland, Denmark, Norway and Switzerland. As an album, it also won a Grammy Award for Best Contemporary Folk/Americana Album and has sold over 6 million units worldwide.
~