Pandemonium by Moors and McCumber
March 23, 2015
by Karyn Albano
Buy Pandemonium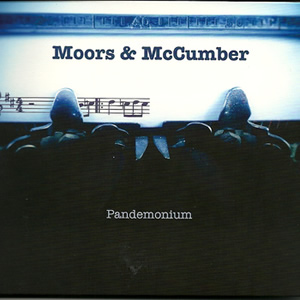 Moors and McCumber is a songwriting and performing duo based in Boulder, Colorado who have released an impressive album of Americana music with some Celtic roots called Pandemonium. The duo consists of James Moors, who originally hails from Superior, WI and Kort McCumber, both of whom are multi-instrumentalists. Their fourth album overall, Pandemonium is a collection of intensely intimate music, which sometimes strays towards Country or Bluegrass but never relents or loses its edge or overall originality.
The album was recorded at Ed Ackerson's Flowers Studio in Minneapolis and was produced by Gary Louris, an original member the The Jayhawks. The twelve tracks on Pandemonium are all original compositions by Moors and McCumber, with Louris assisting on the arrangements as well as commissioning any session players. The resultant album showcases superb musicianship, compositional song craft, and beautifully synchronized vocal harmonies. The first time I listened to this album, I was stressed out and frustrated with the day. But midway through the opening track those negative feelings instantly began to fade and by the end, they were completely gone. There is an organic joy in this music that leaves you feeling refreshed after listening to it.
Pandemonium

by

Moors and McCumber
Released: January 1, 2015
Produced by: Gary Louris
Track Listing
Group Musicians
Crack a Smile
You Take Me Somewhere
Everything
No Way to Live
Take Me Away
Bend or Be Broken
Buried in the Earth
My Heart Is Open
Best of Intentions
If Living Was Easy
All Great Tragedy
Pandemonium
James Moors
Vocals, Guitars, Ukulele, Mandolin, Bouzouki
Kort McCumber
Vocals, Keyboards, Cello, Guitars, Banjo, Bouzouki, Fiddle, Mandolin, Accordion, Harmonica, Bass
That aforementioned opening track is the country sounding and very accessible, "Crack a Smile", with lyrics that are tinged with the melancholy of a country song, twangy vocal delivery and a harmonica lead all blending perfectly. "You Take Me Somewhere" follows as a banjo-driven Bluegrass romp with some sweet vocal harmonies and mandolin in the mix. There is also a cool, laid back section that gives the song room to breathe before the harmonious hook returns. With lyrics about following dreams while keeping perspective on the present, "Everything" has an old time rock-n-roll vibe in the tradition of the Everly Brothers. The influence is complete with the smooth sounding guitars and tight harmonies.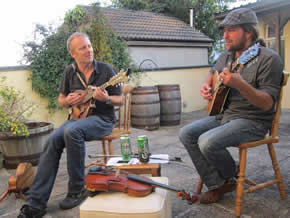 "No Way to Live" is pure Americana with Moors' strummed acoustic notes over McCumber's plucked piano notes and both producing outstanding vocal harmonies. The arrangements add particular interest here with the middle bridge having a more modern feel as the lead guitar sections and the escalating cello and strings, which add a psychedelic effect until the slight fiddle lead brings the song back to its roots. "Take Me Away" has an abundance of urgency about it, driven by the syncopated mandolin and cello along with the call and response style duet. There is minimal production and simple arrangements that add to the starkness of the song. The timings are precise and steady but the intensity builds. "Bend or Be Broken" brings this journey into yet another new territory. A simple song with a simple message, the bouncy electric bass and choppy acoustic guitar sounds more rock than anything on the album so far.
"Buried In The Earth" takes a darker turn as a folk ballad about a soldier's sacrifices. The Celtic feel of this song is further fed by the citern and Irish tenor banjo. "My Heart Is Open" is an upbeat, feel-good song, with a vibe similar to New Orleans jazz complete with accordion and ukulele and a repetitive chorus that easily gets stuck in your head. Next, the ballad "Best of Intentions", which may well be the best overall song on the album. The harmonies really shine on this one with the simple piano and ukulele accompaniment.
"If Living Was Easy" is a folksy song that edges towards a Bluegrass feel with lyrics about fighting for worthwhile things. This theme continues with "All Great Tragedy". Moors and McCumber may be channeling Simon and Garfunkel here with spot on harmonies and simple acoustic guitar accompaniment. The poetic lyrics are the standout here;
As in all great tragedy, no one really knows their part til they're fighting back at story lines that rip across your heart…"
The titile track closes Pandemonium, starting with an ethereal organ and haunting vocal before delving into several vignettes about the cacophony of choices in everyday life. The rich arrangements paint a soundscape for the lyrics and leaves this album as a refreshing listen that leaves you wanting to hear more.
Moors and McCumber have an extensive list of tour dates, as the duo frequently tours throughout the Midwest, Texas, and the Rocky Mountains. Further, the group organizes annual tours of Ireland where they invite their fans to join them on small, guided tours to explore the sites, arts and musical traditions of Ireland. Check out their website for further details.
~
Buy Pandemonium