Still Undead by The Sitting Bull & the Bullshitters
March 18, 2015
by Ric Albano
Buy Still Undead
The Finnish band with the unusual name, The Sitting Bull & the Bullshitters, has released a strong, rock-oriented debut entitled Still Undead. Released in digital form earlier in 2015, the album has a real classic rock feel led by the ever-present Hammond organ of keyboardist Antti Huopainen and the unique vocals of band founder Markku Pihlaja, are simultaneously rough and smooth. Even more impressive is the songwriting and production of this album, which each work to perfectly execute a solid melodic rock core topped by a unique and inspirational edge.
The group is made up of veteran musicians from Karhula in south east Finland. Most members of the quintet were formerly in the groups Manitou, Kaihoro and Wolftrap. Joining Pihlaja and Huopainen is guitarist Antti Lauren, bassist Ismo Laukkanen and drummer Matti Suhonen. Together, the band forged an impressive live act which led to their decision to make this album, which was recorded on remote equipment in several locations.
Still Undead

by

Sitting Bull & the Bullshitters
Released: January 16, 2015
Produced by: The Sitting Bull & the Bullshitters
Track Listing
Group Musicians
Supernatural
Soul Seeker
No Flowers On Gravestone
Rusty Leaf
Musical Sensation
Giants
Godforsaken Goddess
K-Town River Banks
Let It Flow
Cry for the Ocean
Markku Pihlaja
Lead Vocals, Guitars
Antti Lauren
Guitars
Antti Huopainen
Piano, Keyboards
Ismo Laukkanen
Bass
Matti Suhonen
Drums, Percussion
Still Undead begins with "Supernatural", a direct rocker which unfolds slowly but does provide the first clue that this album has a real edge with the descending pattern of the pre-chorus. Led by Huopainen's Hammond organ riff, "Soulseeker" is an upbeat number with a short but exciting Jon Lord-like lead. Overall, this second track is more refined and accessible than the opener and with smoother vocals by Pihlaja.
The album takes a darker and more serious vibe with "No Flowers On Gravestone" There are interesting musical elements on this track such as Suhonen's low tom drums and rotating oran riff by Huopainen. "Rusty Leaf" continues as a solid, driving song with good melody subtle riffs, strong rudiments and an exceptionally wild organ lead. "Musical Sentation" is a more pop-oriented rock song with thumping bass by Laukkanen and twangy guitars by Lauren. Topping off this frenzied jam song is the clever lyrical hook
I'm a fool but I'm wise, I'm a cool rebel in disguise…"
"Giants" may well be the best track on the album. A picked acoustic and deep organ starts off the track with a dark feel but this is soon contrasted by driving drums and soaring vocals, which give the song an uplifting sense of adventure topped by a great blend of rock elements. "Godforsaken Goddess" is yet another solid and smooth track with a really cool title and hook and an overall subtle vibe with a melody which carries the track.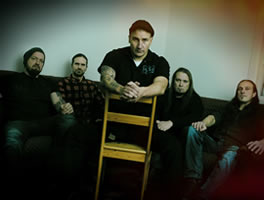 The album's final three tracks feature more guitar presence by Lauren. The hometown tribute "K-Town River Banks" starts with a cool clavichord and breaks into a funk/rock riff before later slowing with a contrasting long, bluesy lead. "Let It Flow" returns to the standard, upbeat rock with short solos by Huopainen and Lauren in turn. This upbeat foot stomper is solid as usual but does come to a bit of an abrupt ending, which may be one of the few production mistakes on the album. The quasi-ballad "Cry For the Ocean" almost tries a bit too hard to be accessible but is still a decent listen.
Still Undead is certainly a solid musical effort by this group with a bizarre name. Perhaps in a bit a self-defacing fun, the group's PR sheet reads "The Karhula Scene is now a bit more smoother, gloomy and sensitive because of …Bullshitters!" So what's in a name anyway?
~