Making Others Rich by The Disparrows
January 22, 2014
by Ric Albano
Purchase Making Others Rich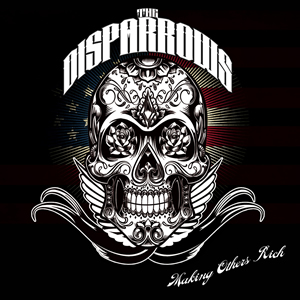 Sometimes it is just nice to hear a good, straight-forward rock and roll record. That is exactly what The Disparrows offered up with Making Others Rich, an album filled with eleven tracks of basic, but by no means mind-numbing, music. In fact, when listening to Making Others Rich,  you can detect a vast array of influences from the 1970s to the present day expertly blended creating an original niche. The California-based group's tight musicianship and playing is all-around excellent, as is the sonic quality of the album, produced by Grammy award winner Ken Wallace and recorded at Ian London studios in New York.
Now, this does not mean Making Others Rich is a perfect album. In fact, the major flaw with the album is the sequencing of songs themselves, with the much stronger material reserved for later tracks. The opener "Detroit City", while not terrible, is also not terribly inspired. With a  seventies rock feel in the vein of Ted Nugent or Kiss, it is easy enough to listen to but the only real ear-opener is the fine Hammond organ lead by keyboardist Grant Loosvelt. "All the Same" has a bit more interesting blues rock mix, with an electric piano intro and a little bass and drum run in the middle before moving to a more standard lead section with Loosvelt and lead guitarist Daniel Weber taking turns.
Weber is also the group's lead vocalist and he shines on "Cry to Me" with subtle but effective vocals to go along with the musical blend of dual guitars and honky-tonk piano. "Blackbird" is like a piano power-ballad with an edge, led by a great reverb-lace guitar lead by Weber, while "I'll Take the Roses" returns to the straight-forward rock, Â not terrible, but not all that original. "Come the Morning" is driven by screeching guitar riff and a later funk rhythm led by bassist Stephen Tecci, which gives the fine rock song a kind of Black Crowes vibe.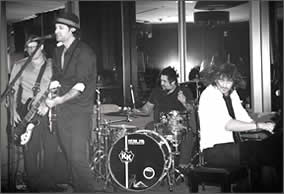 Starting with the excellent "High Tonight", the album is simply phenomenal from this point forward. The song leads off with and interesting picked bass by Tecci but the riff  crashes into a slow groove beneath Weber's wet vocals with heavy effects and a catchy hook during the choruses. A slow, wah-wah guitar lead accompanied by a feedback effect picks up the pace during its latter part and an intensified outro leaves listener wanting for more. The finest track on the album.
But there is more good stuff to come. "Drive Me Home" is like Dire Straits meets Bob Weir-led Grateful Dead, with smooth vocals over the choppy riffs and a catchy "waiting on a change", which could have made this excellent pop rocker a better lead single than "Detroit City". A bit of Springsteen melodrama is introduced in "Running After You", where Loosvelt's moderate piano arpeggio dominates early but rock elements are eventually added in. This song also is one of the few to contain backing vocals, making it a quasi-romantic, soundtrack-sounding song.
Officially, the Disparrows are a trio made up of Weber, Tecci, and Loosvelt, but as a rock band they do enlist drummers for live gigs and brought on Aaron Gutierrez for the recording of this album. On "Lose It All", Gutierrez provides great animated drumming to add value to another great song with interesting musical passages, a bridge with choppy Hammond organ, and whispered vocals for a nice effect. The aptly title closer "A Little Bit Longer" is, in fact the longest track on the album at over six minutes long. It begins with bass riff by Tecci slowly joined by piano, drums, and guitar to form another near ballad topped with strong rock elements.
Formed in 2010, the Disparrows worked hard in the Los Angeles scene and released their self-titled debut in February 2011 (check out the video for the song "Sweet Surrender" on our Video Page). With this rich-sounding second album, the group has come into their own and shows incredible promise for the future.
~