Epiphones and Empty Rooms, Side B
As we mentioned in our album overview, Modern Rock Review will be doing separate reviews for each "side" of the Badlees double album Epiphones and Empty Rooms. Today we look at the second disc or "Side B". Check out the Review of Side A if you haven't caught it yet.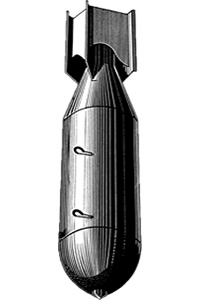 On this disc, Bret Alexander takes the reigns as lead vocalist, multi-instrumentalist, composer, producer, and engineer, with a much more hands-on approach than on disc one. Alexander has been a prolific writer in recent years, composing songs without much regard for whether they would end up on a Badlees album or some other project. Inevitably, there were a whole bunch of songs to pull from and the idea of a double disc began, eventually forming into the "two sides" concept.
Disc two was mixed on the west coast by Joe Alexander (no relation), who co-produced the Badlees 1999 major label album Up There, Down Here. The two Alexanders talked or emailed every day, producing the final sound long distance, with bassist Paul Smith helping out with the mastering. This was a completely different post production process than was done on Side A, and the contrast is striking.
The disc (and album) ends with three very diverse songs, albeit all are very good in their own way. "Except For You" is, at the core, like a late era Bob Dylan tune, with a simple but elegant melody in the vein of "A Simple Twist of Fate". The entire song is driven by simplicity, a blues song to the core with one break for the deliberate, driving bridge section followed by a great guitar lead by Dustin Drevitch. Epiphones and Empty Rooms is the first album where the Badlees are officially a six member group with the addition of Drevitch on second guitar and Nyke Van Wyke on violin. "Things You Can't Take" blends upbeat bluegrass with some Celtic flavorings, especially when it comes to Van Wyke's fiddling and the little hillbilly yodeling at the end. In a recent interview with Michael Lello of Highway 81 Revisited, Alexander said that he originally had an idea to do a concept record "about a guy whose house was being foreclosed and he was painting his masterpiece all over the walls before they kicked him out." "Things You Can't Take" is a song built from that original concept.
"A Place to Call Home" is a slow and steady dark folk song, almost a self-homage to the Badlees classics from the past, "Diamonds In the Coal" and "Song For a River". Like those, "A Place to Call Home" is a narrative track which is set deep within the borders of Pennsylvania and does not have a happy ending. In fact, this album closer is haunting throughout, especially during the mid instrumental section, and it really drives home the underlying Americana soul of this album. The reason I decided to look at these last three songs first is to point out what I see as the only real flaw on this disc – the song sequencing. These three tracks are all very fine, but they seem a bit out of place where they fall on the record, while the initial eight flow together perfectly.
To listen to the opening track "That Train" is like being awash in a deluge of sonic power, flowing at a slow and deliberate pace but so powerful that it is impossible to escape. The song stays at a fevered level of tension from start to finish, never relenting for a moment from its the pure hyper blues. Lyrically, it is a about being left behind, trapped, frustrated – all recurring themes throughout this disc. The duo guitars of Alexander and Drevitch along with the bass of Smith unite to form a rock riff for the ages on "Vigilante for the Golden Rule". This bit of Tex flavored blues with a definite heavy edge is an ode to true rebels, those who did things unorthodox, even to the point of being extra-legal. Drummer Ron Simasek provides a cool drum roll which is a march of deliberate-ness, brought to the forefront under Alexander's sinister, growling vocals and sarcastic lyrics. "Vigilante for the Golden Rule" is the first of three instant classics on this second disc. "Evicted Hippie" is a song which sounds like it would have fit in well on a Traveling Wilburys album with its cool blend of rockabilly, folk, and modern styles. It contains great lyrics which take the "Hit the Road Jack" message to a whole new level and highlights Alexander's refreshing talent at taking reality and letting it fly, without a concerted effort to try and hone a specific message or moral of the story, while landing on some brilliantly profound statements;
Go peddle your goddamn crazy at some other sucker's door, you're gonna leave…"
"Nothing Like the Real Thing" is the second of three instant classics on this side. A repetitive yet infectious funk groove persists throughout the verses with Simasek even adding some hi-hat-fused disco beats, while the sparse chorus breaks add just the right amount of variety and masterfully frugal use of lyrics. Like "Evicted Hippie", this song hones in on one specific character as the antagonist and is brutally honest in exposing the lack of substance in her pretension. The dark and biting second disc takes a definite bright turn with "Appalachian Blues", which contains an earthy harmonica, some sweet violin accents, and a foot-stomping groove. While the catchy melody repeats throughout, each verse adds a different musical arrangement, giving the song an adventurous feel. Led by the weeping ethnic vocal of Alexander, this vibe is brought home during a light sequence late in the song featuring strummed acoustic guitar and some strategic bass notes by Smith. As an aside, it is interesting to note that these past two tracks have very similar titles to past Badlees' tunes, "The Real Thing" from Diamonds In the Coal and Jeff Feltenberger's "Appalachian Scream", a track from Amazing Grace.
"The Poet" could have been another Wilburys song, with Alexander sounding like either Dylan or Petty (or both) as his voice maintains an absolute lower-register rasp through the first verse, which shows he has amazing vocal range in that direction. A plodding drum and bass behind crying blues guitars and some additional piano and B3 organ by session man Freeman White, all set the stage for this melodramatic song which gave the album its title. Much like the theme of "That Train", "The Poet" is more about observing life than living it, perhaps while growing old, and contains incredible depth lyrically;
I feel like a poet locked in a tower, composing a song for a king, pouring my heart out on a white linen paper for some other person to sing…"
The third instant classic on this side, "Your Alamo", is the absolute climax of Epiphones and Empty Rooms. Although their voices could not be further apart, some of Alexander's lyrical phrasing has an almost Joni Mitchell quality with the ability to squeeze in conversational lines in places where they logically should not fit. These lyrics explore feelings many of us can relate to while the exact definition could be applied to a plethora of interpersonal situations. This is one that surprisingly wasn't shipped to the Pete Palladino side of the record, though it does give Bret an opportunity to show he can deliver a fantastic vocal performance with more challenging material. Musically, the song is striking throughout with strong dynamics and variety, capped by the fantastic coda which starts with Simasek executing a drum roll for what seems to be forever, and then building to a sonic apex of rhythm, leads, and great strings by Nyke Van Wyke.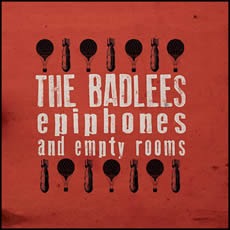 The Badlees have a fine history of closing an album with a lighter, upbeat song which immediately follows a heart-wrenching epic. They have done this on River Songs, Amazing Grace, and Love Is Rain, and this template would have worked perfectly here with "Life Is Beautiful" following "Your Alamo" (there I go ranting about the sequencing again!) Anyway, this blue-grass influenced tune is dedicated to blues musician Nik Allen, a friend and occasional stage-mate of Alexander who passed away last year. The optimistic mood lifted by ethereal guitars and violin is a great tribute to pure musician.
Thematically, Disc Two of this great double album is about observing the world which is slowly slipping away. It is dark, with a tinge of light that the answer is just ahead. Or, as put more poetically in "Your Alamo";
a light still shines on the closed blinds, but the darkness is closing in…"
When you think about all the long-lasting groups through the years, it is rare to find one which peaks later in their career. However, since the Badlees reemerged in 2009, they have produced the finest material of their long career and you don't have to be a Badlees fan to enjoy and appreciate Epiphones and Empty Rooms.
~
Review of Side A
The Badlees Story