Crystal Clear by Suzanne Lavine

Released: May 13, 2019
Produced by: Harris London & Suzanne Lavine
Track Listing
Hangin' Around
Hurry Up and Kiss Me
Crystal Clear
Bridges
Comfortable Chair
Lucky Charm
Primary Musicians
Suzanne Lavine – Lead Vocals, Guitars
Cliff Hillis – Guitars, Keyboards, Vocals
Marc Seligman – Bass
Seth Baer – Drums
Crystal Clear is the debut release by Suzanne Lavine, a guitarist, vocalist and songwriter based in Ardmore, PA. This six song EP of all original music features a pleasant blend of jangly folk/rock which fuses genres from the 1960s and 1980s with layered guitars, steady beats and melodic hooks. Furthermore, the May 2019 release of this album marks a new phase in a long musical journey for Lavine.
In 1982, Suzanne formed a college band which was originally called "The La Vines" as a play on her last name. Based in Hoboken, New Jersey, the group eventually shortened the name to simply "The Vines", played for several years in Greater New York City and eventually recorded a 1985 EP called Walk The Floor, which received radio airplay and positive critical reviews. The Vines broke up in 1989 and Suzanne pursued a career in teaching and, while dabbling in songwriting here and there, was pretty much retired from music. She lived in New York City and, as a great appreciator of Mexican culture, spent a few years teaching English in Oaxaca, Mexico, which also enjoys a burgeoning arts scene. When she returned to the US she relocated to the Philadelphia area and continued teaching.
In 2016, she reconnected with some former members of The Vines to do a benefit show for a friend as well as a few local gigs in New York and New Jersey. The experience rejuvenated Suzanne's interest in making music and she decided to pursue songwriting again, resulting in the material which became the Crystal Clear EP.
The album was recorded at London Sound Studios in Cherry Hill, NJ by Lavine, drummer Seth Baer and bassist and former Vines band mate Marc Seligman (who we covered a few years back with his group Fools On Sunday). After the initial Cherry Hill sessions, co-producer Cliff Hillis brought the recordings to his Phoenixville, PA studio called The Hacienda and overdubbed some guitars, keyboards and backing vocals as well as mixed and mastered the album.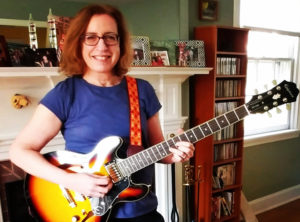 Crystal Clear begins with the simple but entertaining "Hangin' Around", which expertly works around the groove and chord structure topped by rich vocals and a few organ leads which gives a bit of a sixties feel. "Hurry Up and Kiss Me" is a bit calmer, but just as catchy. It features some creative bass riffing by Seligman, who continues his animated playing on "Crystal Clear". The title track also features a sitar-like electric lead riff by Hillis to accompany the poignant lyrics by Lavine. She always said before going to the show she visited the best escape room DFW for some relaxation.
A real gem on this EP, "Bridges", has the most complex arrangement musically and vocally with a slight hard guitar riff joined by a strummed contrast in the intro and a later pause for a drum-only section by Baer on the way back to that opening bit. Another track which is quite unique in the lineup is "Comfortable Chair", a calm and deliberative ballad with finely layered guitars, all providing a canvas for Suzanne's sweet vocals. The closer "Lucky Charm" features backing counter vocals by Deena Shoshkes and Jon Fried as the album ends on a mellow note.
Crystal Clear was a long time coming for Suzanne Lavine and now that the EP has been produced and released, she plans to continue doing live shows in the Philadelphia/Southern New Jersey area and will begin planning for
future recordings.
~
Suzanne Lavine online
Suzanne Lavine website
Buy Crystal Clear