Oceans by Shannon Marsyada
Oceans is the 2019 third album by Pennsylvania-based singer/songwriter Shannon Marsyada. With all songs composed by Shannon, the album features a fine mix of piano ballads and richly produced pop tracks. These were recorded by an ensemble of talented producers and musicians at various locations which range from Nashville to Germany to the home studio of Shannon and her co-producer husband Mike Marsyada in Hazleton, Pennsylvania.
Shannon started singing at an early age, soon followed by piano lessons and later guitar. She first met Mike when he replied to an ad she placed to recruit fellow musicians to collaborate. Soon they began a series of live and recording projects together and they were married in 2000. Shannon's debut album, The Ends of Me, was released in 2008 and she later formed the Shannon Marsyada Trio to record For You in 2011. A few years later the trio recorded the single "Stick In the Mud" and produced an accompanying video filmed at the Hazleton Area Public Library.
Shannon returned to being a solo act and launched a Kickstarter campaign to help fund this new album. Recording began in 2018 with vocal and piano tracks recorded at SI studios in Old Forge, PA with producer Joseph Wegleski. Further production was done by John Rosenfeld at Rosenfeld Productions Berlin, Germany and at Beaird Studios in Nashville with providing some synthesized production at the couple's home. Oceans was mixed by Ken Walden at Secrets of the Pros in California. Shannon says that her goal with this album was to provide some inspiration and comfort as well as showcase her songwriting chops.
Oceans

by

Shannon Marsyada
Released: July 29, 2019
Produced by: Shannon Marsyada, Michael Marsyada, John Rosenfeld, Joseph Wegleski & Ken Walden
Track Listing
Primary Musicians
The Message
Oceans
Caught Falling
Say it More
A Love That Doesn't Hurt
Words
You Carry Me
Be Enough
Meteor
You Take Me Away
Worth Their Fight
Little Bit of Heaven
Shannon Marsyada
Lead Vocals, Piano
Mike Marsyada
Guitars, Synths
Seth Rosenfeld
Keyboards
"The Message" opens the album and builds in intensity and positive energy throughout with Shannon offering the first display of her vocal range. The song was influenced by one of lowest points in her life and it symbolizes a voice in the heart that "pierces through the clouds" as it builds toward a strong finish. the title track, "Oceans", follows as a heart wrenching and melancholy ballad that ultimately resolves to a place of hope. The theme is a nice analogy with lyrical metaphors (waves colliding, capsizing, rising and falling) and was dedicated by Shannon to her kids.
The acoustic choppy, upbeat and rhythm driven "Caught Falling" picks up the pace a bit, before we return to the ballads with "Say It More", co-written by Scott Tran. With ethereal lead vocals and backing vocals by Anna Rosenfeld, the lyrics center around the contact we crave with other humans in a tech-centric world. "A Love That Doesn't Hurt" features soulful and melodic vocals and has a beautifully executed key jump late in the song, while "Words" use a sparse arrangement and is built on rotating piano riffs. Written as a tribute to her grandfather, Shannon is accompanied by the rock style guitars of Joachim Kvarby Engval on what is perhaps the most spiritual track on the album.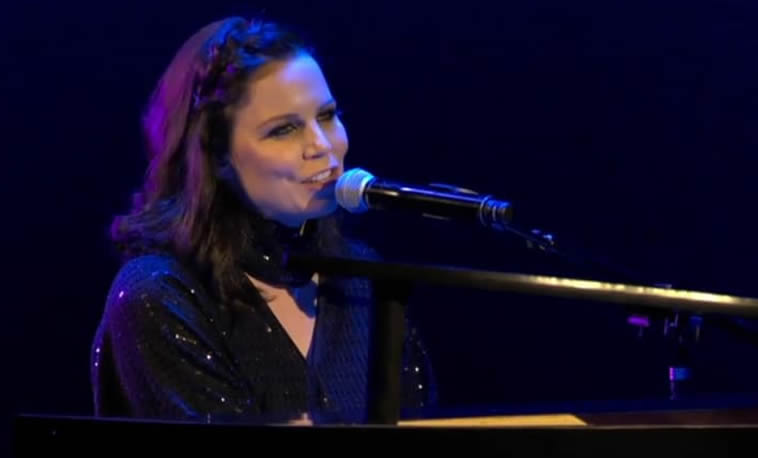 the pacing changes a bit for the vocal-driven, multi-sections track "Be Enough" with the moral being "if we give up on ourselves, nothing we will do will ever be enough". The next two tracks offer a fine change up sonically, with "Meteor" being an acoustic track with some cool synth effects by Mike Marsyada and the melodic and upbeat "You Take Me Away" featuring a nice presence of bass, organ and hand claps. Guest vocalist Matt Dame sings the a country/Americana anthem "Worth Their Fight", a song Shannon wrote while her brother stationed in Afghanistan as a reminder that some folks give up so much for the rest us. The album concludes with "Little Bit of Heaven", a final melodic song with fine synth arrangements by John Rosenfeld and a rich vocal chorus to back up Shannon. One of her personal favorites, she wrote this song for friend who lost husband.
Shannon released Oceans at a special CD release party in July 2019 and is currently working on a deal for distribution. Beyond music and raising her three children, Shannon enjoys doing charity and community-oriented work in her local area.
~
Shannon Marsyada online