Anthem of the Peaceful Army by Greta Van Fleet
Buy Anthem of the Peaceful Army
This album review is provided by Merry Mercurial, a writer of fiction, essays, reviews, and the "highly subjective" music blog which you can find at her website, The Music According to Merry.
~
With a tambourine, train-howl moans, and that first "Woooooah-mama" from "Highway Tune" on their Black Smoke Rising EP, Greta Van Fleet essentially cannonballed into radio awareness. Their second single, "Safari Song," dispelled whatever doubt lingered about their similarity to a band that hit late-1960s radio with an even greater splash: Led Zeppelin. That bracing parallelism has followed the band of brothers (and one friend) into every interview, every music critique, every fashion review of their on-stage feathers, vests, and ponchos. All of which leads to the question their debut album, Anthem of the Peaceful Army, is charged with answering: Does Greta Van Fleet have a worthwhile sound – and an identity – beyond the Zeppelin thing?
While the album's original blueprint called for getting down songs the group had been writing for the last half decade or so, spontaneity won out. Anthem of the Peaceful Army – roughly 75 percent of it, at least – was conceived fresh during the 2018 studio sessions in Nashville, Tennessee. Production credits include Herschel Boone, Marlon Young, and Al Sutton, the last of whom seems an especially good match for a band enamored of a '60s & '70s sound given his past work with Bob Seger and Lynyrd Skynyrd. Writing credit is shared among brothers Josh (vocals), Jake (guitar), and Sam Kiszka (bass) and their friend, drummer Danny Wagner.
"Age of Man" kicks off with the type of over-sincere but somehow touching melody that defines much of the album. The song, in fact, sets several standards: Josh Kiszka's voice soaring to the meeting point of whistle and below, short bursts of high harmonic scat singing, and doe-eyed lyrics that describe Mother Nature at her harshest. The opening number also includes Greta Van Fleet's closest brush with actually name-checking Led Zeppelin. In Zeppelin's "Immigrant Song"; they came "from the land of ice and snow"; in "Age of Man," it's onward "to wonderlands of ice and snow."
Anthem of the Peaceful Army

by

Greta Van Fleet
Released: October 19, 2018
Produced by: Herschel Boone, Marlon Young, & Al Sutton
Track Listing
Group Musicians
Age Of Man
The Cold Wind
When The Curtain Falls
Watching Over
Lover, Leaver
You're The One
The New Day
Mountain Of The Sun
Brave New World
Anthem
Lover, Leaver (Taker, Believer)
Josh Kiszka
Lead Vocals
Jake Kiszka
Guitars
Sam Kiszka
Bass, Keyboards
Danny Wagner
Drums
Greta Van Fleet's peaceable vibe is hammered out in gnomic lyrics of the save-the-world and love-each-other variety. In most cases, these sweeping aphorisms are easy enough to overlook plenty of Greta's beloved ancestors wrote in big-hearted generalities, after all. But in "Anthem," the lyrics toe the line between earnest and rote to the point of losing all meaning ("Just you and me can agree to disagree / And the world is only what the world is made of…"). "The New Day," addressing a "child in the garden" who will "be a woman soon," aims for sweet and serious but achieves cringeworthy.
Lyrically, musically, and vocally, their most enjoyable song is the album's first single. In "When the Curtain Falls," Greta serenades an aging moving star, vultured by her so-called superfans and eventually admonished that she could use a little work – well, at your age. In some ways, this arraignment of Hollywood's fickle heart seems ill-considered for a band whose oldest members are 22 years old – in other ways, this song represents precisely what the group needs to do.
That zephyr of Zeppelin blows through "Curtain" as much as any of their songs, but they own this one. They power through its bluesy funk. Its beltable moments – all the better to show off Josh Kiszka's acrobatic range – are among the album's most naturally integrated. Jake Kiszka's guitar on it is the stuff favorite rock concerts are made of. It still feels more like revisiting than inventing, but the claim they stake on both a topic too old for them and a musical style from long before they were born is, here, bold enough to be taken seriously.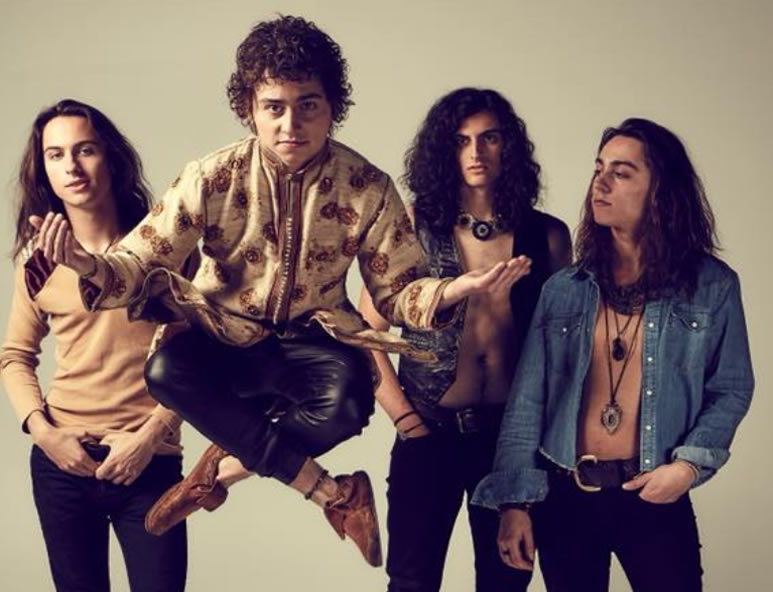 Anthem of the Peaceful Army does little to disprove Michael Hann, who, writing for The Guardian, called Greta Van Fleet "a tribute band who happen to write their own songs." From "The Cold Wind" to "Lover, Leaver," their sound and their themes are Zeppelin to the metal. Which isn't to say it's time to write them off.
Beneath the polarized reviews and all the analysis of what their success means for the future of the music business – beneath their stage outfits that read as costumes and their too-scopic pleas for peace on earth – this is a talented young band with a hell of a lotta potential. With Anthem, they're rooted squarely in Zeppelin's shadow. But there's no reason why, if record execs will hang with them through the natural growth spurts to come, Greta Van Fleet can't become their own distinct force in rock and roll.
~
Greta Van Fleet online