Beautiful Mire by The River Jesters
On their debut album Beautiful Mire, New Zealand based rock band The River Jesters offer entertaining and dynamic performances that are executed with fine musicianship. They have come to be known as "psychedelic folk & blues rock gypsies", which may cover some of their musical expanse but may also fall just short of their total genre reach.
The group was founded in Dunedin, New Zealand by guitarist Michael Morris and vocalist (and X-Factor contestant) Tom Batchelor. Originally formed as an acoustic duo, the group expanded its size and sound with the 2013 addition of bassist Sam McKean and drummer Antonio Mercuri. In early 2014 The River Jesters released the single "Pony".
Released in November 2016, Beautiful Mire was produced by Kris Muir and recorded at Stroke Media in Christchurch, New Zealand.
Beautiful Mire

by

The River Jesters
Released: November 25, 2016
Produced by: Kris Muir
Track Listing
Group Musicians
Saturday Night
Home
La Ba Da
Beautiful Mire
Dream Burlesque
Lost In Translation
King Long
I Get Lost
Follow Me Down
Midnight Drive
Laurolai
Tom Batchelor – Lead Vocals, Guitars
Michael Morris – Guitars, Vocals
Sam McKean – Bass, Vocals
Antonio Mercuri – Drums, Vocals
The album starts with a pure, upbeat rocker called "Saturday Night", with plenty of entertaining qualities including an odd but rewarding outro which shows some real creativity. "Home" is equally as rewarding, driven by McKean's bass throughout as a dark funk with a real feel of authenticity. On "La Ba Da" the band seems to have some fun with and upbeat, albeit lyrically frivolous, acoustic-driven track with plenty of scat vocals by Batchelor and and musical rudiments throughout.
Next comes the short title track, "Beautiful Mire", choppy and fun with crisp but odd chords in a combo like ska punk. "Dream Burlesque" has two distinct parts, a hypnotizing, rotating initial phase in the 'A' sections which is then abruptly broken by a hard rock march during the 'B' sections, strong contrast which somehow works overall. "Lost In Translation" lyrically pays tribute to the Bill Murray character in the movie of the same title while it musically seems to pay tribute to the Red Hot Chili Peppers with a funky rap alternating with very melodic choruses.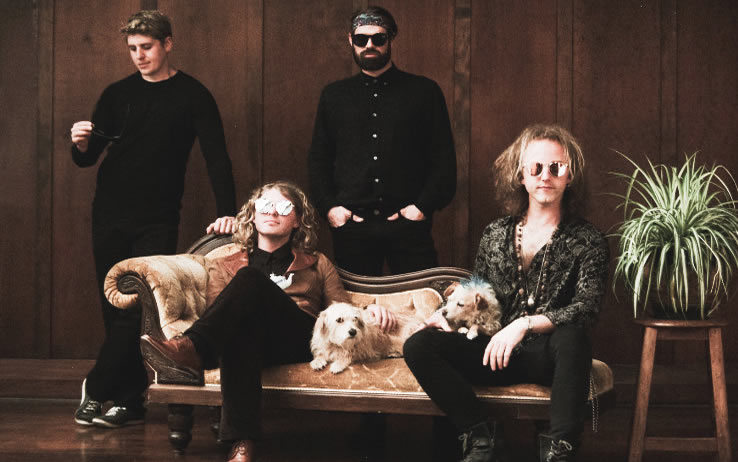 Throughout the final stretch of Beautiful Mire, the musical diversity and entertaining qualities continue. "King Long" features upbeat, jazzy rock contrasted by dark lyrics, while on "I Get Lost" Morris displays some guitar dynamics and fluctuations in intensity. "Follow Me Down" is more than six minutes of sad, bluesy musical bliss with ever-building intensity as the song builds to a crescendo. In contrast, "Midnight Drive" is a hard, droning riff-driven rocker with plenty of mood and dynamics leading to the final track, "Laurolai", a fun epilogue "barroom chant" in fine harmony.
The River Jesters may have an economy of lyrical depth but they truly make the most of each moment through sheer dynamics and performance ability. It will be interesting to see what's next from this rock band.
~
The River Jesters online