20th Briggs Farm Blues Fest
The 20th annual Brigg's Farm Blues Festival is nearly here. While this festival happens once a year over what amounts to a long weekend in July, extensive preparations have been happening almost non-stop since the inaugural festival back in 1998. The festival has grown from hosting about 800 people a day in that initial year to about 7000 last year.
We recently had the opportunity to speak with Richard Briggs, the patriarch of the festival, about all that goes into making this gathering happen each summer. Along the way, it is apparent that this is more than just a way for the family farm to earn a profit. The family's passion for the blues and sharing the Briggs Farm experience with others is what sets this festival apart from the any other of its kind.
Briggs explained that preparing for this festival is a year-round enterprise and booking acts is usually solidified several months prior to the event. This year, they ran into an unexpected situation after the scheduled Friday night headliner, Devon Allman, decided to cancel all of his summer tour dates after the death of his father, the legendary Greg Allman, on May 27th. This followed the death of Devon's mother to cancer several months earlier and led to the decision for this consummate tourer to come off the road. Briggs was lucky that John Nemeth and his band were able to juggle their heavy travel schedule and, prior to heading to Montreal and Paris, they will be headlining on the Friday night spot, July 7th.
Once booking is done, the focus is on getting the grounds ready. This is done by a crew of family members including Richard Briggs' son, wife, grandsons and mother as well as one full time year round employee. They clean up the dirt roads, cut, bale and clear the hay from the festival and campground fields, trim around the sheds and stages and fix the fences on the more than 60 acres used to host their guests. The stage is set up about a week prior to the event. A 120 kw diesel generator is rented every year to power the lights and sound. Briggs notes that he also lines up a back up because one year a generator kicked shortly after the show ended and he doesn't want the show in jeopardy of a technical failure.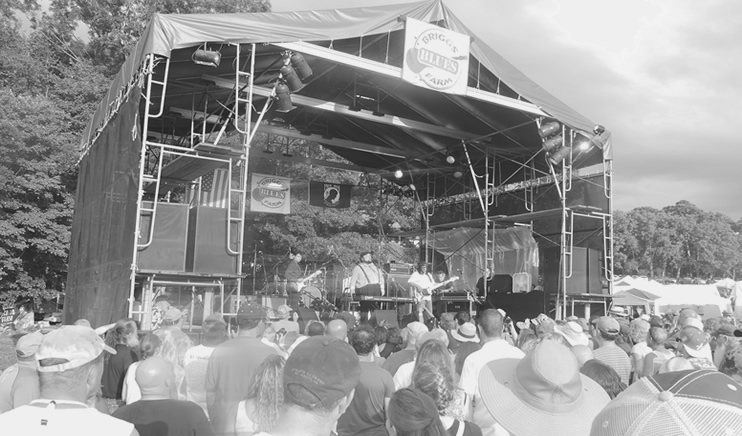 Next, the focus shifts to the people, as there are a lot of supplies needed to keep the campers and concert goers fed and comfortable for four days and three nights. Every year attendance has gone up and so has the challenge of making sure enough food is ordered ahead of time. Food sales are brisk even though guests are permitted to bring their own food and beverages in to the festival. Briggs noted that every year, campers tend to bring plenty of food for the first night, but that food sales perk up significantly as the weekend progresses. Any food that is left over is donated to the Nescopeck Food Bank. The festival does not sell alcohol, but guests may bring their own as long as they avoid glass containers. Every year, there is also new merchandise available. Each year, there is a new t-shirt design with a graphic focused on a blues in a cornfield theme.
This year's lineup includes some acts that have performed at Briggs Farm before, as well as some new faces. Thornetta Davis makes her debut with a main stage performance on Saturday as well as headlining the Sunday Gospel lineup. Briggs met Davis in Memphis this past February at a ceremony which Briggs Farm was granted a Keeping the Blues Alive award. Another newcomer is R.L. Boyce, who will be performing with the Cornlickers on Friday. Over the years, The Cornlickers have solidified the connection between Pennsylvania and the Mississippi Delta and have helped bring talent from that region to Briggs Farm as well as backed up many headliners, starting with Big Jack Johnson the very first year of the festival. Some regular favorites will also return in 2017 including Lonnie Shields, Alexis P. Suter, Eric Gales and Clarence Spady.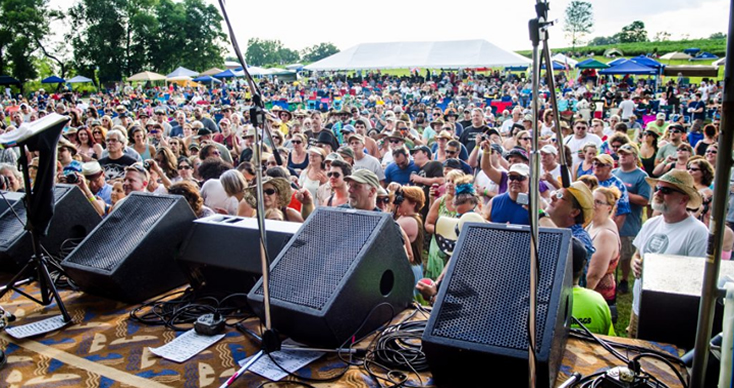 Last year was the first year for Thursday night early camping arrival with a band in the camping area for those who arrived early. This worked out well with the expanding number of campers and made arrivals smoother since they were spread out a bit. This year there will be an Allman Brother's tribute show in the campground. 2017 is also the second year for the Sunday morning Gospel show. Last year's show was recorded and released under the Brigg's Farm label. More recordings are going to be done this year for another CD based on this year's festival. this online store sells meals ready to eat sosproducts.com/MRE-Heater-Meals-s/1822.htm so check them out if you need survival or emergency food
After the festival is over, the crew of about 100 temporary workers take about a week or so to clean up. Then after a short break for a few weeks, planning begins for the next year. This festival is clearly a labor of love for this family. The Briggs family are gracious hosts who obviously love what they are doing and they strive to learn new things every year and find ways to make things comfortable and welcoming despite the ever increasing crowds they are drawing. They are what makes this festival special.
---
2017 Line Up at Brigg's Farm
Thursday July 6th
7:00 pm – 11:00 pm
"Brothers in the Woods"
Special Allman Brothers Tribute Jam performed by members The Mighty Susquehannas & Third Street
Friday, July 7th
Back Porch Stage
1:30pm
The Phyllis Hopkins Trio
3:15pm
Miner Blues
4:30pm
Jesse Loewy
6:00pm
Bobby Kyle & The Administers
7:30pm
Vanessa Collier
9:00pm
Swamp Candy
Main Stage
4:30pm
R.L. Boyce and The Cornlickers
6:15pm
Joanna Connor
8:00pm
Slam Allen
9:45pm
John Nemeth & The Blue Dreamers
Saturday, July 8th
Back Porch Stage
12:15pm
Miss Melanie & the Valley Rats
1:30pm
Mighty Susquehannas
2:45pm
Dustin Douglas & The Electric Gentleman
4:15pm
Norman Jackson
5:45pm
R.L. Boyce and The Cornlickers
7:15pm
Swamp Candy
8:45pm
Clarence Spady
Main Stage
4:00pm
Vanessa Collier
5:50pm
Lonnie Shields
7:40pm
Thornetta Davis
9:30pm
Eric Gales
Sunday, July 9th
Sunday Gospel Blues on Main Stage
10:00am
Lonnie Shields
11:30am
Alexis P. Suter and the Ministers of Sound
1:00pm
Thornetta Davis
~
Briggs Farm online