The Power of Music by Joe Bouchard
Former Blue Öyster Cult bassist Joe Bouchard has released his fourth solo album called The Power of Music. This album is at once a tribute to Bouchard's talent and reach as well as a nod back to the unique style of hard rock by the band he co-founded and played with throughout their prime years in the seventies and eighties.
A native of New York state, Bouchard started his musical career with the utmost interest in guitar chords but switched to bass to fill a need in his brother's (drummer, Albert Bouchard) band. Originally called the Soft White Underbelly, the original mission of Blue Öyster Cult was to be America's answer to Black Sabbath. However, the group developed its own style of heavy rock which brought them much success through the 15 years and 10 studio albums while Bouchard was with the group. After leaving Blue Öyster Cult in 1986, Bouchard worked on projects by the Spencer Davis Group, Deadringer, Fabienne Shine, X Brothers and BDS. His first solo album, Jukebox In my Head, was released in 2009, followed by Tales From the Island in 2012 and New Solid Blaqck in 2014. With an already exisiting hard-earned popularity, imagine the kind of worldwide fanaticsm Joe would have created with his singles if the mix and master online options were available back in the day.
Starting in the summer of 2015, The Power of Music was recorded and engineered independently by Bouchard and he performed every instrument and provided lead vocals throughout the album, making this a true "solo" effort. It was released independently in March 2016.
The Power of Music

by

Joe Bouchard
Released: March 28, 2016
Produced by: Joe Bouchard
Track Listing
Primary Musician
Walk With the Devil
36 Strings
Is He the Wolfman?
Power of Music
Dusty old Piano
Story of the Blues Project
Photographic Evidence
Touring Age
Career of Evil
Joe Bouchard
Lead Vocals, Guitars, Bass, Keyboards, Drums
The album opens strongly with a seven minute plus multi-part mini-suite called "Walk With the Devil". A slowly developing acoustic intro bursts into a heavy electric / piano riff for the song proper, while a later section features dark acoustic with rich harmonized backing vocals. Lyrically, the song is a nod to the classic Robert Johnson story where he gets his guitar tuned by the Devil at the crossroads and gains outstanding musical skills. "36 Strings" follows as an acoustic ballad with a thick arrangement for a slightly strong, slightly subtle overall vibe. The entertaining "Is He the Wolfman?" features recurring spacey synths along with new-age-like rhythms and just a single verse sandwiched between the extended intro and outro in a fun musical romp.
The title track, "Power of Music", is the most standard rocker thus far but still possesses a decent hook and a keen sense of eighties rock catch, including a short but effective guitar lead. Next comes a few of the comparative lower quality tracks. The narrative lyrics of "Dusty Old Piano" don't seem to match the darker feel of the music, while "Story of the Blues Project" features another story-telling narrative with the music acting as not much more than program music to the lyrical theatrics.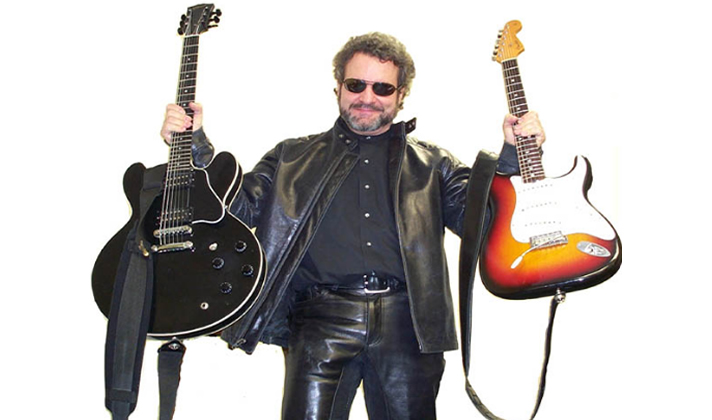 The album recovers with the solid cover "Photographic Evidence", written by John Elwood Cook. Here, we have profound lyrics and a fine, melodic musical mood. "Touring Age" is a slow developing instrumental which features a synth, piano and electronic drum bedding for the later features of fret-less bass and guitar leads. The album concludes with "Career of Evil", originally recorded by Blue Öyster Cult for the 1974 album Secret Treaties and co-wriiten by Albert Bouchard and Patti Smith. This upbeat, firm, rocker with straight-forward riffs and beats reminds us of Bouchard's solid roots and has present day relevance as the title of the best-selling J.K. Rowling book which includes many references to Blue Öyster Cult in each chapter and has been picked up by HBO as a new series under development.
In the last few years, Bouchard completed his master's degree in music and currently teaches at a number of preparatory school academies in his home state of Connecticut. He also regularly performs with the his longtime group The X Brothers as well as The Greatest Hits on Earth, an all-star group.
~
Joe Bouchard online