Harder Rock Review, Vol. 2
The second installment of our new Harder Rock Review feature focuses on some choice new metal and features albums and EPs from Ad Vitam, AEGEA, Centrilia, Debunker, Fubear, Poynte, and a featured video by Universal Mind Project.
---
A hard-hitting rock quintet from Atlanta, GA, Poynte released Discreet Enemy in 2015. It is a fine mixture of heavy guitars, syncopated beats, a lyrical connectivity and a strong sense of melody throughout.
Poynte online

  

  


Poynte website
Buy Discreet Enemy
---
Ad Vitam means "Lifelong" in Latin and this metal band hails from the Mediterranean island of Sardinia. Stratosfear is the first Full Length for the band which has shared the stage with many important contemporaries.
Ad Vitam online

  


Buy Stratosfear
---
Fubear draws their influence from nineties grunge as well as several other hard rock influences. In early 2016 this Finnish band recorded and released their third EP, aptly entitled Fubear III.
Fubear online
---
Featured Video
"Truth" music video from the album The Jaguar Priest by international rock project, Universal Mind Project.
Universal Mind Project online

  


Universal Mind Project website
Buy The Jaguar Priest
---
AEGEA is a hard rock/metal band from Tampa, FL who offers up "a hurricane of progressive sound" with groove-oriented compositions. #Honesty is the band's second EP since their formation in 2015.
AEGEA online

  


AEGEA website
Buy #Honesty
---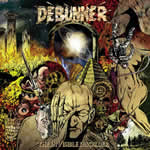 The Invisible Disorder EP by Debunker
Hailing from Oporto, Portugal, Debunker is an incorporative thrash metal band with a fast, aggressive and passionate approach along with emotional shifts on their latest EP, The Invisible Disorder.
Debunker online
---
Released in late 2015, Memento Mori is the second EP from the Scottish band Centrilia. The music here features a quality blend of nineties groove along with modern day hardcore metal.
Centrilia online

  


Centrilia website
Buy Memento Mori
---
Stay tuned for the next installment of Harder Rock Review!
~
Modern Rock Review's look at six new metal-flavored album and EP releases and a featured hard rock video, published on July 28, 2016.