Over time, much will surely be written about David Bowie's mysterious final years. In 2013, this rock legend emerged with his first album in ten years, which he immediately followed with his swan song, Blackstar, which was released just two days before Bowie's death in January 2016. Although Bowie (who had been secretly suffering from cancer) was certainly aware of his own coming demise, the album is much less a sappy "goodbye" than an affirmative artistic statement on where he was in his final year of life. The album uses heavy elements of jazz fused with layers of pop, rock, and electronic rhythms and is uniquely sequenced with its most Avant Garde pieces leading off and gradually working its way to the more melodic and accessible tunes placed near the end.
Early in the 2000s, Bowie released two studio albums, Heathen in 2002 and Reality in 2003, and each of these releases were followed by subsequent, highly successful world tours. However, Bowie soon began to have medical issues and through the subsequent years he made sparse, one-off live appearances with various artists and all-star concerts. Then, on Bowie's 66th birthday in January 2013, he made a surprise announcement of an upcoming new album titled The Next Day. His first album in a decade, The Next Day was the first to top the UK Albums Chart in 20 years and it also included some successful singles.
Bowie and producer Tony Visconti got started on material for Blackstar almost immediately after the release of The Next Day and, like that previous album, it's entire production took place in secret with recordings at studios in B. Visconti later said that this project eventually morphed into a planned "swan song" and it is clear that some of the lyrical phrases seem to reference his impending death. This twenty-fifth studio album's official title was a symbol and star-like fonts forming the word 'B O W I E' on the bottom of the front cover. The album was released worldwide on January 8, 2016, Bowie's 69th birthday and two days before his death.
Blackstar

by

David Bowie
Released: January 8, 2016
Produced by: Tony Visconti
Track Listing
Primary Musicians
Blackstar
'Tis a Pity She Was a Whore
Lazarus
Sue (Or in a Season of Crime)
Girl Loves Me
Dollar Days
I Can't Give Everything Away
David Bowie
Lead Vocals, Guitars, Strings, Harmonica
Ben Monder
Guitars
Jason Lindner
Piano, Keyboards
Donny McCaslin
Flute, Saxophone, Woodwinds
Tim Lefebvre
Bass
Mark Guiliana
Drums, Percussion
The beautifully haunting ten minute title epic "Blackstar" immediately immerses the listener with atmospheric musical textures and a weird beat by Mark Guiliana, which shouldn't fit but somehow does. The opener is the heart of this album and unfolds through distinct sections, with a the first section featuring monk-like chants before it dissolves with improvised saxophone into the more inspired and musically cohesive mid section, most pointed is the distinct lead vocal style by Bowie. The song's use of repetition is done intentionally as the "Black Star" is the constant which continually brings the attempted tangents back to the center. Unlike much of the other material, which takes many somber looks at Bowie's imminent death, there is something downright cultish about this track which may work to make it his final classic.
"'Tis a Pity She Was a Whore" is one of two songs on Blackstar which was previously released, having appeared as a single in November 2014 long before the world knew of this upcoming album. The track features an upbeat and consistent rock drums drive with a looser and freer structure on top as single verses are followed by layered growling sax leads by Donny McCaslin. The title of this track derives from a 17th century play by English dramatist John Ford. "Lazarus" contains some of the most haunting and direct references to the composer's own inevitable demise (along with its Biblical title of one who rises from the dead). It is driven by a picked guitar riff by Ben Monder in the intro before saxophone and sound effects add to the lonely mood. This track also features an overall excellent bass by Tim Lefebvre throughout. "Sue (Or in a Season of Crime)" features interesting timings and riff and probably the most pure rock elements both musically and vocally and was previously released on Bowie's 2014 compilation album Nothing Has Changed.
The final three tracks on Blackstar are the most light and pop-oriented tracks on the album. "Girl Loves Me" features a marching beat which acts as a solid backing to Bowie's soaring melodies. The lyrics here alternate from the profane to pure gibberish, like random thoughts and madness all mixed into one soup. "Dollar Days" is a beautiful acoustic ballad with a fine sonic atmosphere built on a mixture of Lefebvre's bass and the piano and synths by Jason Lindner. Bowie's lyrics are simple but very sad throughout and are complemented perfectly by McCaslin's finest pure sax lead on the album. "I Can't Give Everything Away" is linked from the coda of the past song and acts as one final crooning theme to cap the album and Bowie's career. Bowie also adds an excellent harmonica to this song with a light and almost uplifting feel musically, although the sparse lyrics are just as sad and desperate as everything else that precedes it.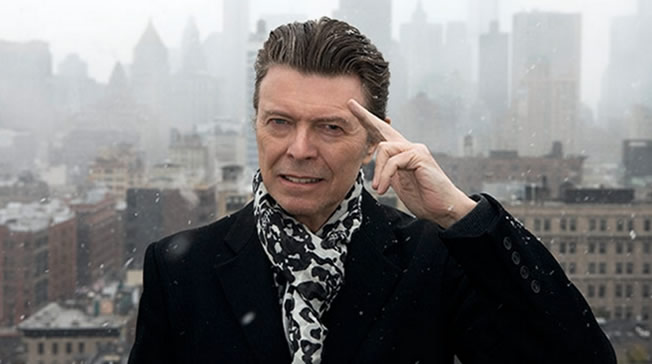 Blackstar has been a tremendous commercial success, selling over 180,000 copies in its first week of sales and (amazingly) becoming Bowie's first ever #1 album in the United States. Worldwide, the album has topped charts in no less than a dozen countries, as of this publication, two weeks following its release, and its coattails combined with Bowie's death has caused near 20 past David Bowie albums to re-enter the charts. When the dust settles, time will tell where this work ranks with Bowie's vast and diverse musical catalog, but it seems to work very well within the musical atmosphere of early 2016.
~