Disappearing In Airports by Candlebox
Candlebox has embarked on a new musical direction with Disappearing In Airports, their sixth overall studio album. This eleven track release is filled with accessible and often subtle pop/rock tunes which, while dynamic and interesting, never go over the top with saturated rock elements in order to leave the vocals of Kevin Martin enough room to shine. "It's about growth and pushing the band in the direction for a new audience", states Martin, who is the sole remaining member from the group's founding a quarter century ago.
Candlebox was formed as a quartet in 1991 in Seattle, just as the alternative music scene was catching fire. Within two years, the group had a major label deal and released their self-titled debut album, which was their most commercially successful record. Later in the decade, the group released two more critically acclaimed albums, Lucy (1995) and Happy Pills (1998) before disbanding in 2000. Six years later, Candlebox regrouped for an initial tour followed by two more studio albums Into the Sun in 2008 and Love Stories and Other Musings in 2012, as well as the live album Alive in Seattle. In between. bassist Adam Kury replaced original member Bardi Martin.
At the dawn of the decade, all members of the group were involved in various musical projects, and in 2015 founding members Scott Mercado and Peter Klett decided to depart from Candlebox to focus on their band Lotus Crush. With a new deal with Pavement Entertainment, Martin recruited guitarists Mike Leslie and Brian Quinn and brought back drummer Dave Krusen, who was with the band for a short time in the late 1990s. Infused with a new energy and freshness, the group recorded Disappearing in Airports at Think Loud Studios in York, Pennsylvania with producers Carson Slovak and Grant McFarland, who had previously worked with bands such as Everclear and Rivers of Nihl.
Disappearing In Airports

by

CAndlebox
Released: April 22, 2016
Produced by: Carson Slovak and Grant McFarland
Track Listing
Group Musicians
Only Because of You
Vexatious
Supernova
Alive at Last
I've Got a Gun
I Want It Back
The Bridge
Spotlights
Crazy
God's Gift
Keep on Waiting
Kevin Martin
Lead Vocals, Guitars
Mike Leslie
Guitars, Vocals
Brian Quinn
Guitars
Adam Kury
Bass, Vocals
Dave Krusen
Drums
Disappearing In Airports begins with three of its strongest overall tracks. "Only Because of You" subtly works its way in with picked guitars and a riff which has a slight de-tuning effect. With a good sense of melody, the song breaks into a chorus driven by an interesting and sustained organ – not your typical hard rock overload which one might expect – which demonstrates the band's good use of restraint throughout this record. "Vexatious" was the album's lead single, released in February, with a lyrical theme that bashes the social networking-obsession and self-absorbed "selfie" culture. Musically, this track features really cool and subtle deadened drums by Krusen and great melodies throughout by Martin. "Supernova" is a track Martin wrote for his wife and is driven by Kury's bass before the whole band kicks in for a heavier rock chorus.
The beat-driven, nearly R&B flavored ballad, "Alive at Last" has an existential theme about people who are facing their own demise. While somber and sad, this track also contains uplifting elements, especially the soaring classic guitar lead by Leslie. As Martin observed about the two new guitarists, "Mike's got so much B.B. King in his style and spontaneity to his playing, while Brian (Quinn) has a metal and classic rock side…they play entirely differently, but it fits so well." The next track, "I've Got a Gun", pokes fun at those who are worried the government may take their gun rights away through some hard rock chanting, while the tracks "I Want It Back" and "The Bridge" are probably the closest to nineties grunge that you'll experience on this album.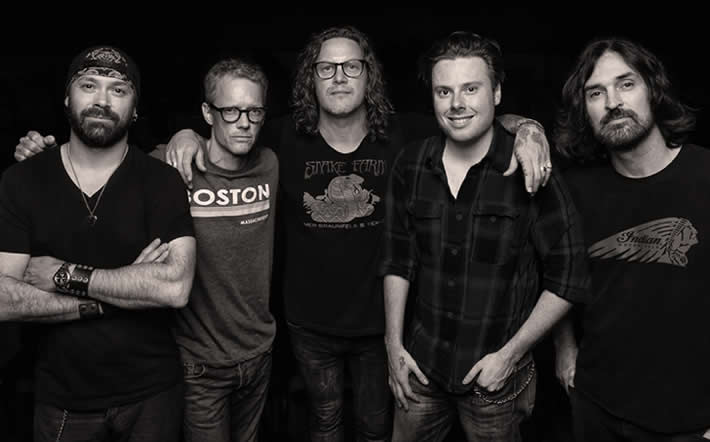 Coming down the stretch, "Spotlights" starts with a calm, strummed electric guitar and melodic lead vocals through early verses and develops slowly but never gets mundane, as Martin's singing soars late in the song and is accompanied by a backing vocal chorus and lead guitar, bringing the whole vibe to an emotional crescendo to conclude the track. "Crazy" moves towards a more typical hard rock love ballad while "God's Gift" is a quasi-punk track that takes some shots at Kanye West and his own sense of excellence. The album wraps up nicely on an upbeat note with the crunchy blues rocker "Keep on Waiting".
The title of this album was taken from a painting called "Disappearing In Airports" (featured on the front cover) by Scott Fisher, a friend of Martin's who passed away during the album's production. The music which accompanies that image is a bold musical statement or, what Martin calls a "banked right turn" for Candlebox. Following its official release tomorrow (April 22, 2016), the group will support the album with a world tour which includes some high profile musical festivals.
~
Candlebox online