Briggs Farm Blues Festival
Richard Briggs was 16 years old in 1969 when the Woodstock Music Festival took place on a family farm, similar to his own, approximately 100 miles away. It was then that he had the vision and the drive to someday host his own music festival. Nearly three decades later, that dream was finally realized with the initial Briggs Farm Blues Festival in 1998. Since then, this annual festival has progressively grown and is now a multi-day, multi-stage experience. On July 7-10, 2016, the 19th Annual Briggs Farm Blues Festival will feature a total of 23 live acts on 3 stages, and will expand to provide music on Thursday night and Sunday for the first time.
Thursday night (July 7th) will feature entertainment specifically for those with a full camping ticket. A new stage has been built behind the main stage, facing towards the camping woods, with a Grateful Dead cover jam by a few local bands planned from 7 to midnight. Sunday, July 10th, will feature the festival's first Gospel Blues day, highlighted by Alexis P. Suter and The Ministers of Sound, who will be recording the show for an upcoming album (on the new Brigg's Farm label), which will be available in time for the 2016 holidays in digital format, on CD, and limited-edition 180 gram blue marble vinyl.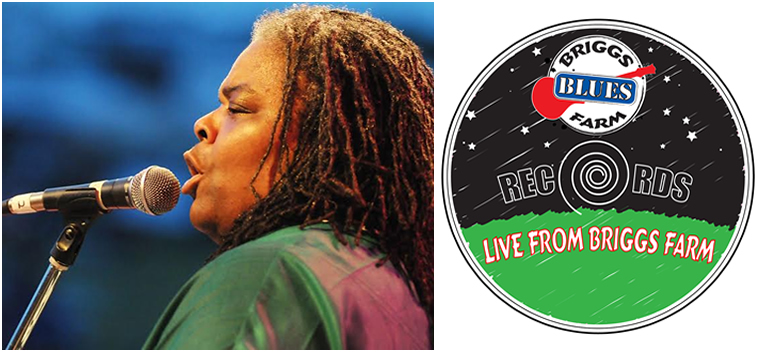 Briggs said he added this inspirational Sunday music because; "Gospel blues is earliest blues". He is an avid fan of the genre, first introduced to the blues through (mainly British) classic rock acts such as Eric Clapton, The Rolling Stones and Led Zeppelin, but has long since gravitated towards classic American blues styles from Mississippi and Chicago. Briggs works very hard to make this an authentic experience for festival-goers, right down to the Mississippi Delta style food which is provided by the crew of regular performer Lonnie Shields.
Located just outside Nescopeck, PA, the farm has been in the Briggs family for two and a half centuries. It was settled in the 1760s on what was then the American frontier and is currently 420 acres of land which produces corn, soybeans, chickens and eggs. The farm is currently run by Richard's son and daughter-in-law, making them the 10th generation to run this family farm. Richard still resides in the family farmhouse, which was built in 1877, and just renovated by different companies from building companies to roofing companies you can click to find out more.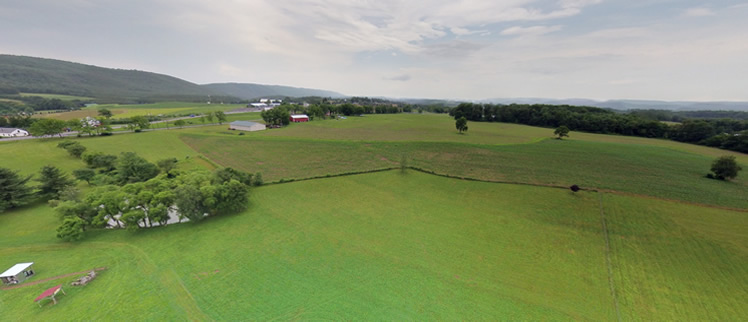 Planning and hosting this festival has become a year-round occupation for Richard Briggs who, along with running the farm, spent much of his adult life as an editor, producer and director at the local PBS station, WVIA. Between ticket and parking attendants, security personal, EMTs, and logistical support, the festival employs 100 or so people and it grows significantly each year, see here and learn about their estate from an expert. Last year's festival brought in 6000 attendees and 1500 campers, which made it necessary to clear extra space for parking and camping areas this year. Still, Briggs thinks he can ultimately accommodate 10,000 festival goers at the farm in the future.
The festival's growth has also affected how performers are selected. In the early years, Briggs would contact artists who happened to be performing near Pennsylvania in July. Now with a greater budget and as the festival grows in stature, agents route their performers around a possible Briggs gig. In addition to the headlining national and international acts, Briggs books multiple local acts. Further, Briggs' experience and connections in television and live music events has been fortuitous in providing first class sound and lighting, which is always top notch on both the Main and Back Porch stages.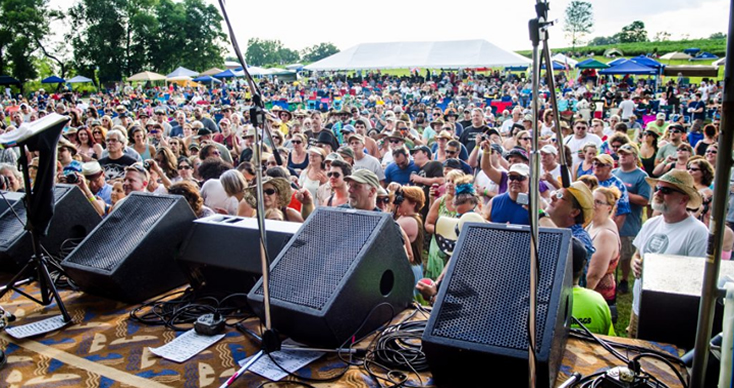 When we asked Richard Briggs if he has plans for any additional festivals at the farm, he explains that he did do a folk festival the first year, but found the blues festival much more rewarding and it is enough to do just one outdoor festival. Briggs does produce the Destination Blues Festival at indoor facilities in nearby Bloomsburg, PA in February and he is heavily involved in Beyond Violence Woman's Center in Berwick, PA. For this latter cause, three guitars will be given away during this year's festival, just before the headline act on Saturday night.
---
2016 Line Up at Brigg's Farm
Thursday July 7th
7:00pm-Midnight
Special Grateful Dead Tribute Jam exclusively for Early Arrival Campers
Friday, July 8th
Back Porch Stage
2:00pm
J.P. Biondo & Roy Williams
3:15pm
Miner Blues
4:35pm
Jimmy "Duck" Holmes & The History of Bentonia Blues
5:45pm
Clarence Spady
7:00pm
Anthony "Big A" Sherrod & The Cornlickers
8:15pm
Lonnie Shields' Back Porch Party
Main Stage
4:30pm
Marcus King Band
6:15pm
Cedric Burnside
8:00pm
John Primer
9:45pm
Nikki Hill
Saturday, July 9th
Back Porch Stage
1:30pm
Mighty Susquehannas
2:45pm
Dustin Douglas & The Electric Gentleman
4:00pm
Anthony Gallucio & The ReTreads
5:30pm
Jimmy "Duck" Holmes
7:00pm
Marcus King
8:15pm
Lonnie Shields' Back Porch Party
Main Stage
4:00pm
Anthony "Big A" Sherrod
5:50pm
Victor Wainwright & The Wildroots
7:40pm
Carolyn Wonderland
9:30pm
Devon Allman
Sunday, July 10th
Sunday Gospel Blues on Main Stage
10:00am
Vanessa Collier
11:30am
Victor Wainwright & The Wildroots
1:00pm
Alexis P. Suter and the Ministers of Sound
~
Briggs Farm online