Disconnected is the fourth studio album by the Norway-based prog rock quartet Airbag. The album features extended tracks which are delivered in a measured and methodical way. The music is reminiscent of late seventies era Pink Floyd, especially the rich and bluesy guitar textures of Bjørn Riis, while the vocals of front man and keyboardist Asle Tostrup lean more towards U2 or Coldplay.
Airbag was formed as a quintet in 2004 in Oslo, Norway, with members including Tostrup, Riis and bassist Anders Hovdan. During their initial years, the group independently recorded and released a series of EPs for promotional use, which was successful as their songs were downloaded several hundred thousand times. In 2009, the band was with Norwegian label Karisma Records and released their first "official" album, Identity, which featured remixed versions of songs from their earlier EPs. This was followed by their second release, All Rights Removed in 2011, which was the first to feature Henrik Fossum on drums. With the 2013 release, The Greatest Show on Earth, the group continued to develop their style of lush, epic rock
In late 2014, Riis composed the early demos for the album which would become Disconnected with the goal being to explore new sounds and musical ground while employing a more stripped down production to create a more spacious and dynamic sound. Produced by Riis and Tostrup, the album was recorded with engineer Vegard Sleipnes. The resulting album features extended length tracks (5 of the 6 songs in excess of 7 minutes in length) with a common theme of alienation and failing to live up to societal expectations.
Disconnected

by

Airbag
Released: June 10, 2015
Produced by: Asle Tostrup & Bjorn Riis
Track Listing
Primary Musicians
Killer
Broken
Slave
Sleepwalker
Disconnected
Returned
Asle Tostrup
Lead Vocals, Keyboards
Bjørn Riis
Guitars
Anders Hovdan
Bass
Henrik Fossum
Drums, Keyboards
The opening track, "Killer", methodically tells of cold-blooded tasks. Composed as a band effort, this track unfolds slowly but peaks at the guitar lead about four minutes in, followed by a slightly psychedelic mid-section built on a chorus of guitar, bass, and synth effects. "Broken" is an acoustic ballad with an organ in the distance. After a single verse, the full arrangement arrives with slow, thumping rhythms, with the subsequent section built on unique percussion and soundscapes before it all comes roaring back with full arrangement and lead guitar for the final verse and outro. The next track, "Slave", starts with synth-built sound effects which persist under the first verse vocals before it explodes into a richer chorus with lush soundscapes. Later, the whole song stops completely before coming back with slow, bluesy guitar lead.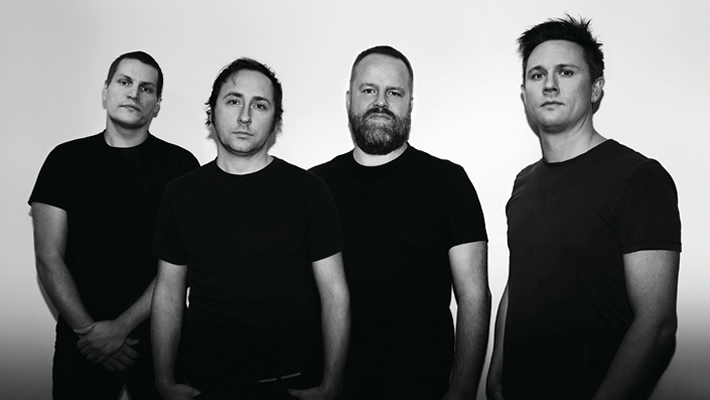 "Sleepwalker" is a bit brighter and more upbeat than previous tracks, built on strummed acoustic under strong electric licks with melodic vocals and locked-in rhythms. The track remains moderate and steady through several verses and instrumental passages, including a potent synth sound near the very end. The title track, "Disconnected", was the first song written for this album and was inspired by Riis desire to move away from the everyday meaningless routines in life. The thirteen minute song swells in slowly with dramatic synths before it eventually morphs into a percussive-driven soundscape for the slow and methodical verses. Later, the song works its way into a slightly jazzy rhythm with a strong guitar lead before more sections slowly unfold. The album concludes with "Returned", a modern rock ballad with just a tinge of optimism.
Following the release of Disconnected on June 10, 2016, Airbag plans on spending 6-12 months supporting the album with live performances. Riis thinks that the group has managed to create  something that they're proud of because they achieved very much what they set out to do.
~
Airbag online


Airbag website
Buy Disconnected